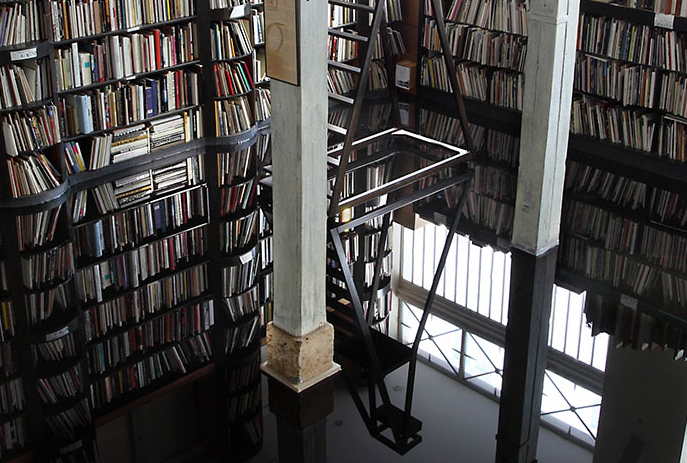 29th November 2012 – 18th January 2013
PER BARCLAY, ANGELA DE LA CRUZ , MARK HAMPSON, MONA HATOUM,JOSEPH HAVEL_MIKE KELLEY, LILIANE LIJN , MICHAEL PETRY ,MEEKYOUNG SHIN, GAVIN TURK ,JAN VERCRYUSSE ,RICHARD WILSON
Building on Michael Petry's book, The Art of Not Making: The New Artist/Artisan Relationship, this exhibition explores the various factors that motivate artists today to use assistants or outsourcing as part of their practice.
Posters for David Hockney's exhibition at the Royal Academy earlier this year proclaimed: "all the works here were made by the artist himself, personally"; reigniting vehement public debate on the validity of an artists' use of assistants and outsourcing.
Speaking about his spot paintings, Damien Hirst explained he employed assistants to make hundreds of spot paintings because he "couldn't be arsed doing it". This is certainly not the only reason artists outsource. Hockney's exclamation that all art should be made personally by the artist would deny not only Hirst, but a considerable proportion of art history. Old Masters such as Michelangelo, Rubens and Rembrandt relied on their studios, assistants and apprentices. Picasso, Rodin and indeed any artist who has ever worked in glass or bronze would be refuted; even Matisse's celebrated 'Snail' collage was glued in place by his assistant when he was too frail to do so himself.
Outsourcing and assistance is often a necessity in realising large, heavy or complex work; but it has also taken on a conceptual significance for many artists today. Stepping back from the complications of other debates surrounding Hirst's particular use of assistants, this exhibition focuses on some of the many other contemporary artists who have assistants and use outsourcing as part of their practice. The emphasis will be placed on exploring the range of motivations particular to each artist and project.
Constructed from hundreds of shirt labels that the artist personally designed, Joseph Havel's 'Desire' is a conical net, gracefully falling from a single point in the ceiling. For Havel, the label is not only a material for art-making, but a capsule that holds the concerns of his earlier work with white dress shirts, representing the constraints of male gender roles. The labels are produced by an ordinary clothing wholesaler in Dallas, creating hundreds of units a day. It is important that the labels are mass-produced to the standards of the clothing industry- if they were unique handcrafted objects, his work would be seen in an entirely different light.
Richard Wilson is better known for his monumental sculptures such as 'ShackStack', a permanent structure based on the unique construction of allotment sheds encountered around Britain. Cast in aluminium, these typically flimsy shelters now stand as a permanent testament to the fleeting creativity of this patchwork architecture. The weight and size alone are enough to prohibit the artist realising the work without assistance. Even the maquettes used for planning are outsourced under the supervision of engineers, a necessity in a world obsessed by health and safety, yet they are realised to Wilson's designs and he remains heavily involved in the production from start to finish.
Outsourcing and the use of assistants is so commonplace that it goes unnoticed and unquestioned – until someone draws attention to the issue. Richard Wilson and Joseph Havel are just two examples of artists from this show who employ others to realise their work alongside the other exhibiting artists for whom outsourcing is a vital part of their practice.
This exhibition is curated by Michael Petry and Sumarria Lunn.
The exhibition is accompanied by The Art of Not Making (Thames & Hudson, 2012) and a symposium at the Royal Academy Schools (11th January, 2013) entitled To Make or Not To Make. It will bring together curators, journalists, artists and academics to discuss the issues raised in the exhibition and book.
Exhibition Opens: 28th November, 6 – 9 pm
Sumarria Lunn Gallery 36 South Molton Lane, Mayfair, London W1K 5AB
www.sumarrialunn.com
Categories
Tags