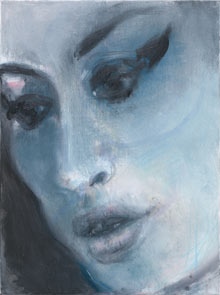 Amy-Blue, by Marlene Dumas, is painted in hues of blue and black. It was painted shortly after Amy Winehouse died, aged 27, last year. Photograph: Marlene Dumas/PA
This article titled "Amy Winehouse painting acquired for National Portrait Gallery" was written by Mark Brown, arts correspondent, for The Guardian on Monday 26th November 2012 18.02 UTC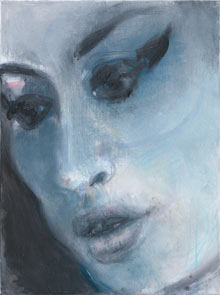 A melancholy painting of Amy Winehouse, made shortly after the singer's death in July 2011, has been acquired by the National Portrait Gallery in London.
The work by South African artist Marlene Dumas is not huge – no bigger than a sheet of A3 paper – but it packs a punch carrying "tremendous emotive power", said the gallery's contemporary curator Sarah Howgate. "Detail bleeds into and out of her work, directing and dispersing the gaze of the viewer."
The title, Amy-Blue, and the translucent colours used by Dumas point to the singer's musical influences as much to the melancholy of her life.
Winehouse's father Mitch Winehouse said: "It is a fantastic piece of work and we are fascinated to know how Amy was seen and remembered by family, friends and artists of all kinds. With the Amy Winehouse Foundation, Amy is our inspiration and it is profoundly moving to find that she still inspires so many others too."
It has been acquired by the gallery with support from the fundraising charity The Art Fund.
Dumas, who is based in Amsterdam, sought out images of Winehouse online for the work which draws the viewer in to the singer's distinctive eyes and eye liner.
The portrait is the gallery's first painted image of Winehouse, although the collection does have photographic portraits by Mischa Richter and Venetia Dearden.
It went on public display at the gallery today, given an entire wall to itself and is the first portrait that visitors will see as they enter the contemporary galleries from the main entrance.
guardian.co.uk © Guardian News & Media Limited 2010
Published via the Guardian News Feed plugin for WordPress.
Categories
Tags