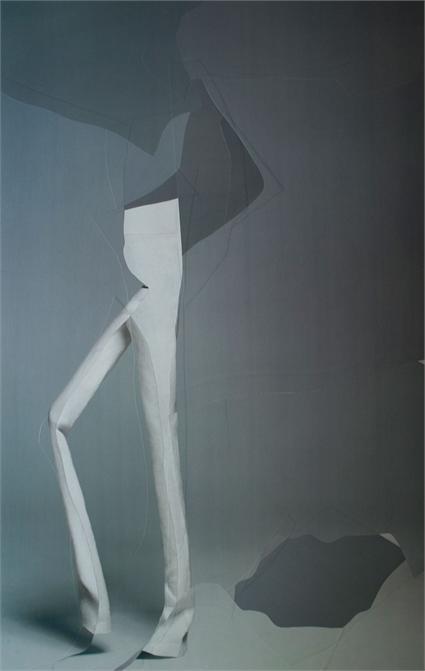 17th November – 22nd December 2012
MOTINTERNATIONAL is delighted to present a new body of work by Raphael Danke in his first exhibition with the gallery.
A series of eight collaged works described by the artist as 'Entfernungen' or 'removals', see Danke layering fashion posters from which he has meticulously removed the images of people, leaving only traces. Arranging the left over backgrounds together, the works enact a series of appearances and withdrawals. While Danke has evacuated the body from the planes of the collages, in deleting the human form, 'the figure' becomes more potent in its absence. Danke carves physicality from empty space with lissom, liquid cuts which both deconstruct and suture together shadows and half-glimpsed forms.
Casa (2012) has been created in homage to the Italian architect and designer Carlo Mollino, for whom architecture was like a shell, able to include and exclude simultaneously. The tensions between this duality are played out in Danke's sinks and drains, which mirror the voids pervading the artist's works. Constructed from two facing sinks, the mass of the object promises weight, a gravid solidity. Yet at once the gap between its parts, two lips nearly touching, is a breach that gestures to the vessel; hollow and empty, waiting to be filled. Leukotome (2012) makes explicit the artist's Surrealist engagement with fetishised, anthropomorphic forms. Its metal drain seems to suck and empty volume from the deflated swimming costume it is attached to. An exhausted looking object, it articulates the space of the body even as it reiterates its absence.
The notion of objects suspended at points of depletion is further explored by Belly of a Ballet Dancer and Trepanat (both 2012) which take the form of Russian nesting dolls, a recurring motif in Danke's practice. The sculptures are guillotined, revealing hidden circular layers, or cleaved to penetrate their interior spaces. The artist's deconstruction of these forms is less a violent action than a careful dissection, paring exteriorites in an apparent search for something beyond their physical properties.
Raphael Danke (b.1972 Aachen, DE. Lives and works in Berlin)
Raphael Danke studied at the Berlin Academy of Art and became known initially for his collaborative work with his brother Tobias Danke. Since 2005/06, he has been working independently.
Solo exhibitions include The Double Disappearance Of An Architect, L40, Berlin (2011) In Controluce, Norma Mangione Gallery, Turin (2010); Filer à l'anglaise, Kunsthaus Baselland, Basel (2009). Group exhibitions include Reality Show, Galleria Tiziana Di Caro, Salerno (2012);Verlangsamte Performance, Van Horn, Düsseldorf (2012); Collaborations Interventions, CCA Andrtax, Andrtax, Mallorca (2012); Photography Calling!, Sprengel Museum, Hannover (2011).
Categories
Tags