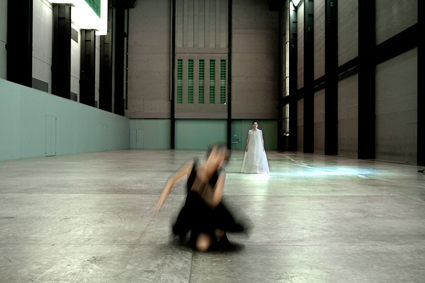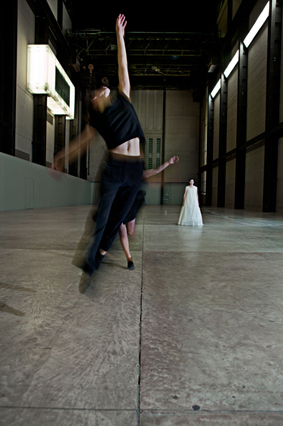 19th & 26th November & 3rd December 19.00, 20.00 & 21.00
Tate Modern, SE1 9TG www.clodensemble.com
Taking place after hours in Tate Modern's cavernous Turbine Hall, Silver Swan is an original performance piece by Clod Ensemble. Over three nights, each of the nine performances will feature a compelling group of dancers, actors and singers in this new interpretation of a piece originally performed in 1999 and inspired by the 17th century song of the same name. Silver Swan is a rare opportunity for small audience groups to experience a very intimate performance piece in this usually very public space.
With music by Clod Ensemble's Paul Clark and choreography and direction by Suzy Willson, eleven performers will move through the Turbine Hall, struggling to keep their balance in a delicate counterpoint between vulnerability and resistance. They are joined by a chorus of seven unaccompanied female singers who will perform Clark's re-imagining of two 17th century songs by John Smith and William Lawes. Their melodies are woven into a dense and haunting texture for which the unique acoustics of the Turbine Hall are the perfect vehicle.
Clark's score for Silver Swan is a spine tingling and uplifting composition performed by a distinguished group of singers who have worked with prestigious companies including the Royal Opera House, English National Opera and The BBC Singers. The choreography is a kind of meditation on falling – performers crash to the floor, or melt into it, in varying states of fear, ecstasy or stupidity – and is performed by actors and dancers who between them have performed with Wayne McGregor, RSC, Akram Khan, Jasmin Vardimon and the Hofesh Shechter Company.
Taking Silver Swan as a starting point, choreographer and Clod Ensemble Artistic Director Suzy Willson will also lead the four day movement course Everything Moves on 16, 17, 23 and 24 November. The course is open to all and will take place at Tate. £15, £12 concessions www.tate.org.uk
www.clodensemble.com
Founded in 1995 by Artistic Directors Paul Clark and Suzy Willson, Clod Ensemble creates performance projects, workshops and events across the UK and internationally.
The company makes performance happen in many different contexts, unleashing the extraordinary potential of movement and music for a broad range of audiences and participants.
Recent productions include Under Glass (Sadler's Wells off-site and tour 2007/8), which took place in a series of glass jars and containers; An Anatomie in Four Quarters (Sadler's Wells, Theatre 2011) where a small audience took an intimate journey through a vast theatre; and Must (a collaboration with Peggy Shaw). Clod Ensemble's new production Zero will come to Sadler's Wells theatre in spring 2013.
Clod Ensemble is an Arts Council England National Portfolio Organisation.
Clod Ensemble's performance work is produced in association with Fuel
Silver Swan
Silver Swan was originally commissioned in 1999 by BAC Opera, with funds from The Arts Council of England, and developed at The English National Opera Studio, and the National Theatre Studio. It has also been performed at the V&A's Raphael Room, McEwan Hall, Edinburgh and The Royal Opera House, Linbury Studio. This production is kindly supported by PRSF and Shoreditch Town Hall.
Direction & choreography by Suzy Willson ?
Music by Paul Clark? Conducted by James Keane Produced in association with Fuel
More Details:www.clodensemble.com/
Categories
Tags