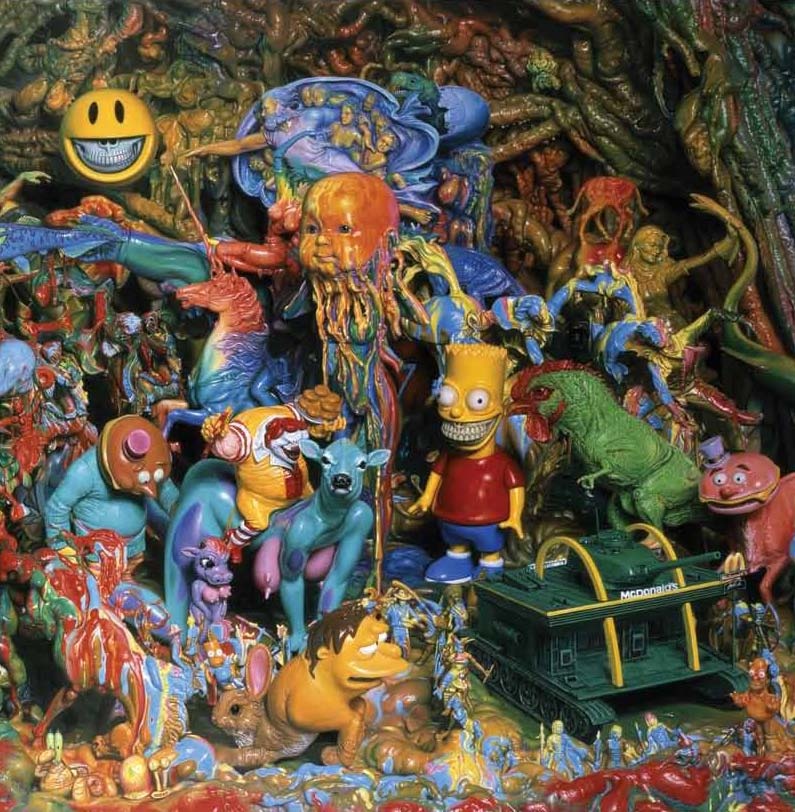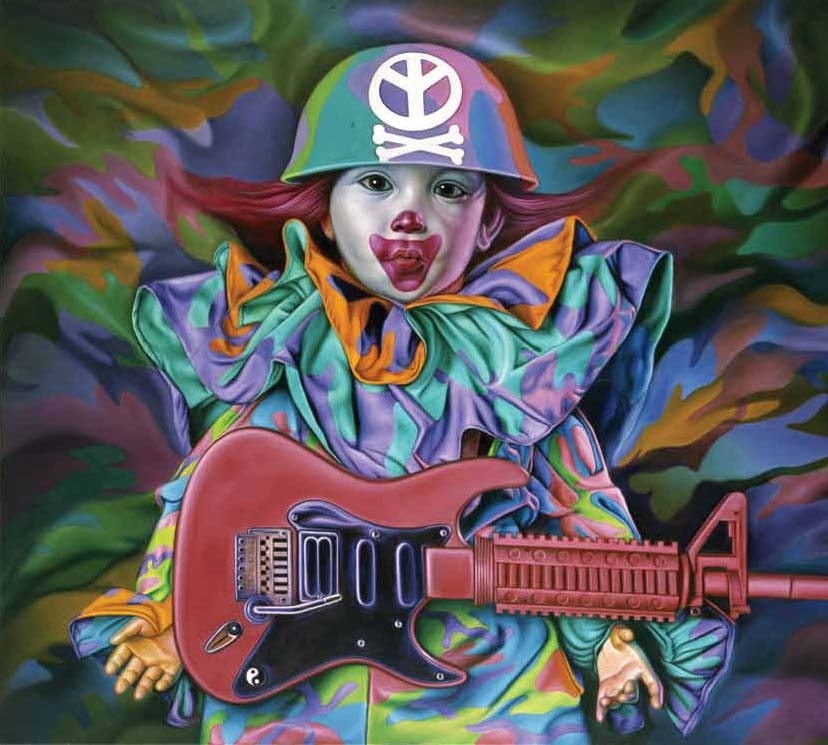 November 9th – November 29th 2012
Ron English has been one of my favorite artists since the mid-nineties when he first showed me photos of several billboards he had "amended." Ron can paint an advertising satire with the skill of a Renaissance Master (one who's been to the future and witnessed Surrealism and 1984). Ron's stature as a gallery artist has grown over the years, but he has continued to subvert advertising, critique pop culture, and make powerful political statements.
–Shepard Farey
Ron English returns to Opera Gallery NYC with "Crucial Fiction," a series of paintings revealing an inspired collaboration with his former self. The work addresses a fantastical question: What might happen if a 50 year old man at the height of his powers as fine artist and painter, could finally animate the elaborate visions constructed by his 8-year old self, that boy who dug holes to China in the backyard while imagining every blade of grass as a green army soldier laid low by the advancing plastic hordes of cowboys, indians, and assorted disposable heroes? What might result from the combustible alchemy of imagination and experience, of mastery and abandon? In "Crucial Fiction," Ron English answers this question.
Firmly in control of his mature mythology, English has spent decades giving voice to various alter-egos and constructing a multi- layered universe where complementary characters spin through the color wheel, separating and synthesizing into one cohesive personality. They are both children and men, infant and hulk, awed and anxious, marching to war wearing helmets emblazoned with peace signs. They are lusty cowgirl goddesses of all desire, who offer both meat and milk, sex and sustenance. Their wide grins expose pieces of skull, reflecting death in their joy. They are common pop culture kitsch objects, deconstructed and reborn as deeply personal avatars. They are the flowers of a mother's garden, growing wild in the extraterrestrial landscape of the heart, where the contours of memory are surveyed by fellow travelers at the crossroads of chance.
One of the most prolific and recognizable artists alive today, New York-based painter and street artist Ron English has bombed the global landscape with unforgettable images, on the street, in museums, in movies, music, books, and television. English coined the term POPaganda to describe his signature mash-up of high and low cultural touchstones, from superhero mythology to totems of art history, to create art that propels unstated cultural norms just beyond the bounds of comfort into a realm simultaneously hilarious and terrifying.
Categories
Tags