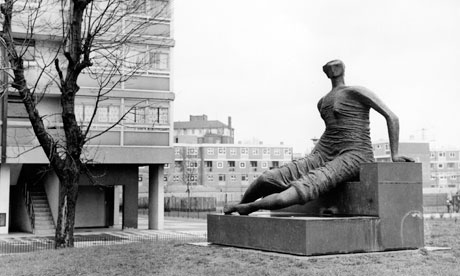 Henry Moore's Draped Seated Woman in its original home on the Stifford Estate in Stepney in 1963. Photograph: Jane Bown for the Observer

This article titled "Should Tower Hamlets council sell off its £20m Henry Moore?" was written by Rowan Moore, for The Observer on Saturday 3rd November 2012 17.55 UTC
Next week the mayor of the London borough of Tower Hamlets, Lutfur Rahman, will decide on the future of a major work of art in the council's possession. He has already declared his intention to sell it, but he will have to consider the views of the council's overview and scrutiny committee, which is meeting on Tuesday.
The work is Henry Moore's Draped Seated Woman, and the proposal is to sell it to the highest bidder, to fill some of the gap, they say, made by government spending cuts. Councillor Shahed Ali, one of Rahman's cabinet members, told the BBC that "we'd love to keep it in the borough", but it is "uninsurable", at a time when large bronzes like this are sometimes stolen for their scrap value.
The proposal has aroused the fury of, among others, Henry Moore's daughter Mary, the local MP Rushanara Ali, and Danny Boyle, hero of the Olympic opening ceremony. In a letter to the Observer today, they write that it "goes against the spirit" of Henry Moore, who sold it to London County Council at a price – £6,000 – far below its then market value. It demonstrated the "belief that everyone, whatever their background, should have access to works of art of the highest quality".
Moore, they say, was "delighted" that it was installed as the centrepiece of the Stifford estate, a group of tower blocks in Stepney. Boyle says that "it represents everything I believe in". He and his fellow objectors are right: Draped Seated Woman fulfils an ideal that nothing was too good for ordinary people, an ideal that modern local politicians are in danger of losing. To sell the sculpture as if it were a piece of real estate would be, according to Rushanara Ali, "a betrayal of working class heritage". It would also betray Moore's generosity. It would raise the question why anyone should ever want to offer anything to a local authority again.
The piece itself, which acquired the nickname Old Flo, is noble and touching. It is 3 metres high and weighs 1.6 tonnes, but there is still a lightness with which the figure of the woman sits on a low plinth, delicacy in the fall of drapery on her body, and a springy alertness in her pose. It is beautifully made. Placed amid tower blocks, it was a rare moment of quality, a sign that someone cared. It was also accessible – children could play on and around it, and residents could see it from their kitchens. No doubt it was inscrutable to some, and uninteresting to others, but as long as it was there it created the possibility that some might be inspired, intrigued, or provoked into seeing the world in a different way.
It sat on the Stifford until 1997, when the estate was demolished and the sculpture was moved to Yorkshire Sculpture Park, allegedly temporarily. It has remained there ever since, while plans have come and gone to, for example, relocate it to Canary Wharf. Lutfur Rahman has tried to sell it once before, when he was leader of the council, but was stopped. Now, with the greater powers of an elected mayor, he is trying again.
In a time of cuts, in a poor area, there is force to the argument that the money could be spent on something more directly useful to the people of Tower Hamlets. Except that, taken to its extreme, it could be used to cut off all cultural funding whatsoever. The Whitechapel Gallery could be sold to Tesco, to raise money for deserving causes, houses could be built on parks and various council-funded embellishments to the streets of the borough should never have happened. The Olympics, supported by Tower Hamlets, should – by this logic – certainly have been stopped.
Worse, there is no guarantee that the proceeds of sale will go directly to needy residents. Rahman has not said where it will go, except somewhere in the council's billion-pound-a-year budget. Labour councillor Josh Peck, who is opposing the move, claims this is "effectively a fire sale caused by the appalling financial deficit" brought on by the "profligacy and quite extraordinary waste" of the current administration. He gives me details – £1m a year on East End Life, a "newspaper" publishing stories favourable to the council; expenditure on banners with the mayor's face on it; a chauffeur-driven Mercedes for his use; on advisers and consultants.
Without going fully into debates about Tower Hamlets' spending policies, there is sufficient doubt that the proceeds of Old Flo would really go where they are needed most. As Peck says: "The challenge for Tower Hamlets is revenue funding. This is a one-off piece of capital funding. It's only a stop-gap measure, and the people of Tower Hamlets will have lost an asset for ever." He says: "There is a debate to be had but at present it's a dishonest one. The sculpture should not be sold just because the mayor wants to do it."
The sculpture's value has been reported to be £20m. This price, though obviously not small, would not make that much difference to the council's budgets. Especially if, as it should be, the capital sum is annualised into a yearly revenue figure of a few per cent of the total value – it wouldn't do much more than pay for East End Life, the banners and the Merc.
It also turns out that the claim that it is "uninsurable" is wrong. Queen Mary college, which is in the borough, has offered to put Old Flo in a publicly accessible place, and has been quoted a premium of £2,000 by its insurers subject to some security requirements. Since councillor Shahed Ali wrung his hands over this insurmountable problem, and as Queen Mary college seems to have solved it for him, it is surely time for him to come good on his claim that he'd "love" to keep it in Tower Hamlets. He can.
To sign a petition to save Old Flo, go to http://goo.gl/b2IM0
guardian.co.uk © Guardian News & Media Limited 2010
Published via the Guardian News Feed plugin for WordPress.
Categories
Tags