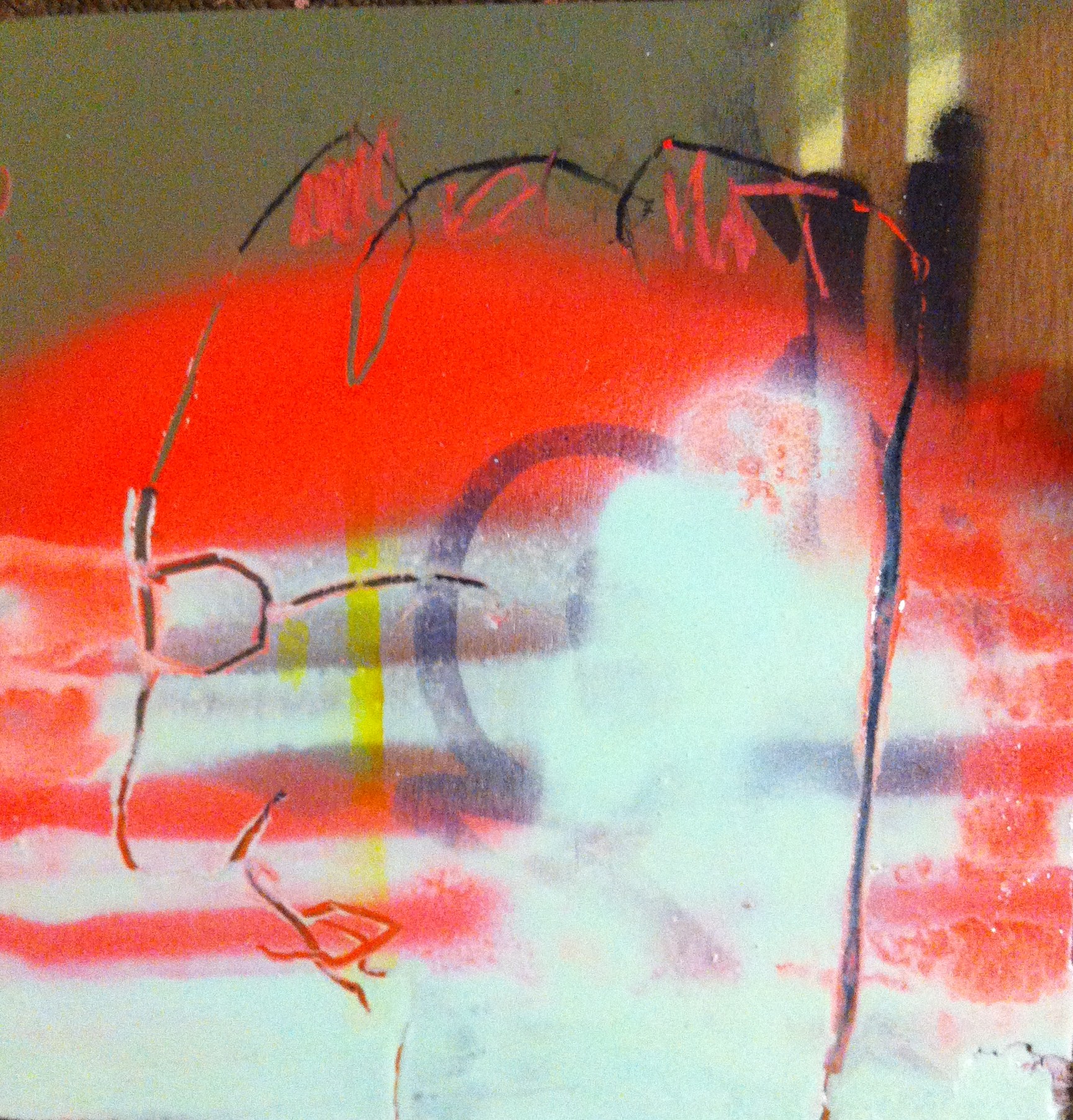 Nutty Professor by Jamie Humphrey
'Jeunesse' at Blackall Studios 73 Leonard Street, London EC2A 4QS
Private View Thursday 1st November 2012 6pm – 9pm Exhibition runs until Monday 5th November 2012.
??
This is Jester Jaques inaugural show entitled 'Jeunesse' reflects their youthful expressionism, be it installations, contemporary paintings or mixed media. Jester Jacques Gallery is all about exploring boundaries, exhibiting work that is challenging and at times provocative.
The artists selected for show are the voice of a new generation, who are responding directly to the outside world, to the vanity of social media and to the socio-political backdrop that informs our culture today.
The art shown by Jester Jacques gallery is not only relevant and topical, but points to the future. These artists will become highly sought after by savvy collectors who have the foresight to spot fresh emerging talent.
The artists featured in this exhibition include:
Adam Walker
A recent graduate in Fine Art from Camberwell College of Art and prior to that he attended St. Catharine's College, University of Cambridge.
Adam has already received much critical attention having been selected by Marcus Harvey to exhibit in a group show which also featured the work of Anthony Caro. Adam Walker's practice is contemplative and considered. He is a painter first and foremost, yet brings to the medium a sculptural element and in his installations a sense of performance.
?


Guard by Reece Whitehead
Reece Whitehead
Reece Whitehead is young painter out of Kingston University. His work directly tackles the social and urban issues by painting with a bold colour palette and making strong gestures and marks.
The subject matter is that of the riots throughout England last year and playful colour and illustrative style is in contrast the underlying fear and menace that surrounded those
?
Another artist dealing with law and order, but in a more traditional style is the rising star
James Cochran
(aka Jimmy. C).
Jimmy is to some extent an urban artist, finding inspiration from the streets, yet his paintings owe more to Pointillism and the Neo Impressionism movement.
The strong contrast between this soft styling and the harsh image of riot police on the front line is unsettling to say the least.
?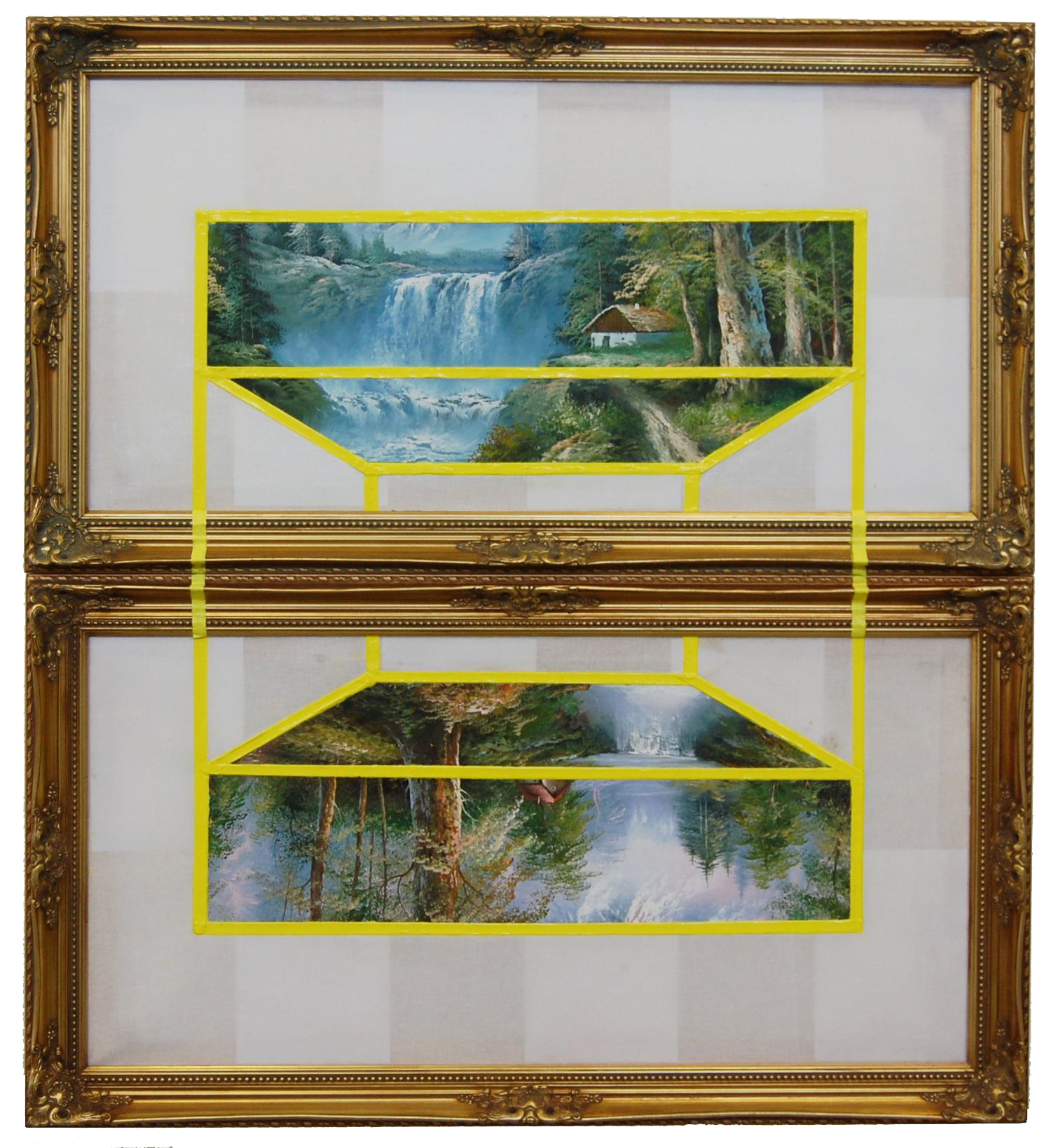 Harder Better Faster Stronger by Jack Jones
Jack Jones
Jack Jones handles the dialectic between the old and the new differently.
Jack is the co-founder and curator for OPEN, Ealing. He graduated from Camberwell College of Art and his paintings stem from commercial, 'chocolate box' mass-produced artwork, which are then de-constructed through paper cut and geometric overworking. An elaborate frame completes this intriguing interplay prompting questions about value and appropriation. Jack creates these shapes by using caustic chemicals (paint stripper and bleach) that removes the paint from the surface of the canvas raising issues of defacement and destruction.
?
Rosemary Cronin
Rosemary Cronin is another featured artist whose work is about subverting or transgressing a pre-existing image perhaps within a Feminist context. Rosemary graduated from Chelsea College of Art and Design.
She founded the 'Chelsea Girl' collective and has been employed by both the Tate, the
V&A and currently at the NPG.
Rosemary pours and drips thick gloss paint (and the very gendered material of car paint) over slick fashion advertising campaigns, confounding the viewer's preconceived notions of what beauty is. Rosemary is like the other artists shown here, is questioning the role of art and our aesthetic ideals, the disfigurement and destruction points to a new understand- ing of what we perceive to be good and true.
?
Jamie Humphrey
Jamie Humphrey graduated with a BA in Fine Art Painting from the University of Brighton. Jamie's practice crosses over from Urban/Street art into Fine Art. His vibrant and gestural abstractions are mixed media, using oil, chalk, spray paint and even marble dust on canvas to create a textured surface alongside bold mark making.
?


Bomb by Clare O'Connor
Clare O'Connor
Clare O'Connor is an Irish artist with a BA in Visual Arts Practice & a BDES in Design Communications from IADT, Dublin. Her playful acrylic abstractions on paper focus more on the geometric patterning of interlocking diagonals, which she breaks up with loosely applied paint, dripping through the composition. She has exhibited in Dublin, Berlin and London.
?
Ador
Ador is a French formally trained street artist, whose work is comical and joyous. Ador creates a fantastic and finely drawn world of odd creatures with bug eyes and large noses. One cannot help but smile at his strange creations.
?
Rose Skinner
Rose Skinner is another artist whose work is playfully subversive. She was trained in the UK and has exhibited widely in Australia. For this exhibition she will showing her weirdly reconstructed toys, for instance a plastic baby with the head of Micky Mouse and a robot with a baby's head. These sculptural pieces are disconcerting and some- what unsettling. When iconic childhood items are twisted, we are forced to see a disturbing side to things previously associated with innocence and play.
About Jester Jacques Gallery
Jester Jacques Gallery is a new and exciting gallery founded by brother and sister team, Karen and Guy Shidlo. Karen is a painter and a graduate of the prestigious Pratt Institute, whilst her brother is a
marketing and business expert.
Together they settled in East London where they were struck by the new wave of young artists emerging out of that scene. They knew that they wanted to give a platform to this talent and so Jester Jacques was born. Jester Jacques, as the playful and quirky moniker suggests, represents artists whose practice may cross over genres, artists who are not defined by labels or tags.
www.jesterjacquesgallery.co.uk
?
Categories
Tags