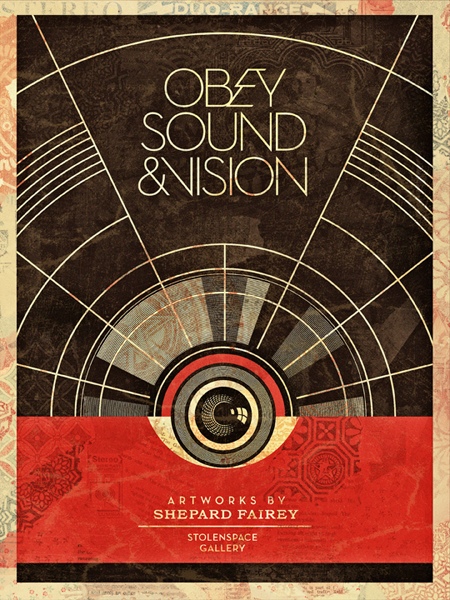 19th October – 4th November 2012 The Old Truman Brewery
StolenSpace Gallery are showing a solo exhibition of work by Shepard Fairey opening on 19 th October 2012. This will be Fairey's second major London exhibition, following his collaboration with the Gallery in 2007. It will feature a range of new works including mixed media paintings on canvas, works on paper, retired stencils collages, rubylith cuts, and as well as serigraphs on wood, metal and paper
Entitled Sound and Vision, the exhibition title is taken from the David Bowie song of the same name. Bowie has been a major influence on Fairey, because he was able to master music and visual presentation with equal virtuosity. Music is an artistic medium that Fairey reveres almost more than he does visual art. He comments: "Music is visceral, but also has the additional powerful layers of the lyrics, with their content and politics, and the style, politics, and personalities of the musicians themselves. No matter how much I love art, or try to convince myself of its relevance in society, the fact remains that music is much more able to reach people's hearts and minds." The artist hopes to be able to induce in people, even a fraction of the emotion that hearing a new song or listening to a familiar one can evoke.
Sound and Vision, will incorporate a diverse array of mixed media works, which embody both the political and social influences on Fairey's work, particularly that which is directly inspired by music. It is not only David Bowie, but also the Sex Pistols, Roxy Music, Gang of Four, the Clash and Metallica which have had an impact on Fairey's work. To encourage viewers to experience an interaction between music and art, the artist will provide records from his own collection as well as customised vintage turntables to enable viewer listening. This section of the show is complemented by a display of eighty works which have the same 12×12" dimension as an LP sleeve. The artist will therefore use both sound and vision to connect with his audience.
Over the last five years the artist has seen a meteoric rise with a series of international projects and exhibitions. In 2008 his portrait of the then Democratic candidate, Barack Obama, with the message of 'HOPE' under the illustration, became an internationally recognised emblem of the campaign and a symbol political change for many. Since last exhibiting in London, Fairey has continued to progress with his art and with a/ 20 Year Retrospective museum exhibition that began at the Institute of Contemporary Art, Boston in 2009 and continued to the Warhol Museum and Contemporary Art Center in Cincinnati. Last year, he was commissioned by TIME Magazine to design a cover in celebration of 'The Protester', an anonymous figure representative of momentous world demonstrations such as the Arab Spring and Occupy movement.
ABOUT
Shepard Fairey was born in Charleston, SC in 1970. He received his B.F.A. at the Rhode Island School of Design (RISD) in Providence. In 1989, while attending RISD he created iconic the "Andre the Giant has a Posse" image that ignited and evolved into the present day OBEY GIANT campaign. Fairey's imagery has changed the way people view art as well as the urban landscape, and his paintings have develop into an acclaimed body of art, which most notably includes the 2008 "Hope" portrait of Barack Obama. Fairey has exhibited in galleries and museums all around the world, with an accompanying collection of outdoor public murals. His works are in the permanent collections of the MOMA, Victoria and Albert Museum, Boston ICA, Smithsonian's National Portrait Gallery and many others.
StolenSpace Gallery represent a diverse range of contemporary artists whose work defies categorisation. Sometimes linked to 'Underground Art', 'Street Art' and 'Urban Art', the gallery prefers not to be confined by terminology and continues to represent the best artists who explore different possibilities and are inspired by society's prevailing subculture. StolenSpace lets in the life-giving vitality of this environment that has long been overlooked by galleries and museums.
StolenSpace is pleased to announce that Gordon Ramsay's newest restaurant Bread Street Kitchen will be providing delicious cocktails throughout the launch events.
Bread Street Kitchen, a lively and exciting new restaurant and bar, is home to a relaxed dining and drinking experience. Designed by Russell Sage Studio, the space is set in a large warehouse-style room that draws inspiration from the East London aesthetic surrounding it and provides a contemporary yet cosy backdrop to enjoy the finest cocktails and dishes.
Categories
Tags