Yvette Greslé talks to Bedwyr Williams  at the opening of 'Dear Both' at Ceri Hand Gallery www.cerihand.co.uk. The exhibition runs through to 3 November 2012. In performances that can be as astute and cutting as they are hilarious, Williams constructs stories and scenarios that play with the characters and codes of the contemporary art world, and his audiences. The comic narratives he stages and invents transport us to imaginative worlds that are as dark as they are absurd. 'Dear Both' incorporates performance, moving image, installations and objects.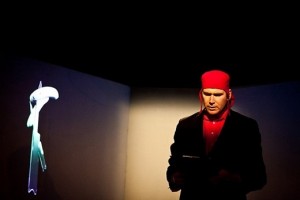 YG: How did you come to the comedic in your work? I see traditions such as that of the 'Fool'. What are your references?
BW: Growing up in Wales there's a lot of myth. A lot of the stories that we were told as kids or that we read at school were myth. Not proper myths but a lot of the children's stories were to do with fairies or goblins or something. And I think that means that I have a slightly fired up imagination in that respect. Animals that can talk or animals that get up to stuff. Altered realities. I think if you ask Irish people they'll say the same. It's people that have more folklore pumped into them as kids – where there's a tradition. I was really receptive to that as a kid. It's strange that kids are attracted to supernatural woodland type stuff. It should be creepy.
YG: So that was your beginning. When did you start working as an artist? Were you a storyteller? Are you a storyteller?
BW:  I just started drawing, and I like things that tell a story. That's my thing.
YG: So was drawing the first thing that you experimented with?
BW:  I'd draw with my dad, and my brother (he's in a creative industry so I'd draw with him). If my brother and I were on a long train journey we'd make drawings and swap them over and give them names. We could do that for a few hours and the names for those drawings would not be logical.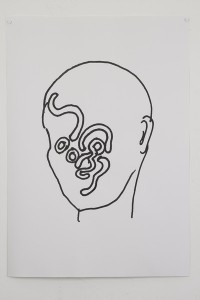 YG: And the objects that you work with? Can you tell me a bit about those?
BW: They're usually objects that have some significance, like fashion icons (I don't mean fashion icons like they're people fashion icons). But like Adidas shoes that are a cult trainer. I kind of love that stuff but kind of hate it as well. I grew up in North Wales, and I'd look in my Sunday supplements and see people in London on style fashion shoots. You know how the stylists slightly make the models look like idiots just to make it look 'out there'. I was fascinated by that as a kid.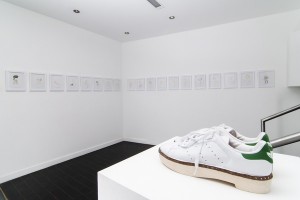 YG: I remember your last performance at the Phoenix Arts Club – you were joking about women and jeans – skinny jeans looking like Kermit legs and all that. Fashion is something you talk about?
BW:  I think fashion is a bit like being a contemporary artist. It's something that the public ridicule. But fashion does have a place in the world. People buy jeans and stuff like that. Contemporary artists don't have to really justify anything that they do. Fashion is somehow linked to buying clothes in the end.
YG: So you love it and hate it?
BW: I love it and hate it. There's a famous moment on British TV where Vivienne Westwood brought her models out on a chat show, and the audience burst out laughing. The people from the fashion world were horrified (Vivienne Westwood being the grande dame of British fashion). They were beautiful but I could also see why people laughed. I loved that and I felt sorry for her. She was insulted but it was such a beautiful moment. Such a British moment.
YG: Your objects are quite fantastical – like the Kangol cap with the little maggots and the barbecue decorated with the seashells.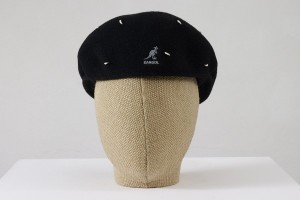 BW: The cap – I'm in my 30's and a lot of men in their 30's go to hobbies to try and solve the ennui of their lives. If you've got kids then you can talk about horse racing, or you can get into football or fishing or shooting or something. For me, that's just a later stage subculture. You know like when you're young, you have lads dress in certain ways. Then as they get older they just change what they're into. So it might be football hooligans, then it's golf, then fishing or something. So the hat – a Kangol hat is a typical fashion icon, and fishermen put hooks on their hats. It's like a code – a coded way of dress. It's British eccentricity. If you went to a fishing club as a beginner they'd be fairly friendly but they'd try to keep you out.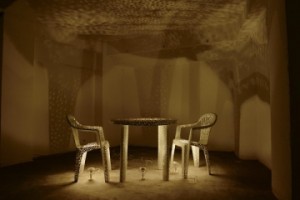 YG: You're interested in what makes one an insider or an outsider. Your work also talks a bit about power relationships.
BW: Yeah. I'm really interested in things like documentaries about prisons and gangs and different codes. Not because of the violence aspect but just the coded dress thing.
YG: Tell me about the sound work. We hear you repeat the word 'artist'. Your work seems to be very self-reflexive. You think a lot about what you're doing as an artist.
BW:  A comedian asked me:  'Do you tell people you're an artist? How do you feel when you tell people that you're an artist'? I said (because I live in North Wales) 'I feel a bit embarrassed'. The sound work is me saying 'Artist' but in a slightly poncy way – 'Artist'.  An English person has a sibilant way of saying consonants, whereas a Welsh person says it differently. It is ridiculous. If somebody who has no interest in your work asks you what you do – like some guy in a pub who's a bit hostile – and you tell him you're an artist it sounds pretentious.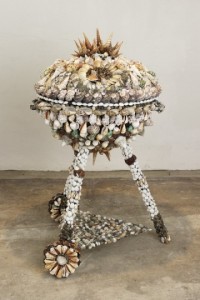 YG: When you're performing do you think a lot about your delivery – the way you stand up in front of an audience and read. Do you practice that delivery?
BW: I worked in galleries when I was younger and I used to watch curators give speeches. People hate it, and can't wait for it to be over. I'm quite interested in those pauses between saying something really boring, and saying something less boring, and saying something funny. Being able to speak to audiences is considered a real skill, and I like doing it. I like making PowerPoint presentations and stuff.
YG: Do you do that as performance?
BW: I like that, and how you can control your PowerPoint from your phone. That seems to be, at the moment, what a presentation means. It's a way of presenting ideas that most people will come across in their work as well. It seems a good way to perform.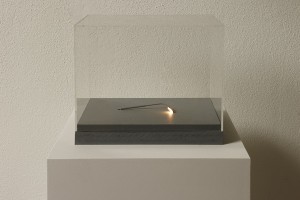 YG: And what about humour and different types of humour in your work?
BW: I think I'm a fairly funny person. I really hate being in exhibitions that are about humourless art. In my work 'the funny' is the style.
YG: Are there different kinds of humour you play with?
BW: The art world is quite serious.  There's a lot you can do with that audience.  If I'm in a gallery I look at the man in the room or the woman who looks like they're going to hate me most and I try to make them laugh. Sometimes it works and sometimes it doesn't.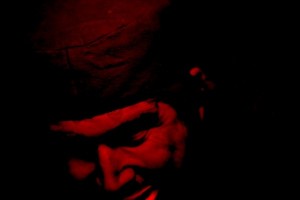 Bedwyr Williams, in a project jointly curated by Mostyn and Oriel Davies and supported by the Arts Council of Wales, will represent Wales at the 55th Venice Biennale, 2013.
About Yvette