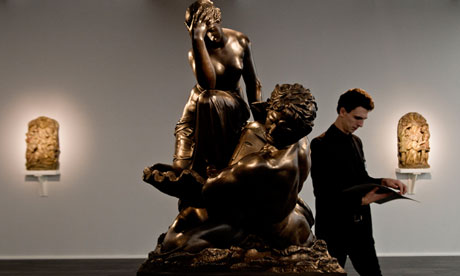 Bronze of Thetis returning from Vulcan with the armour of Achilles by William Theed the elder (1764-1817) at Frieze Masters. Photograph: Sarah Lee for the Guardian

This article titled "Shock of the old: Frieze Masters art fair puts contemporary sibling in the shade" was written by Charlotte Higgins, chief arts writer, for theguardian.com on Wednesday 10th October 2012 17.00 UTC
For the art world, this week means one thing: Frieze art fair, the most important contemporary art fair in Britain, the annual event around which a thousand gallery openings and museum events bloom.
But this year is different. For the first time, there are not one but two Friezes in London.
At the north end of Regent's Park, all is calm and soft carpeting: grey walls hung with quattrocento Madonnas, or photographs documenting Yugoslav performance art from the 1970s, or bronze-age metal armlets from central Asia. This is Frieze Masters, the new fair showing art from the ancient world to the year 2000.
At the opposite end of the park it is brash and bold, with dealers' booths painted strictly white and arrayed with a dazzle of brand new art: this is Frieze art fair, now in its 10th edition, selling purely contemporary work.
The word in Regent's Park was that Frieze Masters was a hit – so much so that some dealers wondered whether it might overshadow the more established contemporary fair, or make it look, as one artist put it, "slummy".
Norman Rosenthal, the former exhibitions secretary of Royal Academy of Arts, summed up the mood. "I'm amazed at Frieze Masters," he said, as he surveyed the offerings at the Jean-Luc Baroni stand. "I'm barely a sixth of the way round it but if I had the money there are already 30 things I'd like to have. There's an André Derain I'd kill to own …"
Charles Asprey, a collector of contemporary art, was also enthusiastic about Masters. "To see megalithic axeheads alongside Kurt Schwitters collages just made my day. Newness is old, and oldness is being reconsidered," he pronounced.
Some of those megalithic axeheads were available for £850 – a snip compared with contemporary art prices. (The only art you can buy for that at Frieze art fair is a print from Allied Editions, though there was a stack of free posters by artist Jeremy Deller at Modern Institute's stand.)
The dealer who was selling the megalithic axes was Rupert Wace, who also deals in ancient Egyptian and classical art.
It was clear why he had turned up: contemporary has completely dominated the art market over the past decade, and dealers in art from other periods would not mind a little of what has become known as the Frieze effect.
"It's an opportunity for us to show ancient art to people who are more used to looking at contemporary art. It's a chance to find a new audience – that's the hope," he said.
Dealer Jean-Luc Baroni, who had brought work including a 17th-century watercolour sketch by Jacob Jordaens, agreed: "A lot of us have been feeling a bit frustrated that so many collectors have been buying only contemporary art. But at least now we are giving them a chance to see what we've got – otherwise it's going to be the end."
At dealers Coll & Cortés, there was a Francisco de Zurburán for £725,000; at Stair Sainty, a Théodore Géricault for "upwards of a million".
A 15th-century Siennese or Luccan angel in carved, painted wood, nearly lifesize (and a sometime transvestite – little marks on his ears showed that he had been transformed into a Madonna at one point in his history, and decked with jewellery) could be had for about £100,000 from Italian dealers Bacarelli Botticelli.
And the talk of the fair? A trio of terrifying 13th-century gargoyles that once graced the roof of Hagenau cathedral in Germany. Asked the price tag, dealer Sam Fogg said, "I don't want to tell the Guardian. But they are very expensive."
But who was buying? Thirty-six minutes into the first VIP hour at Frieze Masters, Wace had sold four works from his stand.
Others were not so lucky. Speaking about the contemporary market, one gallerist at Frieze art fair, who preferred not to be named, said: "There are a lot of people buying stuff that's easily recognisable, that's a brand". But she said that for less well-known artists, and more challenging work, the market was "rank".
Georgina Adam, editor-at-large of the Art Newspaper, agreed. "The top end is strong, but there is a much bigger struggle in the middle range," she said. "People are looking for trophy works and brand names."
In the VIP queue for Frieze art fair, amid the air-kissing and clashing of designer handbags, one collector was heard to say to another: "There are more Brazilians in this queue than there are in São Paulo."
Patently not true: but there was a hint of optimism in the air in relation to the burgeoning of Brazil's economy. Could Brazilian buyers be the next wave of big-money collectors, after the Chinese, the Qataris and the Russians?
No slouches when it comes to identifying growth markets, the London gallery White Cube is set to open a branch in São Paulo this autumn.
Márcia Fortes, of the city's Galeria Fortes Vilaça, was cautiously optimistic. "We used to have 10 good Brazilian collectors, but now there are people I barely know that are clients of the gallery.
"In the past too, the balance of international to domestic buyers used to be about 60-40 – now that has reversed.
"There is definitely a big excitement about the return of the economy, and in relation to Brazilian artists there is an amazing energy – both from senior artists being finally recognised and from a great emerging generation.
"But everyone thinks the Brazilian collectors are the new Russians. And that's definitely not true."
guardian.co.uk © Guardian News & Media Limited 2010
Published via the Guardian News Feed plugin for WordPress.
Categories
Tags