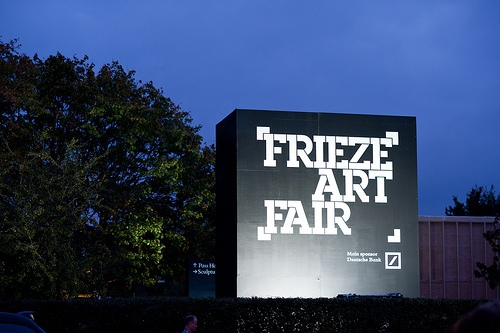 Frieze Art Fair 2011 Photograph by Graham Carlow Courtesy of Graham Carlow/ Frieze
This article titled "Heart-stopping Frieze art fair unveiled" was written by Mark Brown, Arts correspondent, for theguardian.com on Thursday 27th September 2012 16.28 UTC
One of the world's most important modern art fairs will open in London next month and while a chef has been found to cook the vermin, a gallery owner is still being sought to feign having a heart attack.
Organisers of Frieze London have announced details of its 10th fair in Regent's Park, which will include 175 galleries from 35 countries showing and selling works of art. There will also be talks, films, a sculpture park and a dizzying array of related exhibitions, functions and parties.
Frieze Projects is where the vermin and heart attack come in. The art fair's curator, Sarah McCrory, revealed details of this year's programme of artists' commissions that will include food-related events from Cumbria's Grizedale Arts and China's Yangjiang Group.
One of those will involve Sam Clark, the chef of Moro, cooking up culled vermin, although McCrory said that would not necessarily be rats – more your Canada Goose and hairy bittercress.
Meanwhile, DIS – "a post-internet lifestyle magazine" – is planning overnight photoshoots that will include, separately, 20 breast-feeding women, African street sellers selling real Chanel bags and a kind of paramedic emergency for which, McCrory said, they are still trying to find a gallery owner to pretend having a heart attack.
The most radical departure for Frieze this year is that a brisk 10-minute walk from the contemporary fair will be, near the zoo, a new Frieze Masters fair showing and selling art from ancient times right up to the year 2000.
Matthew Slotover, Frieze co-director said some of the artists working today would be the Old Masters of 500 years' time and the new fair would help "contextualise contemporary art in a really useful way".
He added: "Collector-wise, I think it's going to bring a lot more people to London. Because Frieze has been so contemporary, there hasn't been something for everyone until now."
• Frieze Art Fair takes place between 11-14 October in Regent's Park, London
guardian.co.uk © Guardian News & Media Limited 2010
Published via the Guardian News Feed plugin for WordPress.
Categories
Tags