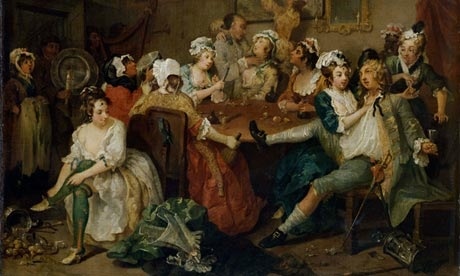 A Rake's Progress by William Hogarth will be one of the subjects for Frieze Masters. Photograph: Derek Bayes Aspect/Corbis
This article titled "Frieze fair's 'little sister' narrows gap between young rebels and old masters" was written by Vanessa Thorpe, arts and media correspondent, for The Observer on Saturday 22nd September 2012 23.04 UTC
When Picasso fashioned his radical, jumbled versions of masterpieces by Edouard Manet and Diego Velázquez, Le déjeuner sur l'herbe and Las Meninas, he claimed his own work was fresh and original. Avant-garde art has always had a contradictory relationship with the art of the past, rejecting convention at the same time as drawing upon it.
Now a new London art fair, a little sister to the 10-year-old Frieze art fair held every autumn in Regent's Park, is setting out to reveal the links between contemporary artists and those who have gone before. Frieze Masters, which opens next month beside the established contemporary fair, will show work made before 2000 and try to break down the barriers between current work and the traditions that have influenced it.
"Part of the drive for this new fair has come from hearing artists talk about their feelings for work inside the National Gallery or in Tate Britain," said Matthew Slotover, co-director of Frieze. "We want to mix things up and draw some new parallels. When we started to cover contemporary art in Frieze magazine back in 1991, it was still considered to be an insider joke; now we have got to the point where historical work can almost be overshadowed by it."
Frieze Masters is not alone in attempting to shine a spotlight back in time. Where once contemporary artists all seemed to be working with scientists, whether experts in space travel or brain surgeons, and looking to the future, now museums and galleries are increasingly showing work from different eras side by side. The work of the Renaissance painter Tintoretto was shown at the Venice Biennale in 2010 and the controversial artist Jeff Koons has just had his work on show at a museum in Frankfurt normally devoted to Old Masters' sculpture. The Documenta show in Germany this year included many historic works, ranging from ancient stone figures to still lives by the 20th-century Italian painter Giorgio Morandi.
"A ludicrous separation between current work and old work had grown up," said Jennifer Higgie, who is editing a one-off edition of Frieze Masters magazine. "But now there is less shame in talking about where ideas may have come from. At the height of modernism, there was an idea that art was on a pure trajectory towards an ideal, but that has rather gone out the window now."
Slotover, with his Frieze co-founder, Amanda Sharp, wants to give work from all eras a chance to show at an accessible, popular fair. "All good artists, after all, were once the contemporary artists, the bad boys, of their day, all going against the grain in some way. And of course a few of the contemporary artists working today will be in the history books in 100, or even 500, years' time," he said.
Next month the Turner prizewinning artist Grayson Perry will talk about Hogarth's A Rake's Progress for Frieze Masters, while Chris Ofili, famed for his work with elephant dung, will discuss Titian. The artist Lynette Yiadom-Boakye will also explain her response to La Coiffure by Degas. During the fair a series of public talks will develop the theme, with leading artists asked to discuss the impact of a recent visit to a favourite international art gallery. Cecily Brown will discuss traditional imagery in her art with Nicholas Penny, the director of London's National Gallery; Luc Tuymans will talk about his depictions of historical moments with the senior curator of the Louvre in Paris; and Glenn Brown will discuss his reaction to historic works with the curator of Zurich's Kunsthaus.
"We are going to have a fresh perspective on older work and see how it informs contemporary art too," said Sharp. "The talks will be the most overt way this relationship can be redrawn."
The idea for Frieze Masters came to Sharp and Slotover when a range of established galleries said they wanted to be part of the fair. "They liked the energy," said Sharp, "but the idea also came from spending a whole evening listening to four well-known contemporary painters talking about the varnish on a painting in the Louvre." These links are reassuring for the art market, but Sharp and Slotover insist there is aesthetic justification too: "Artists have always wrestled with the art that has gone before them, but the media and the public tend to focus on the new."
Frieze Masters will feature work from 90 leading world galleries and will join the annual art circus collectively known as Frieze Week. The innovation follows last year's move to New York, where Frieze challenged New York's Armory Show with a tent on Randall's Island.
Frieze Masters takes place from 11-14 October in Regent's Park, London
• This article was amended on 27 September 2012. The original misspelled Jennifer Higgie's name as Jennifer Heggie. This has been corrected.
guardian.co.uk © Guardian News & Media Limited 2010
Published via the Guardian News Feed plugin for WordPress.
Categories
Tags