Victory Signature Art Prize Finalist, 2012, installation, 42cm x 36cm x 28cm
FAD will be bringing you a series of interviews with the selected finalists of the acclaimed and unique Signature Art Prize 2012. In this interview we learn about Bruno Jamaica and Benedict Romain's collaborative practice that merges classical and modernist styles to create a powerful and unique aesthetic. Bruno Jamaica and Benedict Romain graduated from University of Wales Institute Cardiff with a BA Fine Art in July 2011.
How did you learn about the Prize and what made you want to enter? 
We heard about the prize on artsjobs.org and were really keen to apply, it's great to see organisations like this supporting emerging artists and we wanted to get involved.

'Herm of Galatea', 2011, Plaster, pubic hair, rope, pulley, beam clamp, steel, 168cm x 31cm x 36cm

When and where did you make your entry?
We made Victory in Bruno's studio in Stoke Newington after a full day marvelling at the amazing collection of Greek sculpture at the British Museum back in April.

Where do you imagine your entry eventually being hung?
A public urban space, some sort of niche like an archway or crevice, a contemporary architectural structure to replace the idea of the Greek temple where such a work would have stood. Somewhere gritty and dilapidated perhaps. Due to it's expansive nature, the space that surrounds this piece is integral to its presence.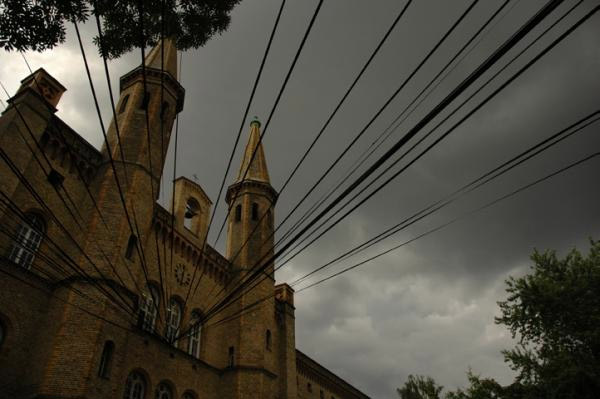 Settled Nomads, 2011 by Bruno Jamaica
Tell us about where you make your work?
Between Bruno's live/work studio in Stoke Newington and Benedict's cramped and magical shed in the sticks, space is always tight and mess is always inevitable. Bruno's space has the benefit of being situated in a large block of studios, a hub of creativity where there are many like-minded people to engage with. Conversely, the shed is the perfect spot to work undisturbed but for the sound of hooting owls and mating foxes.
What is your main goal for the coming year?
Continuing to develop this new and exciting collaboration, and to push our personal practices. We want to gain exposure and start working in public spaces.

Hanging on Every Word, 2012, Bruno Jamaica and Benedict Romain

What is your key inspiration as artists?
A melange of mythology, folklore, psychology, film, everyday normalities, first world problems, and the rich wealth of the history of art.
Finally, tell me something surprising about yourselves?
In his spare time Bruno Jamaica fights crime.

For Him and For Herm, 2011, Perfume bottles, plaster, clear resin, gold and silver leaf, light-box, wood, aluminium, electric room fragrance dispenser, 100 x 130 x 60 cm

Anything else that we should know about you – awards, exhibitions coming up, competitions etc…
We are currently representing the UK in the Santorini Biennale in Greece which runs until the end of September. Benedict is taking part in the 'World Event Young Artists' this month, a global showcase held in Nottingham. Bruno is busy developing the Action and Power Gallery, an ongoing project of contemporary exhibitions and happenings.
For more information on their Signature Art Prize entry please visit DegreeArt
Entering it's fourth year, the celebrated Signature Art Prize presents a fresh and exciting award for the most promising artists of today. The competition invites artists worldwide to apply for a chance to win one of five 1,000.00 cash prizes, representation with DegreeArt, future exhbition opportunities and artistic support, as well as gifts from the prize sponsors.
You can also participate by voting online in the Peoples' Choice Award. Have your say!. The winner will be announced at an evening reception at The Execution Room on Thursday November 1st. The winner of the Peoples' Choice Award will also receive a cash prize of £1,000, DegreeArt representation and prizes from our sponsors.
500 entries – 5 winners – The Signature Art Prize 2012.
Categories
Tags