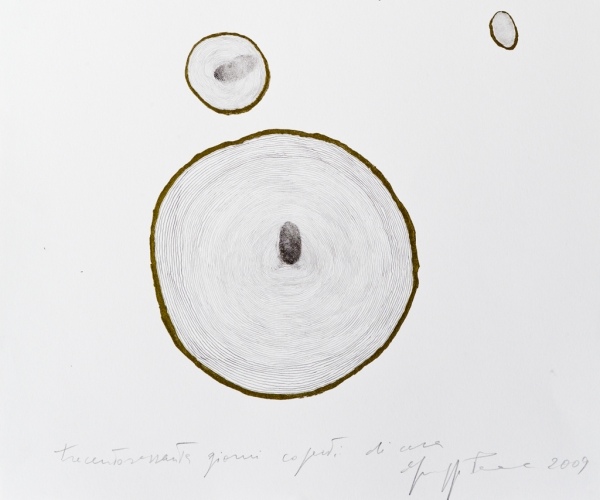 6th September – 6th October 2012
Giuseppe Penone is regarded as one of the most important artists of his generation; his career spans over 40 years, beginning in the late 1960s as he emerged as a key exponent of the Italian art movement, Arte Povera. This exhibition focuses on Penone's exploration of drawing, presenting works made in the last ten years in a variety of mediums, including new drawings that are closely related to his major sculptural commission for the Whitechapel Gallery in London, opening 5th September 2012.
The act of drawing has always been central to Giuseppe Penone's work, both as a means of developing new ideas and for producing major works. He explores drawing in many mediums, using pencil and charcoal on paper or directly on the walls of galleries, creating images using natural materials such as acacia thorns and silk, as well as carving lines through marble or moulding wax to wood. All these various strategies are connected by three major themes which run throughout Penone's work: touch, surface and growth. For Penone the idea of drawing is a generative process similar to the growth of the tree, a motif used repeatedly in his work.
When drawing, Penone uses his fingerprints to represent the tree and to create a symbol of touch, pressing a single thumbprint onto paper or a wall, creating radiating forms from the mark that are reminiscent of the age rings of a tree. Two works in the exhibition demonstrate this technique.
In both 5 Propagazioni, Aprile (5 Propagations, April) 2011 and Trecentosessanta giorni coperti di cera, (Three hundred and sixty days covered with wax ) 2009, Penone applies his thumbprint as the starting point for the final compositions; which are a series of delicate draw- ings resembling the cross-section of a tree, floating on the page like a constellation, each shape detached from the other.
In another key work in the exhibition, Un anno di cera ricopre lo spazio di luce, (One year of wax covers the space of light) 2009, Penone depicts the basic structure of a hollow tree trunk by building up multiple thumbprints on paper. This work correlates with Penone's new sculpture for
the Whitechapel Gallery, Spazio di Luce (Space for Light), which is a hollow, inverted tree lined with gold, its bronze surface covered with a layer of the artists thumb and fingerprints impressed during the process of making the work. The work demonstrates how he uses his drawings to develop ideas into large-scale pieces and also how his exploration of mark making is continued through various mediums including his sculptures.
Haunch of Venison 51 Eastcastle Street London W1W 8EB
www.haunchofvenison.com
About The Artist
• Giuseppe Penone (b. 1947) lives and works in Italy. Penone's work is held in important collections internationally, including Tate, London and MoMA, New York. Recent exhibitions include Venice Biennale (2007), Toyota Municipal Museum of Art, Toyota, Japan (2008), Ikon Gallery, Birmingham (2009) and MACs, Grand-Hornu, Belgium (2011). In 2010 Penone's work Ideas of Stone (2003) inaugurated Documenta 13, which opened in Kassel in June 2012.
• Giuseppe Penone's new major sculptural commission will open at the Whitechapel Gallery on 5 September as part of the Bloomberg Commission series, and will remain on display for 12 months.
Categories
Tags