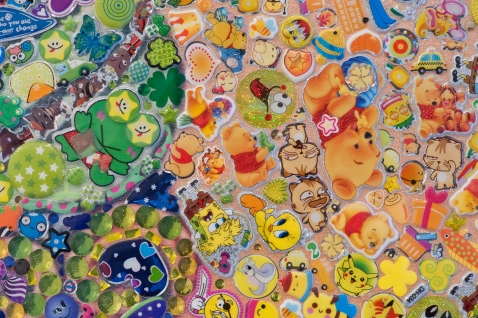 13th September – 20th October 2012
Scream are to present the first UK exhibition of Beijing based artist Ye Hongxing and the launch of their new gallery space. There has been a vast surge of interest in Chinese contemporary art, as a result of the booming local economy, the historical significance of the work currently produced and the increased exposure that collectors and art viewers have through exhibitions and international art fairs. Hongxing states that her work is "a reaction to the swift change of China's social system".
Hongxing has produced new works that address the anthropological, technological and economical developments that are happening in the region. The title of the exhibition references the 1905 novel 'A Modern Utopia' by H.G Wells and is suggestive of the artist's investigation into society and modern life. Hongxing creates jewel-like mosaics of a hybrid reality using a collage of stickers on canvas, and imagery inspired by mainstream media. Usually collected during childhood, this mass-produced, kitsch material is deftly applied to create kaleidoscopic and highly detailed compositions.
Depicting fictional landscapes, nature, modern machinery such as helicopters and guns, fantastical figures and religious imagery, Hongxing juxtaposes these elements to create explosions of colour. Reminiscent of the ancient decorative technique of Cloisonné, frequently used in China on metal-work objects and jewellery since the Fourteenth century, and the contemporary Indian artist Raqib Shaw, the cacophony of colour and detail present an infinite world that dazzles and envelops you.
Several of the works in this exhibition depict the Mandala. Sanskrit for 'circle', this ancient symbol of concentric diagrams was traditionally used as a visual tool for spiritual teaching, a focus for meditation and devotion. Hongxing renders these religious symbols with her unique, labour- intensive application of colourful stickers, which highlights the disconcerting fusion between the modern material and the sacred ideology it depicts.
Through this body of work Hongxing seems to imply that this rapid expansion in China can perhaps have a chaotic, isolating and fragmentary effect on society, where traditions and values are overlooked and potentially lost. These works provoke an engaging discourse on nature, urbanity, religion and secularism and a conflicting utopian vision of the modern world.
Born in Guangxi, China in 1972, Hongxing graduated from the prestigious Central Fine Art Academy in Bejing in 1998. She was selected by the curator of the Asian Art Museum in California and the director of Art Cologne out of over a thousand emerging Chinese artists as one of China's top twenty rising artists. Hongxing's work has been well received internationally, with exhibitions including China Art Museum, Shanghai Museum of Contemporary Art, Nanjing Museum of Contemporary Art, Art Scene Beijing; the 7th Annual Exhibition of Sculptures and Installations in Venice; Art Taipei in Taiwan, Art Cologne and Miami Basel.
27 – 28 Eastcastle Street, London W1W 8DH www.screamlondon.com
About Mark Westall