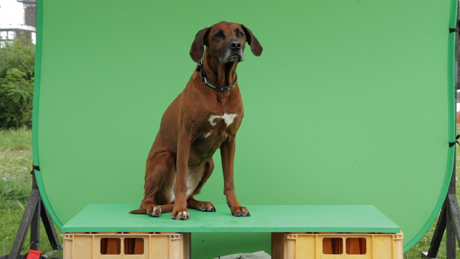 Production image from, Bang! (2012) Matthew Noel-Tod. Photo: Matthew Noel-Tod 2012
Matthew Noel-Tod: Bang!
Thursday 30th August 2012, 7-9pm, at Chisenhale Gallery
Saturday 22nd September, 2-4pm, at the Hub Building, Victoria Park
In partnership with Tower Hamlets Parks and Open Spaces Department, Chisenhale Gallery premiers Bang! (2012) by Matthew Noel-Tod. Produced and filmed during Noel-Tod's year-long residency with Chisenhale Gallery and Victoria Park, the film focuses exclusively on children and animals – two of the main groups who use the park each day – and imagines a near future in which adults have mysteriously disappeared, and where dogs provide a link with the knowledge of the past, whilst children represent the future.
Using references from popular film and television, the work presents an idiosyncratic reflection on contemporary life, in which live action is combined with CGI animation – a technique frequently used in children's films with animal protagonists. Bang! is set against the backdrop of the newly renovated Victoria Park, including the playgrounds, skate park, Chinese Pagoda and the statues of the Dogs of Alcibiades, which stand at the Sewardstone Road entrance to the park.
Matthew Noel-Tod (born 1978) lives and works in London. Solo exhibitions and screenings include, Canary Wharf Screen, LUX, London (2012), Blind Carbon Copy, Picture this, Bristol and Nought to Sixty, ICA, London (2008). Group exhibitions and screenings include Abject Bloc, Limehouse Town Hall, London (2012), Artists' Film Club, ICA, London (2011). He was a participant in the LUX Associate Artists Programme 2007-2008 and is currently a recipient of the Acme Studios Firestation live/ work residency 2010-15.
Admission is free but booking is recommended, please call +44 (0)20 8981 4518 or email mail@chisenhale.org.uk to reserve a place. Dogs and children are welcome.
The Victoria Park Artist Residency is part of Chisenhale Gallery's Offsite programme. Launched in 2010, it includes commissions, collaborations, residencies and touring programmes all taking place outside the gallery. The core focus of the Offsite programme is on commissioning artists who have specific interests in collaboration and direct engagement with social and cultural contexts.
Chisenhale Gallery has worked in partnership with Victoria Park on this artist's residency. Victoria Park is located in the London Borough of Tower Hamlets and recently received support from the Heritage Lottery Fund to restore key historic elements in the Park.
On Saturday 19 November, Noel-Tod organised a day of film screenings for dogs and their owners, which was held at in Victoria Park (near the Pavilion Café) and in the studio at Chisenhale Gallery. Click here for further information.
In April, Noel-Tod led a series of workshops in Victoria Park with pupils from Chisenhale Primary School and Wellington Primary School. Click here for more information.
Categories
Tags