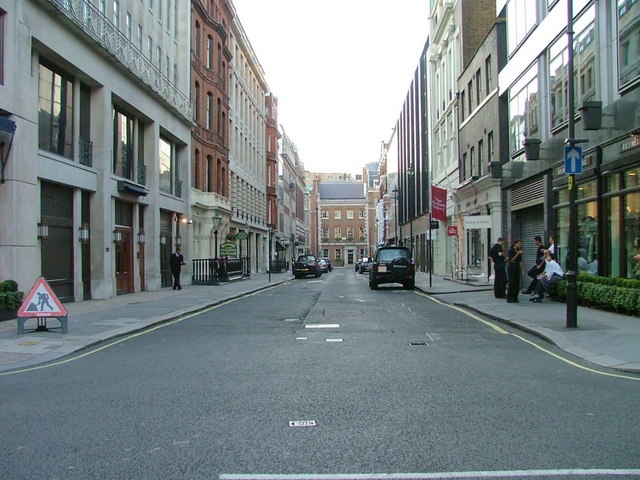 This article titled "Mayfair's art galleries under threat from developers" was written by David Batty, for The Guardian on Monday 20th August 2012 17.21 UTC
As one of the country's most important art hubs for nearly 90 years, the exhibition spaces of Cork Street have launched the British careers of many major modern artists – with the Mayor Gallery alone giving Paul Klee, Francis Bacon, Max Ernst and Joan Miró their first London shows.
But now seven of the 22 galleries, including the Mayor, will have to leave the Mayfair location as early as next year in what owners fear could be "the death of the whole street".
Their landlord, the British insurance firm Standard Life Investments, has agreed to a £90m deal to redevelop their building as a luxury apartment block.
The 7,700 sq metre (83,000 sq ft) site at 29-30 Burlington Street, which includes a stretch of Cork Street, will be bought by an international partnership made up of developer Native Land – 45% owned by a Gulf investment firm – Singapore company Hotel Properties Limited (HPL) and Malaysian investment firm Amcorp.
The deal, which is expected to be completed on 30 November, will mean that the Mayor, Alpha Gallery, Adam Gallery, Stoppenbach & Delestre, Waterhouse & Dodd, Beaux Arts and Gallery 27 will lose their leases and must move out. Several of the galleries said they understood the existing building will then be demolished.
James Mayor, whose father opened the street's oldest gallery in 1925 that bears his name, said: "It will be hell. It could be the death of the whole street. It's very sad." He fears he will be unable to find another space in the area. "It's a nightmare trying to find suitable premises in Mayfair, the fashion trade has taken over everything," he said.
"It's all about short-term gain. Who will these flats be for? They won't be for residents or nationals. Haven't we got enough hideous apartment buildings being built? We're losing all individuality as a city."
The redevelopment plans include a restaurant and an unspecified number of new galleries, but they will not open until the project is completed in 2016.
Jamie Anderson, manager of Waterhouse & Dodd gallery, said Cork Street would lose some of the most "significant players in the British art gallery world".
He said: "Losing a gallery of the stature of the Mayor Gallery will be a major loss to Cork Street. If they leave Mayfair, it will be a major loss to the area."
Announcing the deal earlier this month, Alasdair Nicholls, chief executive of Native Land, noted Mayfair's reputation as "the cultural and lifestyle epicentre of London" and the site's proximity to the "fine art galleries of Cork Street and bespoke tailoring of Savile Row".
A spokesman added: "We recognise and respect the significance of the Old Burlington Street and Cork Street neighbourhood to the international art marketplace. We have no intention of undermining it. We envisage gallery space being provided in any new redevelopment proposals."
But with Malaysian billionaire Ong Beng Seng – the managing director of HPL and a major shareholder of luxury handbag maker Mulberry – involved in the deal, gallerists fear an incursion of upmarket retailers will price them out of the street.
Louis Singh, director of the Beaux Arts gallery, said: "They've had to put in a provision of galleries but I understand that encompasses boutiques, jewellers, etc. There's no doubt they can get a lot more money if they let in fashion. But we can't afford to compete with Prada.
"It does my head in that money is the only consideration. The street is known all over the world. Related businesses, like framers, are also going to suffer. It's the only place you can see a variety of art in such a short distance. It seems madness to me. It's one of the attractions of London."
Singh predicted that the building work would also disrupt the business of galleries not in the affected building. "They're going to pull it down completely. Imagine the dust, the scaffolding, the noise. I'd be livid if I was a gallery across the street."
Christopher Battiscombe, director general of the Society of London Art Dealers, said: "It would be disastrous if galleries were forced to leave.
"Cork Street has been a headquarters for the art trade. Some of the galleries have been there many, many years. It's a very sad day to see this coming to an end."
The society has contacted Westminster council to propose the creation of a protected area for art galleries in Mayfair, although as such a scheme would require up to two years of public consultation it seems unlikely to prevent the Cork Street redevelopment.
A council spokesman said it had not received any planning application with regard to Cork Street, adding: "As a general principle, we can protect the fact that retail units exist in buildings but not dictate the occupier or type of retailer."
Some galleries remain hopeful that recent moves by the nearby Royal Academy will make the developers think twice about threatening the street's art heritage. In June, the Royal Academy unveiled plans for a major renovation of Keeper's House, part of the eastern wing of its historic Burlington House building. It is also leasing out an 835 sq metre (9,000 sq ft) gallery in the west wing of 6 Burlington Gardens, which will open just before the Frieze art fair in October.
Johnny Messum, director of Messum's gallery, opposite the affected building on Cork St, said: "With all the effort going on in the street you'd be crazy not to put in spaces for new galleries. A landlord who wasn't engaged with the art world would be crazy."
guardian.co.uk © Guardian News & Media Limited 2010
Published via the Guardian News Feed plugin for WordPress.
Categories
Tags