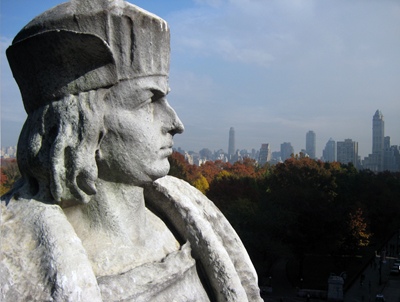 A Japanese artist is inviting the public to have an intimate view of Christopher Columbus high above a hectic intersection in midtown Manhattan. Tatzu Nishi is constructing a contemporary living room on top of the Columbus Monument in Columbus Circle, where a 13-foot statue of Columbus is perched on a six-story column in the middle of a plaza where five busy streets intersect.
"Discovering Columbus," commissioned by the nonprofit Public Art Fund, is a free exhibition that will run from Sept 20th to Nov 18th Nishi has encased the 70-foot-tall column in scaffolding and is in the process of erecting the living room — complete with couch, coffee table and lamps — around the figure of Columbus.
Visitors will climb stairs to reach the living room, where they will have a bird's-eye view of the city and Central Park. An elevator will be available for those who can't climb the stairs.
www.publicartfund.org/
www.tatzunishi.net/
Categories
Tags