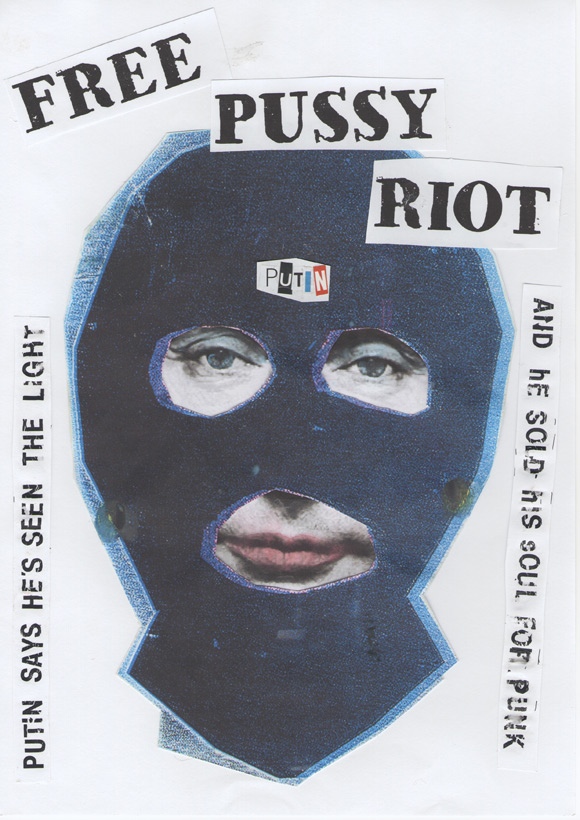 Jamie Reid: Free Pussy Riot Please like, forward, steal, tweet, print out and paste up, whatever works.
The verdict on the Pussy Riot three is due this Friday and Jamie Reid has released this free poster to download and share.
FPR Facebook Group : www.facebook.com/groups/354933861250045/
Download a Hi Res Copy of the poster HERE
Website: freepussyriot.com/
Jamie Reid the iconic creator of the graphic sensibility for the 70's Punk band, the Sex Pistols has created a poster protesting the internment of the Russian Punk band, Pussy Riot. The three piece female band were arrested for staging an Anti-Putin protest inside an historic Russian Orthodox church in Moscow, while a service was going on.
They are accused of dancing in coloured balaclavas in front of the altar of the Cathedral of Christ the Saviour ,while asking the Virgin Mary to rid Russia of Vladimir Putin.
Their arrest for hooliganism, has created so much controversy that it will be unlikely that they will ever receive a fair trial. It is a case that has divided Russia between those who think the band have been treated far too harshly, and those who feel their action has seriously offended the Orthodox faith. Some people are predicting a three to seven year sentence. The trial has begun today having already spent the past five months in prison, for the crime of trying to sing a political protest song in the cathedral.
Download a Hi Res Copy of the poster HERE
Categories
Tags