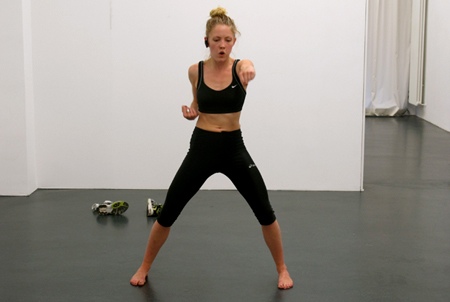 Photo from FFA Globla at Duve berlin and Tinychat.
16th August – 31st August 2012
Helga Wretman is presenting a video installation from her Fitness for Artists project: performances are superimposed over landscapes; packaged into objects and displayed within O-O to function as office equipment and decoration.
The compaction of work and home space is increasing. We continue 'the presentation of the self in everyday life' * as demand for personal branding and professionalism increases in the social realm. In this context Wretman's project examines as to whether the main importance is the persona behind the work, or the work behind the persona. More so can you train both of these, becoming more efficient in both body and image?
'In Sweden the thing in highest demand as a work benefit is not holidays or bonuses, but is Gym access. . . Now, the way we look and behave is just as important as the work we do. As artists, the line between what we are selling and what it is that brings people to your product is indistinguishable' *
One of the clearest examples within our social fabric, that exemplifies the blurring of the line between work place and home space, is social networking online. It is one of the main tools we have for the construction and presentation of our image, or brand. It is in the context that Oliver Jennings examines the interbreeding between fitness and online personal branding.
Oliver Jennings' video tells the story of two guys, Bruce and Dave. Bruce and Dave are bodybuilders who upload videos of themselves flexing.
'Bruce also uploads chat videos, where he speaks to, "you guys" and updates on how his workouts have been going, what he has been up to, what has been happening with the weather, what has been happening in his local area. All fairly mundane subjects but you really do get to know the guy.
He also frequently mentions that if anyone is in the area then they should pop by and he'll show them around.' *
As Wretman provides a workout and describes our need for persona and body-as-brand, Jennings presents two individuals heavily using this language of self (body) branding online and how it becomes the catalyst for their relationship. The seemingly unavoidable and insistent presentation of a 'perfect self' seems like it is potentially our most productive vehicle for communicating to one another.

FFA at Based In Berlin
Closing Event: Friday 31st August at 8pm Helga Wretman will be doing a fitness for Artists workout class to music. Come join in and/watch! This event is part of South London Art Map's Last Fridays Event.
www.helgawretman.com/
muscledudes.co.uk/
arcadiamissa.com/
* title of a 1959 book by Erving Goffman
* Helga Wretman
* Oliver Jennings
Categories
Tags