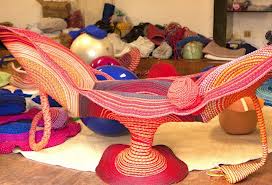 This summer, Turner Contemporary is asking Kent-based artists, craftspeople and gallery visitors to help create an extraordinary newly commissioned artwork for its Sunley Gallery. From Friday 14 September to 24 March 2013, Brazilian artist Maria Nepomuceno's exuberant installation Tempo para Respirar (Breathing Time) will fill the dramatic double-height Sunley Gallery. This new work, Nepomuceno's most ambitious to date, brings the energy and colour of Brazil, with its many cultures, colourful carnivals, and dramatic rainforests, into Turner Contemporary's beautiful space overlooking Margate seafront.
Inspired by traditional South American craft techniques, Nepomuceno weaves straw, strings and piles beads, and sews brightly-coloured ropes into draping coils and flower-like forms. These materials form a fantastical landscape, also populated by playful ceramic shapes, shiny over-sized beads and found objects. Visitors can sit amidst the work's many colours and textures, hearing the sounds of Nepomuceno's imaginary universe emerging from the shapes around them, or relax in a hammock looking out to sea. The work will continue to grow under the care of the Maria Nepomuceno Studio Group, volunteer artists and craftspeople who will help the artist create her work during her visit this autumn.
Over the subsequent months, they will add to the work, eventually connecting it to the sea outside. In late November Turner Contemporary will celebrate the completion of this element of the project and the launch of a new book about Nepomuceno's work. Tempo para Respirar is Turner Contemporary's second new commission for the Sunley Gallery, following Daniel Buren's Borrowing and Multiplying the Landscape created for the opening of the gallery in 2011. With its annual Sunley Gallery commission, Turner Contemporary aims to support the creation of ambitious new artworks that push the boundaries of artists' practice and create a memorable encounter for visitors entering the gallery.
Director Victoria Pomery says:
"I am delighted that Maria Nepomuceno has agreed to work with us on a new commission for the Sunley Gallery. Her incredibly energetic, poetic work will transform the space once again. Maria really wants as many people as possible to participate in the production of this work and I very much hope that our audiences will meet the challenge."
In late August and early September, the artist will be in the gallery creating her new work, and there are a number of ways opportunities for visitors, artists and craftspeople to get involved.
Maria Nepomuceno Born in 1976 in Rio de Janeiro, Maria Nepomuceno studied painting and drawing at the prestigious Parque Lage visual arts school before studying industrial design at the University of Rio de Janeiro and art and philosophy at the School of Visual Arts in Rio de Janeiro. Maria Nepomuceno is one of a young generation of Brazilian artists championed by A Gentil Carioca, the dynamic downtown Rio de Janeiro gallery founded by artists Marcio Botner, Laura Lima and Ernesto Neto. In 2010 Nepomuceno presented an acclaimed solo exhibition at Magasin 3 in Stockholm. Her work has been featured in exhibitions internationally in cities including Paris, New York, Berlin, Amsterdam, Milan, Los Angeles and Cologne, and she has shown extensively in Brazil. Maria Nepomuceno will have a major solo exhibition at the Museum of Modern Art, Rio de Janeiro in 2013. 
Categories
Tags