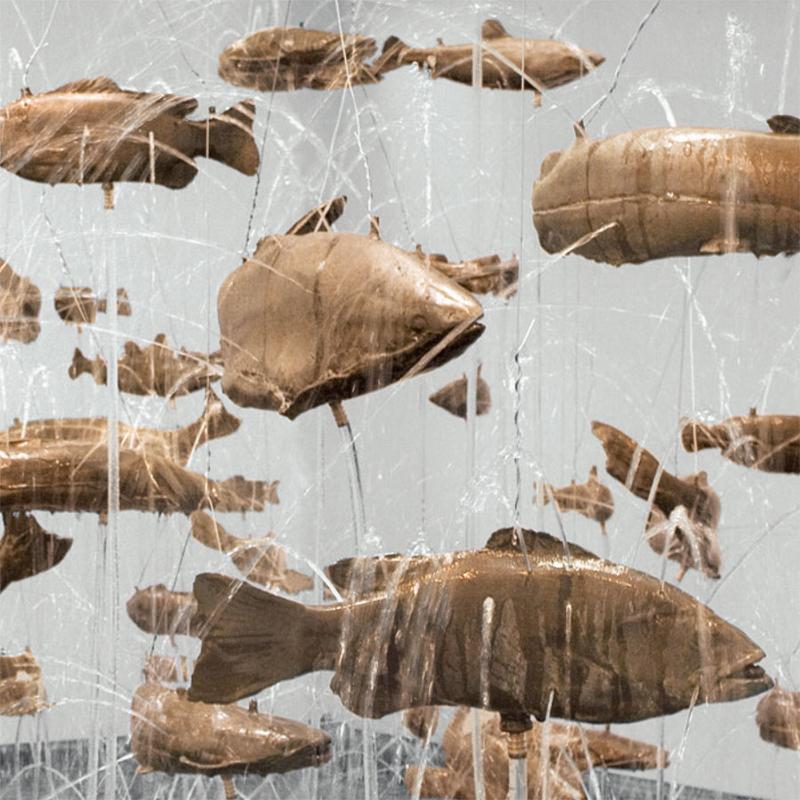 BRUCE NAUMAN One Hundred Fish Fountain (detail), 2005 © 2012 Bruce Nauman/Artists Rights Society (ARS), New York
As the title states, One Hundred Fish Fountain (2005) comprises nearly as many hollow bronze fish, cast from nature and suspended in the air on wires, as if swimming in deep water. Below them is a shallow basin, deftly cobbled together from rubber sheeting, which measures 25 feet by 28 feet. The environmentally scaled sculpture all but fills the room, allowing just a narrow track for the viewer to edge around the perimeter, in much the same way as Nauman's early corridor works first invited then restricted movement.
Some of the fish are set just a foot or two above the basin while others hang as high as ten feet, creating a loose topological structure. Water is pumped intermittently into each of them via snaking intravenous tubes. Once the fish fill up with water, they spurt energetically via random perforations. The thousand or so rivulets of water thus produced create an effusive aural and visual din that that imparts to the work the humid force of a natural waterfall. The fountain runs like this for fifteen minutes, shuts down for two, and then the cycle begins anew. As the pumping ceases, the water slows to a drip until it ceases altogether. The draining water is caught in the basin beneath, where it is reticulated so that the process can resume. During the passive period, the noise and activity all but cease; what had been an exuberant spurt slows to a deathly drip until the pump kicks back in and life returns.
A native of the American heartland, Nauman has rarely cited it as an overt influence, however, he has acknowledged that One Hundred Fish Fountain is rooted in his memories of boyhood fishing expeditions with his father. The fish that make up this extraordinary ensemble are the kinds that he used to catch all those years ago–catfish, bass, whitefish and so on. All those employed in the casting of this extraordinary nature morte were caught in the Great Lakes by Nauman and his friend and dealer, the late Donald Young, thus anchoring this unique and poignant work even more firmly to the locus of autobiography.
One Hundred Fish Fountain also recalls the exhilarative air of Nauman's seminal Self-Portrait as a Fountain (1966-67), his corporeal riposte to Marcel's Duchamp's game-changing readymade. But by re-visiting the prank of his artistic youth and transferring the irreverent gesture into the terms of monumental sculpture and ecological metaphor, he also grants the viewer a visceral immersion in the systole and diastole of time and memory.
Bruce Nauman was born in 1941 in Fort Wayne, Indiana. He studied mathematics, physics and studio at the University of Wisconsin, Madison and then pursued an MFA at the University of California, Davis. Recent solo exhibitions include "Bruce Nauman: Mapping the Studio I (Fat Chance John Cage)," the Dia Center for the Arts, New York (2002); "Bruce Nauman: Mapping the Studio," Museum für Gegenwartkunst, Basel, Switzerland (2002); "Bruce Nauman: Theaters of Experience," Deutsche Guggenheim, Berlin, Germany (2003); "Bruce Nauman: Make Me Think Me," Tate Liverpool, England (2006); "A Rose Has No Teeth: Bruce Nauman in the 1960s," UC Berkeley Art Museum & Pacific Film Archive (2007); "Bruce Nauman: Dead Shot Dan," Contemporary Art Museum St. Louis, MO (2009); and "Notations/Bruce Nauman: Days and Giorni," Philadelphia Museum of Art (2009). His work has been included in the Whitney Biennial (1977, 1985, 1987, 1991, and 1997) and the Venice Biennale (1978, 1980, 1999, 2005, and 2007).
Nauman lives and works in Northern New Mexico.
Categories
Tags