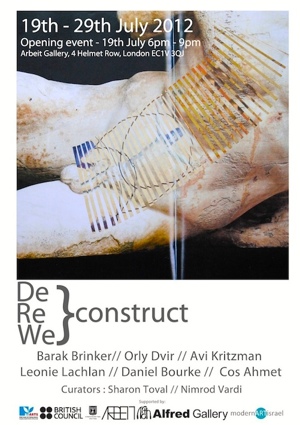 19th 29th July 2012.
MM1: Mutatis Mutandis 'That having been changed, which had to be changed'.
In order for one to create, one must change, and that change is an inevitable and fundamental given. Hence, the future is inevitable. This is the only certain truth.
Arbeit Gallery & Modern Art Israel present De-Construct/Re-Construct/We- Construct, the first exhibition for 'MM1', a British – Israeli Joint Experimental art project, involving the pairing of six international artists, diverse in their practice and perspectives on art. Each pair was asked to examine the creation and development of making art by means of new platforms and methods within a mutual capacity.
During a four-month period, the coupled artists explored, shared and exchanged their artistic endeavours via a virtual system of private online studios, allowing them to interact with each other on a personal and artistic level, sharing and creating any material they wished to upload to these platforms.
Several conceptual ideas were followed during this project:
Objectivity/Subjectivity: between creation, contemplation and analysis, the balance between the artists and these ideals. The process started by giving the pairs a starting point on which to react, each one taking their turn, to add, subtract or indeed completely change the path of the work. Not one of the artists had full control on the creative process of the artwork, but all had the ability to shift it to their liking, therefore leaving them standing still in a state of the 'unknown', experiencing an 'in-between' state.
Whilst allowing themselves to remain in this state, the artists had to let go of prior ideas and be as objective to the work process as possible. They had to come to terms with the fact that the work has its own destiny; having its own past, present and future, and therefore reflecting on whether a mutual work can arise when there is more than one subject or theme, or in fact, none at all within a singular artwork.
In the making process it seems only natural to explore the use of futuristic ideals and methods. Is this, what leads artists to make use of collage in the sketching process?
The Russian Futurist sculptor, Naum Gabo, said:
"We know only what we do, what we make, what we construct; and all that we make, all that we construct, are realities…there is no reality beyond this reality except when in our creative process we change the images: then we have created new realities".
From this quote, the following issues arise: If art creates new realities that are detached from the past or the future, why do we feel the desire to learn art from history books? Why do we regard art as history? Can we, neutralise 'subject' in the creative process? Did the artists truly integrate and play the 'objective-subjective' game? Can we define art as a public object, or define 'property' in art?
arbeit.org.uk/
4 Helmet Row, London, EC1V 3QJ Artist Talk: Sunday 22 July 2012, 3.00pm – 5.00pm
Artists: Cos Ahmet , Abraham Kritzman ,Barak Brinker ,Leonie Lachlan ,Orly Dvir ,Daniel Bourke
Curators: Sharon Toval & Nimrod Vardi
Categories
Tags