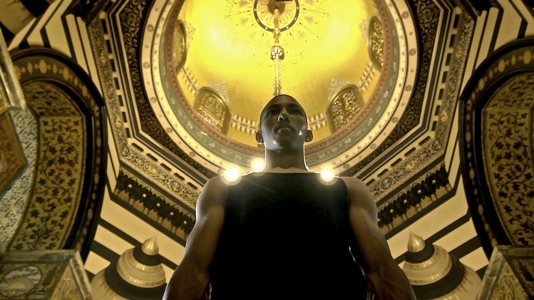 "SYNCSELF interactive parkour film copyright Karen Palmer".
1.If you weren't an artist, what else would you be?
Frustrated.
2. Can you tell us more about your work and what are the main ideas you would like to express?
Being a freerunner and a filmmaker my work explores the physiological aspects of Parkour as much as the physical movement.
Parkour Definition: is a physical discipline and non-competitive sport which focuses on efficient movement around obstacles.
I am fascinated by our psyche as freerunners and what ultimately enables us to commit and take that leap of faith. The films explore the evolutionary and physiological process of being a freerunner.
My new film SYNCSELF explores the concept that in this age of technological dependency, have we neglected the most powerful computer system at our disposal? The Self! We always prioritize downloading the latest update on our iphone or computer but do we ever take the time to Sync our Selfs. Freerunners have to constantly update their belief system or personal operating software in order to overcome the most recent obstacle.
3. How do you start the process of making work?
My projects often originate from conversations I have with people about things I am very passionate about. That's the starting point, something which is bugging me, which I cannot shake, that I need to understand. My work is the process of me discovering the answer.
Then I start to assimilate the team and tools I need. All the while trying to relax and at the same time force this idea that's inside me out. This is my process of doing that gradually gives birth to the project.
4. Do you consider the viewer, when making your work?
Absolutely. I want them to be an active participant of this experience that I simulate for them. So indirectly the viewer determines the format. For example my interactive films simulate the experience of being a freerunner, I want the audience to feel that sensation of freedom and empowerment to be inspired to recreate it in their own lives. The films determined that they had to be interactive in nature to achieve that.
5. Name 3 artists that have inspired your work?
JR-The photographer. His images and message are both powerful and he has made the world his canvas.
Alex Grey-The visionary artist. Pure art from the source of creativity.
Maya Derren-Experimental Film maker. Intelligent. Innovative and still cutting edge fifty years later.
6. Name 3 of your least favourite artists.
I would rather not say. There's something for everyone.
7. What defines something as a work of art?
When Relevance Ignites Creativity.
8. In times of austerity, do you think art has a moral obligation to respond topically? It really depends on the Artist and not The Art, regardless of the time.
9. Anytime, any place – which artist's body would you most like to inhabit?
Muhammad Ali
He made boxing an art.
10. What is your favourite 'ism'?
Activism
11. What was the most intelligent thing that someone said or wrote about your work?
I was recently asked to talk about my work at Scamp Global Media Conference.
During my talk someone tweeted…Amazing interactive film about freerunning by Karen Palmer-taking film, video gaming to new level. Karen Palmer should be talking at TED. Knock out stuff.
12. And the dumbest?
Not sure! But I am sure to them it was relevant!
13. Which artists would you most like to rip off, sorry, I mean appropriate as a critique of originality and authorship?
It's vital to find your own voice. So nobody!
14. Do you care what your art costs? State your reasons!
Obviously!
I deserve to maintain the best possible lifestyle because I am completely committed to the Art and the delivery of a message of beauty and integrity. Culturally there are many people making alot of money from doing alot, lot less.
15. If Moma and the Tate and the Pompidou wanted to acquire one of your works each, which would you want them to have?
I would say the Pompidou, simply because when I was young I went there and experienced a Magnum Photography's exhibition that resonated with me in a very powerful way. It was the first time I felt the power within images. I would like to touch and inspire a young person in the same way.
16. What's next for you?
There is the forthcoming launch on 21st July of my new film SYNCSELF. SYNCSELF wants to hang around for a while. I think it wants to be a global movement or something to inspire people to reconnect with self. So I am going to honour the project and continue to get it screened nationally and globally. Then continue to develop the project, I can definitely see SYNCSELF being a series of films. I will delve deeper conceptually, technologically and globally. I have one partner on board I just need another two then sky's the limit.
For further information on the film, go to the website. www.syncself.co.uk/home/
SYNCSELF will be screened on 21/07/12 Commissioned as part of the Intransit Festival for the Royal Borough of Kensington & Chelsea will be shown exclusively. 2.00PM – 4.00PM PORTOBELLO POP-UP CINEMA, 3 ACKLAM ROAD, W10
Evolution will be screened on 19/07/12-01/09/12 The Londinium Exhibition, private view. 6.30PM- 8.30PM. The Rebecca Hoassack Gallery,2A Conway Street, Fitzroy Square,London W1T 6BA, UK
Categories
Tags