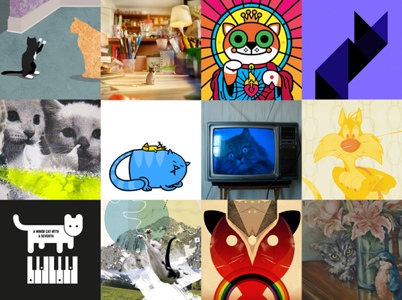 Soapbox & Sons are curating an exhibition of LOLCATS this autumn. They have assembled a plethora of artists to bring this notorious meme to life. FAD will be interviewing a select few over the coming weeks in the lead up to the show.
Here's some more info from Soapbox & Sons.
Did you know as early as the 1870s, British portrait photographer Harry Pointer created a Carte de Visite series featuring felines posed in various situations, to which he added amusing text intended to further enhance their appeal?

This, evidently, caught on, but we want to take LOLCATS to a completely new level. These ridiculous memes are notorious for being crude, rough and generally make-shift. We, on the other hand, are creating a series of beautiful, funny, witty and well-designed LOLCAT fanart.

We have gathered a unique group of artists, including graphic designers, illustrators, photographers, animators, writers – and more, to create their own LOLCAT interpretations across mixed media. This series will be exhibited and sold in aid of a major charity to be announced very soon.
Contact Jenny Theolin for more information jenny.theolin@soapboxandsons.com
THE EXHIBITORS
12 FOOT 6, ANDY ALLEN, MANUEL ARCHAIN, NEIL AYRES, LIZZIE MARY CULLEN, ABI DAKER, GRAHAM DEXTER, CHARLIE FARNCOMBE, DANIEL GRAY, LULUBELLES CAKES, PETER HAWKES, JORDAN HEMSWORTH, VICTORIA KOCHOSKI,ALIX LAND, DUNCAN MACDONALD, CHRISTOPHER MARSDEN, PAUL MCANELLY,JAMES MCKENZIE BLYTH,
MARK A. MILIC, TREVOR MILL, JOSEF MINTA, KATHERINE MURRAY CLARK, JAMES OCONNELL, MARTIN PARRIS, ALEX PIERCY, DELME ROSSER, SNEAKY RACCOON,LAURA SOM, ANTHONY SMITH, JIMMY TURRELL, JAMES WARFIELD,ANDREA WIRTH, KAT WOJCIK.
About Mark Westall