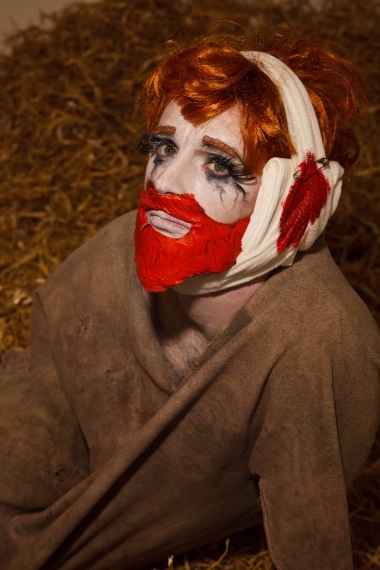 13th July-18th August 2012. Preview Thursday 12thJuly, 6.30pm-8.30pm. Performances at 9pm.
www.cerihand.co.uk/
Mel Brimfield's work cuts through histories of art and performance in ways that makes us think about how it is we look. Live performances and film-based work re-imagine the tropes of art history and the cult of the tortured, long-suffering artist. Humour is an important aspect of the works' power. I read strategies such as camp exaggeration and parody as Brimfield re-constitutes recognisable monologues and scenarios. Her work is fantastically funny but the humour is not benign. The work is also profoundly questioning of the stakes at play in the processes of making images, staging performances and writing history.
The exhibition foregrounds two new films: Between Genius and Desire – Jackson (after Ed Harris) and Vincent (after Kirk Douglas). Brimfield focuses in on scenes out of the 2000 movie Pollock acted and directed by Ed Harris and Vincent Minnelli's 1956 version of a tormented Van Gogh (Lust for Life). I delighted in Brimfield's re-staging of Kirk Douglas's over-wrought impression of Van Gogh. In Brimfield's re-staging experimental drag artist Dickie Beau draws together a hybrid of queer performance, and theatre traditions that invoke Victorian melodrama and clowning. Beau plays with drag traditions of lip-synching and his highly charged, self-consciously lurid performance makes us re-think the cult of celebrity and the clichés and tropes of the creative worlds we encounter in everyday life.
Works such as the video Clement Greenberg – Lee Krasner = Jackson Pollock (2011) make visible the stakes at play in the relationships between art history, criticism and gender politics. Histories of art and design are populated by invisible women who although artists, architects or designers in their own right are ghostly presences in omnipotent historical narratives about men like Pollock. The curatorial placement of the video underneath the gallery stairs is a clever counterpoint to the work's re-imagining of Pollock's wife, the artist Lee Krasner, as she speaks back at Pollock and Greenberg (the art critic who famously championed Pollock and abstract expressionism in America). Krasner is played by the actress and character comic Joanna Neary with deliciously exaggerated, slightly crazed aplomb. The camera focuses with great intimacy on Neary's face as she addresses us. Krasner is transported to Britain, and transformed into the stereotype of the downtrodden wife barely able to zip up ever so discomforting emotions of anger and frustration. Her Alan Bennett inspired monologue conjures up, with hilarious vividness, the much narrated image of Pollock as a masculine caricature smashing things up and pissing on carpets.
Brimfield's work is electric, funny and irreverent. She is an artist who has important things to say about the processes of creative production and the politics of history and representation. In a twenty-first century that feels as though we've seen it all her work stands out: in her performances history is alive but the ways in which we look are contingent on our present.
Review by Yvette Greslé
Ceri Hand Gallery Project Space, 71 Monmouth Street, Covent Garden, London, WC2H 9DG Opening hours: Tuesday-Saturday 10am-6pm or by appointment
About Mark Westall