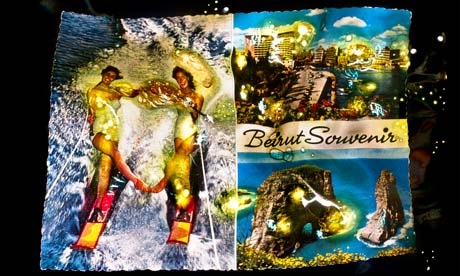 Wonder Beirut #13, by Joana Hadjithomas and Khalil Joreige. Photograph: Courtesy of the artists and CRG Gallery, New York and In Situ / Fabienne Leclerc, Paris
This article titled "New photography from the Middle East comes to London" was written by Sean O'Hagan, for theguardian.com on Wednesday 27th June 2012 16.28 UTC
The announcement that the V&A and the British Museum in London have acquired a major collection of Middle Eastern photography just ahead of the V&A's big November show of contemporary work, Light from the Middle East, is further evidence of how vibrant photography is in the region, and how relatively late we have been in catching up to that fact. As Marta Weiss, curator of the exhibition, notes: "contemporary photographic practice from and about the Middle East has been some of the most exciting, innovative and varied anywhere in the world".
That, in part, is to do with the ways photographers and artists have responded, both formally and in terms of subject matter, to the political upheavals in the region, including the Arab spring. The exhibition, which spans the past 20 years and includes the work of 30 artists from 13 different countries, is divided into three themes: Recording, Reframing and Resisting.
Alongside established photojournalists such as the Iranian-born Abbas, the V&A will be showing the work of Youssef Nabil, who once worked for David LaChapelle and was championed by Tracey Emin when she discovered his hand-coloured photographic prints made in homage to old Egyptian film stills.
More provocative is the work of Shadi Ghadirian, which was snapped up by the Saatchi Gallery in London and questions the traditional role of women in her native Iran. In her staged series, Like Everyday, Ghadirian mischievously places kitchen utensils over the faces of veiled women, playing with both language – "doormat", "hatchet-face" – and representation. Newsha Takavolian, a female photojournalist from Tehran, also addresses women's roles in Iranian society in her potent series of portraits, Mothers of Martyrs.
The V&A will also be showing the work of the Atlas Group, a fictional collective formed by Walid Raad, perhaps the best known contemporary artist from the Middle East. Lebanese-born Raad, who lives in New York, won the Deutsche Börse prize in 2007 and the prestigious Hasselblad prize last year. His practice uses still photography, video and text to address the history and politics of Lebanon in an often oblique way.
Politics, society, identity and belonging are recurring themes here, as well as the psychic fallout of war and revolution. But it is the ambitious and challenging ways artists and photographers have responded to those subjects that have made contemporary Middle Eastern photography so exciting, complex and multi-layered. It should be quite a show.
guardian.co.uk © Guardian News & Media Limited 2010
Published via the Guardian News Feed plugin for WordPress.
Categories
Tags