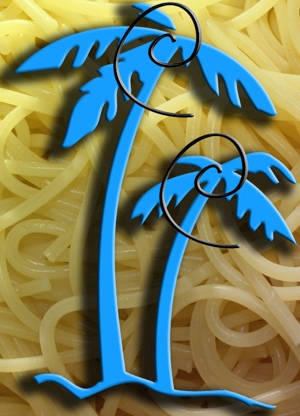 Katja Novitskova (1984 Tallin, lives and works in Amsterdam) will present Hotel Palenque's 7th A0 commission at French Riviera, London.
One year of commissioning A0 unique unreproducible artworks in the UK and Europe will be celebrated at French Riviera with a new work by Katja Novitskova. Like a wedding portrait, the new commission will be conceived the same day with a range of ephemera data, emphasising the uniqueness of Hotel Palenque's procedural instructions.
The backyard of French Riviera will be transformed by STOMACH ACID! a drinking and eating spaghetti themed experience created by pyramidd.biz. Bier Garten benches, table service, cocktails, a specially created soundsystem playing chillout acid hits and a free to take away party-flyer will be produced.
To finish the celebration, Eva by Heart will host one of her now famous artist's nights at Visions Video Bar in Dalston. At this occasion, Amalia Ulman will present KALOR, a night informed by her recent work on south European middle class youth, a mix between the nini generation motto and Latin American aesthetics.
hotelpalenque.org/
www.frenchriviera1988.com
www.pyramidd.biz
www.evabyheart.org
www.katjanovi.net
www.amaliaulman.eu
About Mark Westall