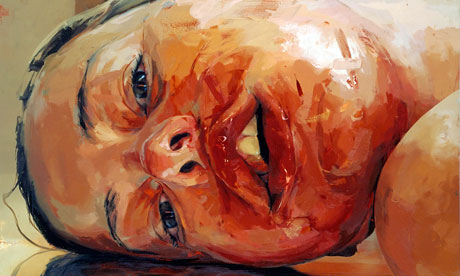 Reverse, 2002-2003, by Jenny Saville

This article titled "This week's new exhibitions" was written by Robert Clark & Skye Sherwin, for The Guardian on Friday 22nd June 2012 23.06 UTC
Jenny Saville, Oxford
Jenny Saville's monumental paintings of flesh in the raw have made her one of Britain's best-known artists. Her women's engorged bellies, swollen breasts and thighs, shouting of anguished self-image in bloody gobs of pigment, have garnered her a public following to rival the approval heaped on her by critics. Although she emerged as an almost fully formed star when Saatchi first exhibited her work in the early 1990s, this is her first big public gallery show in her home country. It traces her development as a painter over the course of two decades, from the famed images of unruly, tormented but defiant female flesh, to recent works that see her striking out in fresh directions. New drawings have taken Leonardo's cartoon of The Virgin and Child with St Ann and St John the Baptist, for inspiration. In place of its vision of stoic motherhood, Saville's images are a hectic whirl of energy.
Modern Art Oxford and The Ashmolean Museum Of Art & Archeology, to 26 Sep
Skye Sherwin
Mark Wallinger, Gateshead
A film shows three builders erecting scaffolding on a beach. The camera frames the geometric structure set against the shingle and the background horizon. The builders' white T-shirts interweave with the metallic grey of steel rods that frame a grey-blue sea and sky. The Construction Site receives its UK premiere in this show of Wallinger's intriguing work. There's something about the way Wallinger composes apparent futilities with such systematic earnestness that is in itself convincing. Another classic here, titled 10000000000000000, is of exactly 65,536 (the decimal form of the title's binary number) stones on a chess grid, a reflection of a superperfect number.
BALTIC, to 14 Oct
Robert Clark
Diane Arbus, London
Whether photographing a giant or schoolgirls, Diane Arbus had a genius for revealing her subjects' outre side. The 32 photos here focus on modern tribes, exploring the idea that dressing up or getting into disguise can make you freer to be yourself. It's easy to see her portraits of celebrity lookalikes as an influence on an artist such as Gillian Wearing. There's plenty of strange glamour, from puckish, bare-chested youths in makeup to society dames with matching pillbox hats and elegantly held cigarettes. Arbus probes further, however. Her image of a blind couple, huddled in one another's arms and dwarfed by their bed, or Russian midgets in a sombre living room, speak of tribal tendencies as necessary armour in a tough world.
Timothy Taylor, W1, Tue to 17 Aug
SS
Stanya Kahn, Manchester
Stanya Kahn comes from Los Angeles and it shows. Her videos are all self-consciously faked, every emotion and thought acted up and played out. But you're reminded of the camera's ubiquitous presence; the costumes are tatty and the props throwaway. Kahn navigates this slapstick theatre of the absurd with consummate self-deprecating humour. In Lookin' Good, Feelin' Good she roams the streets dressed as a giant foam penis. For It's Cool, I'm Good she explores LA wrapped in bandages like an escaped hospital patient. In true LA style, the words Cool and Good are taken to mean the opposite of their conventional definitions.
Cornerhouse, to 16 Sep
RC
Madge Gill, London
Madge Gill is one of outsider art's most fascinating figures. A Victorian spiritualist, she began obsessively creating drawings guided by a spirit known as Myrninerest, whose "signature" was often seen in the corner. The repetitive intricacy of her work is tireless: dense squares, cross-hatching and swirling forms, from which spooky, feminine faces peer. Most of Gill's vast output rarely leaves its Newham archive; here Bow Arts redresses the balance with the first of a trio of 10-week shows at the Nunnery.
The Nunnery, E3, to 23 Aug
SS
Erwin Wurm, Liverpool
A grown man entertains himself in private by stuffing red and blue marker pens up each nostril. He grips two photo-film canisters in his clenched eye sockets and, as a finishing touch, his mouth is gagged by holding a stapler like some kind of robotic beak. If all this weren't loony enough, he takes a photograph of the whole grotesque affair and presents the image as a work of art. This is just one of Erwin Wurm's One Minute Sculptures, a series of photo-artwork-performances that he's been working on assiduously since the late 1990s. Other of the 18 works exhibited here show a prone figure half buried by a suitcase and another figure wearing a cardboard box as a regulation uniform. The surprising thing with Wurm is that such dada daftness doesn't look just tiresomely wacky, like so many drunken pranks. Delightfully, it's somehow very sophisticated cultural mischief.
Open Eye Gallery, to 2 Sep
RC
Andrew Kötting & Iain Sinclair, London
Legacy has become the Olympics buzzword, applied before the fact, as if you could reverse time, and projected on to the future. Psychogeographer writer Ian Sinclair and artist-filmmaker Andrew Kötting's latest project sends up the vacuous cultural commissions taking legacy's name in vain to bulldozer so-called wastelands rich with people's history. Exploring the lesser-celebrated side of Britain, last year they took to Blighty's waterways in a swan-shaped pedalo. Their pedal-powered odyssey from Hastings to Hackney is by turns tragi-comic and quietly radical, lit up by folk songs and locals' stories. The results can be seen now in an installation of film, photos and artefacts, to be released in movie form next month.
Dilston Grove, SE16, Wed to 29 Jul
SS
guardian.co.uk © Guardian News & Media Limited 2010
Published via the Guardian News Feed plugin for WordPress.
Categories
Tags