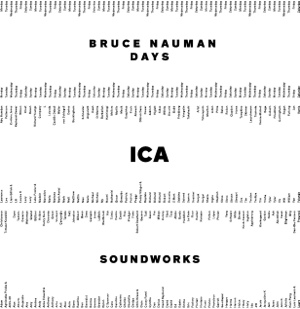 This article titled "This week's new exhibitions" was written by Robert Clark & Skye Sherwin, for The Guardian on Friday 15th June 2012 23.05 UTC
Anri Sala, Dublin
The installation 1395 Days Without Red by Albanian artist Anri Sala launches the Irish Museum Of Modern Art's temporary space at Dublin's National Concert Hall. The video follows Spanish actor Maribel Verdú as she hesitantly makes her way through Sarajevo's Sniper Alley. Throughout its 43 minutes, the protagonist shifts between hesitancy and fearful dashes, while a soundtrack of the Sarajevo Symphony Orchestra rehearsing Tchaikovsky's Pathétique accompanies the images with similar stops and starts.
Irish Museum Of Modern Art Annex at National Concert Hall, to 15 Jul
Robert Clark
Fiona Crisp, London
A "face-off with beauty" is how Fiona Crisp describes her latest photography installation, Negative Capability: The Stourhead Cycle. Instead of the expected swoonsome shots of the National Trust house's 18th-century landscaped gardens, her images are all screens and silhouettes. Captured from inside the dark confines of Stourhead house, the views through windows and doors look like paintings hanging in a void of black. Crisp's photos play up how orchestrated the Romantic vistas of woods and lakes are. Stourhead's English countryside has after all, been carefully crafted, first by the aristocratic family who built it and now by the tourist industry trading on heritage nostalgia.
Matt's Gallery, E3, Wed to 29 Jul
Skye Sherwin
Jini Rawlings, Aberdeen
The title of Jini Rawlings's plaintive infiltration into the Maritime Museum's collection, Wave/ing, brings to mind poet Stevie Smith's "I was much too far out all my life/ And not waving but drowning". There's a similar sense of ambiguity here as Rawlings's camera drifts around the coast of Iceland following routes laid down in the journals of 19th- and 20th-century travellers Elizabeth Jane Oswald and Alfred Craig. The lone figure standing at the sea's edge, facing the endlessly incoming waves, could be waving as either hello or goodbye. Sporadic texts offer a poetic interjection with the exhibits, anchoring the dreaminess into the historic facts of real danger defied at the edge of our world.
Maritime Museum, to 1 Sep
RC
Tony Cragg, David Brooks, nr Chichester
The party seems to have got out of hand at Goodwood's Cass Sculpture Foundation, celebrating its 20th anniversary with two new sites for sculptures. Interlinked picnic tables have invaded one of its fresh additions, the Deer Hut Ground, spread out like a protective suit of wooden armour. Created by the young US sculptor David Brooks, Picnic Grove makes a playful comment on how we get together in the great outdoors. Meanwhile in the Coastal Field, Tony Cragg has set two of his huge fibreglass sculptures from his Rational Beings series: rippling forms that resemble a stack of spinning dishes or a dancer pirouetting at high speed.
Cass Sculpture Foundation, Thu to 4 Nov
SS
Liam Spencer, Oldham
Liam Spencer transfers the bold brushwork and heavily saturated colours of the French post-impressionists to the Manchester and Oldham terraced red-brick backstreets of a century later. Yet his assurance of manner and convincing feel for the distinctive architectural characteristics of his subject matter manage to lift his work beyond the very real danger of dated and derivative mediocrity. As a painter, Spencer's certainly got a nerve, making use of unlikely hues to intriguing effect. He sets the terracotta tones of mill chimneys against a sun-drenched sky of quite unlikely Lancashire cobalt. This retrospective show, presented together with Touchstones Rochdale and entitled Painting From Life – Twenty Years And Counting, sees the artist using the same inconspicuous aesthetic formula to treat the skyscrapers of downtown Manhattan, the cyclists of Beijing, and the dark, dank and moody expanses of the Rossendale Valley. This is northern painting and it knows it: brash, ballsy, hands-on.
Gallery Oldham, to 6 Oct
RC
Bruce Nauman, London
Nauman's ephemeral art of words and performance uses the bare stuff of life. In Days, the sound work taking over the ICA's lower gallery, which formed part of his Golden Lion-winning show at the Venice Biennial in 2009, it's the days of the week, spoken by seven men and women of varying ages. The days pile up, always the same, but repeated in an ever-evolving random order, as if to underscore the pointlessness of attributing meaning. What makes Monday different from Friday? Or is it amazing and utterly insurmountable, the flow of time and life, always changing, impossible to contain in the box of a day's name? Nauman plants the seed; the ideas grow and grow.
ICA, SW1, Tue to 16 Sep
SS
Joe Hesketh, Halifax
Joe Hesketh is obviously a character and it shows in her large and brazenly sensuous paintings. The title (Miss): Sticky indicates cheeky rudeness, brave flaunting of sexual intimacies, and also an undertow of vulnerability. Hesketh gives oils the translucent resonance of watercolours. She must have to fork out for twice as much white as any other colour, and this alone invests her gestural improvisations with the heady dizziness of highly ambivalent dreams. You're never quite sure whether what's going on is a matter of fun or fear; one expressionistic image of sexual entanglement is simply titled Bang.
Dean Clough, to 16 Sep
RC
Yoko Ono, London
Yoko Ono's message of peace and love has stayed true for over five decades, and this show promises a measure of how those 1960s values translate today. One of its key works, #smilesfilm, her international online hub of people's snaps of themselves smiling, began with a wish she expressed in her book Grapefruit, back in 1964. "I cannot go around the world and take the shots myself. I need co-operation," she wrote long before Mark Zuckerberg was a twinkle in his parents' eyes. While many of Ono's early works bristled with the threat of violence – Cut Piece had the audience scissoring off her clothes – the political art she's made of late is far more upbeat, including getting people to remake broken things and to hang wishes on trees. For some the smiley, happy, hand-holding might seem a little out of step with our cynical times, for others it'll be a breath of fresh air.
Serpentine Gallery, W2, Tue to 9 Sep
SS
guardian.co.uk © Guardian News & Media Limited 2010
Published via the Guardian News Feed plugin for WordPress.
Categories
Tags