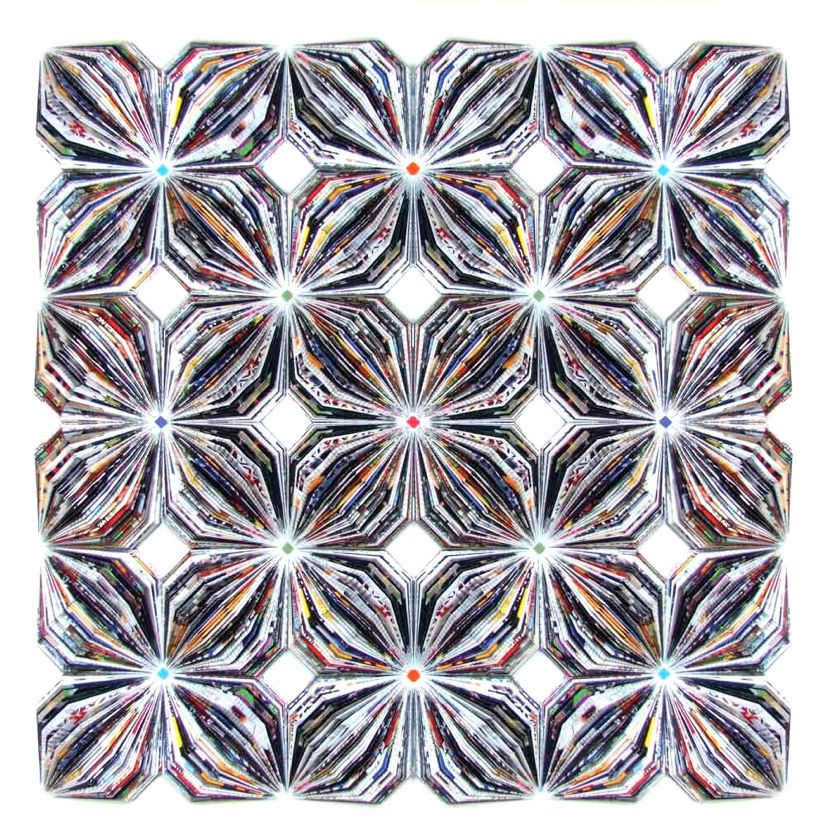 This is the second in a series of questionnaires that were taken during The Other Art Fair 2012 as part of FAD office's responsive staging of a live magazine.  Gain insight into the artists' experiences of The Other Art Fair and sample the diverse range of artworks this year's fair had to offer.
1.      If you weren't an artist, what else would you be?
Maybe an actor.  I am talkative and like meeting people.  And when I was younger, I loved cinema and theatre.
2.      Why did you apply to the Other Art Fair?
I wanted to show my art works within a context where I can hopefully sell them.
3.      Is it your first time you have participated in the Other Art Fair? If not, what was your experience last year?
First time.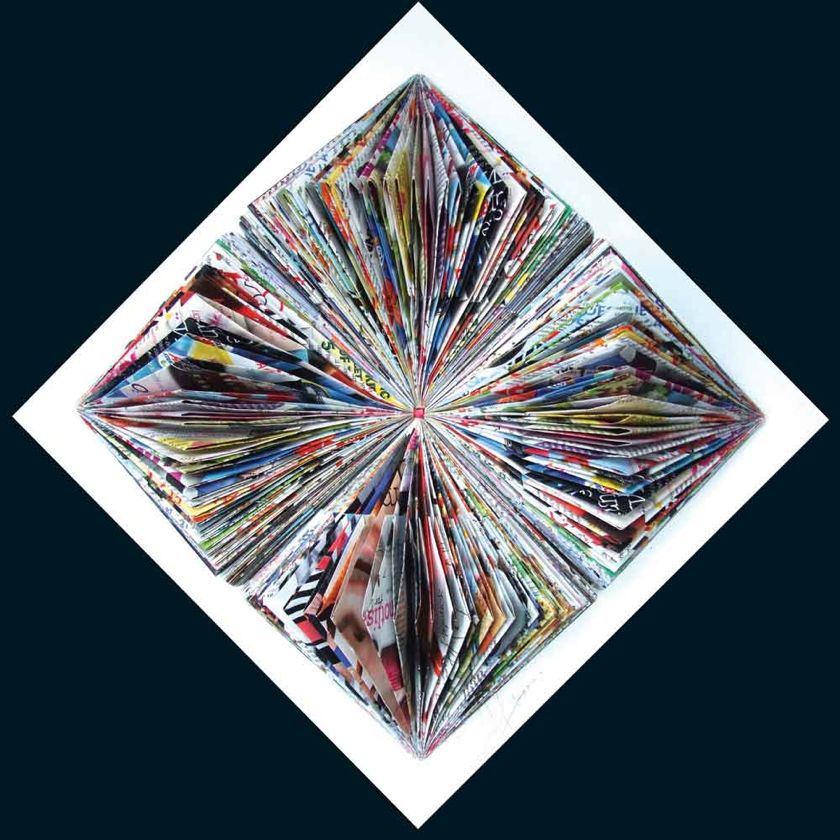 4.      What are your expectations of this year's fair?
Hopefully some good feedback and to be able to sell my art works!
5.      Can you tell us more about the process behind your work? And what are the main ideas you would like to express?
I construct shapes from folded magazines, the process is playful.  As I am a mosaic artist, my art work is inspired by colors and shape.  After I fold magazines, I sculpt and paint the works with resins and adorn with glasses from mosaic tiles.
6.      What defines something as a work of art?
I think it can be everything.  Something that inspires the mind and makes your brain work.  I don't think there is specific term to define art.  You know, I think, if there is something that pleases you, then I think that is an art.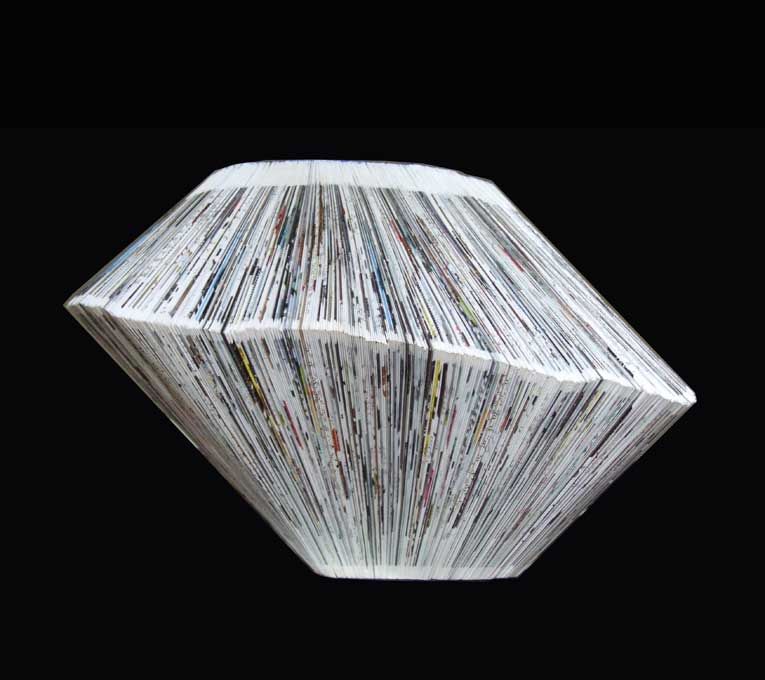 7.      Anytime, anyplace – which artist's body would you most like to inhabit?
There is no specific artist's body I would like to inhabit, but I really like Van Gogh's paintings.  I am inspired by such beautiful colours and his brush strokes.  I think it is a beauty of simplicity.
8.      What is your favourite ism?
Impressionism.  Again, I love the colours that they used and I think impressionism broke the conventions of the past and led emerging artists to contemporary art.
9.      What was the most intelligent (or dumbest) thing that someone said or wrote about your work?
Somebody told me my work seems like a woman and another person said that it looked like a mushroom or a face.  I have had lots of feedback from people and it inspires me to develop my works further for future versions.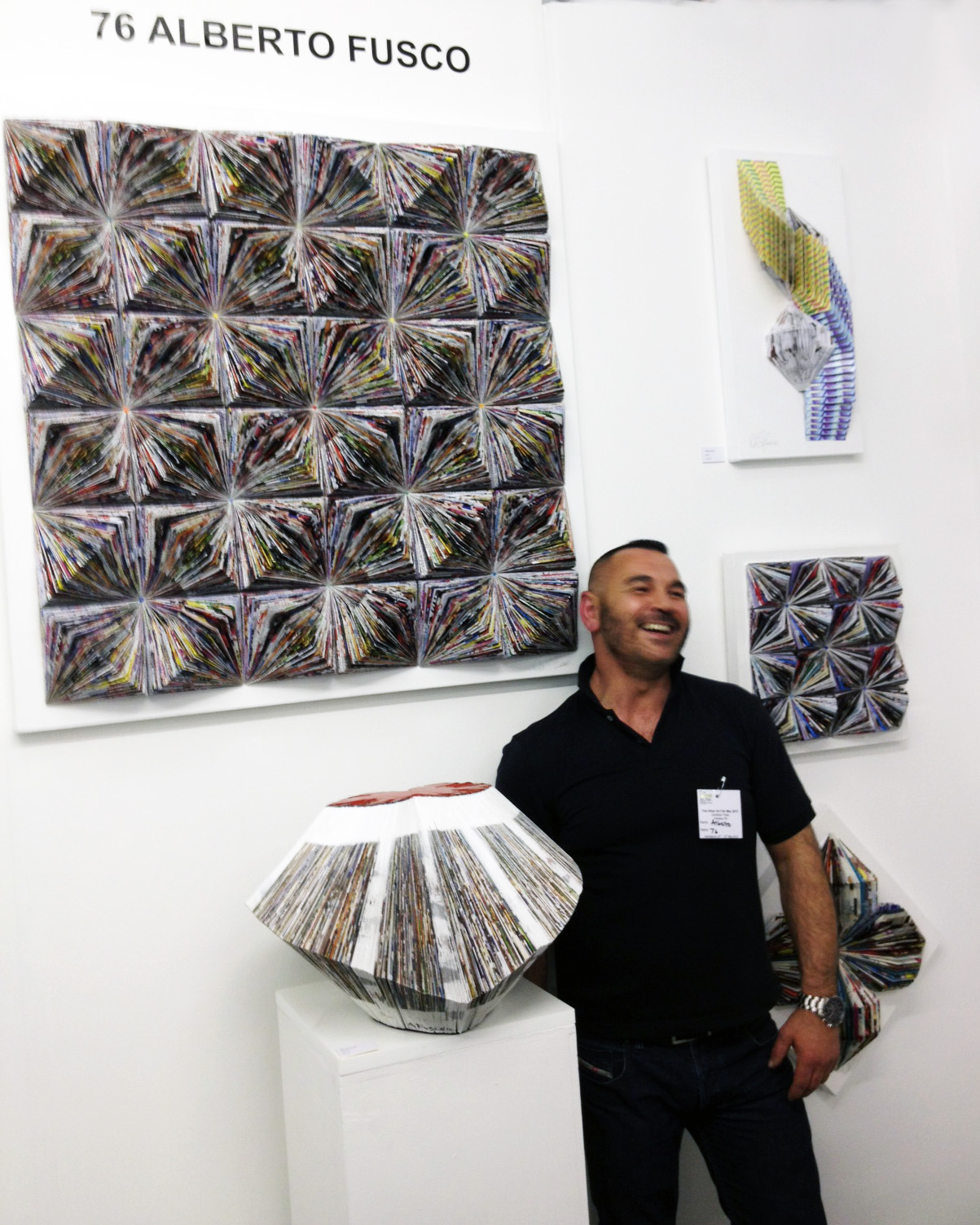 10.  How have you managed to sustain your practice? Are you represented by a gallery?
To sell my art work, maybe the most important thing!! ahaha!!  I have had a few commissions from two galleries today.  I have worked with artists, made mosaics and public art.
11.  If MOMA or the Tate or the Pompidou wanted to acquire one of your works, which one would you want them to have?
Yes! I have it called 'Blueman'.  A large-scale piece and I would like to show this work on the big wall in the Serpentine Gallery.
12.  What's next for you?
I want to self-publish magazines, that are autobiographical, that contain photos of myself and my family.  Currently I use ready-made magazines within my artworks but if I had my own magazines that acted as the main source of the work, it would be more of a self portrait.
Interview with Ja-Eun Kang 
For more information on the artist, please visit: http://www.albertofusco.com/
For more information on FAD's involvement at The Other Art Fair 2012, please click here:http://fadoffice.com
Keep your eyes peeled for the next questionnaires that will be published on FAD.
To check out the previous questionnaire with Keira Rathbone click here
Categories
Tags