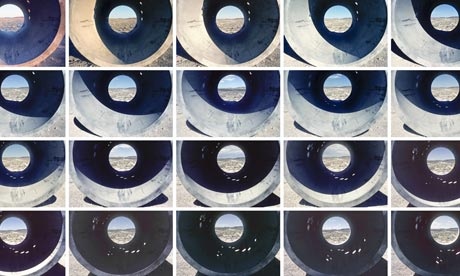 Sunlight In Sun Tunnels (1976), by Nancy Holt (detail)
This article titled "This week's new exhibitions" was written by Robert Clark & Skye Sherwin, for The Guardian on Friday 8th June 2012 23.05 UTC
Nancy Holt, London
Fifty years ago, a group of American artists waved goodbye to the constraints of galleries and the art market, and headed for the wilderness to construct huge earthworks and industrial sculptures. Michael Heizer, for instance, cut deep welts in the Nevada desert; Robert Smithson built his legendary Spiral Jetty in Utah's Great Salt Lake; while his partner, Nancy Holt, left her Sun Tunnels in its desert: giant concrete tubes that frame the heavens. Yet as this show of Holt's photography suggests, the umbilical cord linking land art to the urban art world was never cut. It includes thrilling images of well-known works such as the Sun Tunnels, lying in the sands like a dissembled telescope. It wasn't just America's Big Country that enthralled her either: one rarely seen set of photographs document Holt and Smithson's work in Dartmoor, made while travelling around Britain's ancient stone circles and monoliths.
Haunch Of Venison, W1, to 25 Aug
Skye Sherwin
Isabel Rawsthorne, Walsall
Isabel Rawsthorne is more recognised through the dramatically warped features from Francis Bacon's portraits of her than in the drawings and paintings she pursued during the latter half of the 20th century. Shifting between the postwar bohemia of Paris's Left Bank and the boozy bonhomie of 50s Soho London, Rawsthorne was almost doomed to be overshadowed by such near legendary artists of the time as her friends Bacon and Alberto Giacometti. So this exhibition comes as a long overdue reappraisal of a highly individualistic body of work. Her best embodies a painfully sensitive awareness of physical vulnerability. "A fragile being with a brief existence," as she described her choice subject.
New Art Gallery to 8 Sep
Robert Clark
SNAP 2012, Snape
Now in its second year, Snap, the contemporary art addition to what will be the 64th Aldeburgh classical music festival at Snape Maltings, is pairing younger up-and-comers with established names and a few art-historical greats. One of Ryan Gander's slippery brain-teasing lectures-cum-detective stories kicks off proceedings. There's painting by Glenn Brown, renowned for his fusions of art history with sci-fi fantasy; Maggi Hambling is complementing her semi-abstract, tumultuous seascapes with her first ever sound work, while Gavin Turk's left a white door invitingly open in the middle of a field, like a magic portal. Barbara Hepworth, Henry Moore, Alison Wilding and Sarah Lucas are among the major names with sculptures on site.
Snape Maltings, Sat to 24 Jun
SS
Richard Rigg, Gateshead
Richard Rigg selects structural banalities from our everyday domestic and workaday world, lifts them out of their settings, and recombines them to make sculptural metaphors for states of mind that are surprisingly delightful or distinctly deranged. A mountain cabin contains a mock-up mountainous landscape, its Scottish Highland rocks and earthy dust apparently derived from the Precambrian geological period that predates human life. Thus the almost unimaginable grandeur of nature is shovelled up and deposited for our contemplation in a typically clinical white-cube contemporary art gallery.
BALTIC, to 27 Aug
RC
Lynette Wallworth, London
This year Venus has been passing between Earth and the sun, appearing as a black dot over the blazing centre of our solar system. Only 53 of these "transits" have occurred since 2000 BC, and in the late-18th century one prompted the first international scientific expedition, with boffins taking to the seas to observe its passage. Like those earlier voyagers, Lynette Wallworth looks to the ocean for her transit-referencing work, Coral: Rekindling Venus, installed in over 20 planetariums worldwide. She's replaced the cosmos with an underwater world of endangered creatures filmed in diminishing coral reefs. Accompanying sounds come from Antony And The Johnsons, Gurrumul and Tanya Tagaq Gillis.
Royal Observatory Greenwich, SE10, to 6 Jul
SS
Lis Rhodes And Antonia Hirsch, Glasgow
Two film installations from a genre that used to be called "experimental" but is surely well into its second maturity. Lis Rhodes's aptly titled Dissonance And Disturbance (to 24 Jun) is a cut-up free-associational onslaught in which marks scratched into the film are read as sounds and broadcast as sporadic rhythms of buzzing interference. Meanwhile the visual projections themselves take their cue from this in a sequence of pulsating geometric grids and illegible text fragments. The sensory disorientations of Antonia Hirsch's installation (to 1 Jul) are no less extreme as almost subliminal flashes of light punctuate readings from Dalton Trumbo's Johnny Got His Gun, an anti-war novel narrated by a ex-soldier who has lost arms, legs and face and experiences the world as a series of distressed abstractions. It's a stream-of-consciousness semi-abstraction show in which the primal sources of thought appear to be plugged into.
Tramway
RC
Wide Open School, Invisible: Art Of The Unseen, London
Wide Open School (Mon to 11 Jul) sounds like a glorious pipe dream of an education system, which no one has had the nerve, or means, to attempt. It will see 100 artists – including Martin Creed, Jeremy Deller and Thomas Hirschhorn – devising and delivering classes, leading workshops and giving lectures. Subjects will take in cloud architecture, Freddie Mercury, deep space, and sex in the colonies. Upstairs at the Hayward, there's "invisible art" (Tue to 5 Aug), from Andy Warhol, Yoko Ono and Maurizio Cattelan. It chronicles over 50 years of the art of the unseen, from Yves Klein's famous empty galleries, purportedly full of invisible energy, to the vibrating walls of Jeppe Hein's Invisible Labyrinth.
Hayward Gallery, SE1
SS
Caroline Achaintre, Sara Barker And Alice Channer, Birmingham
An intriguing grouping of sculptures that all touch on some kind of thematic interface between presence and absence. Sara Barker's precarious architectural constructions, hand-painted spindle-legged armatures, appear to frame a very evocative nothingness. The human subjects in Alice Channer's installations are represented by hand and body smears, slightly alarming imprints on curtains that cannot but invoke Hitchcock. Meanwhile Caroline Achaintre's hauntings tend to be more blunt, lumpen and in-your-face, a bizarre and potent amalgam of horror schlock and oh-so-nice craftiness.
Eastside Projects, to 28 Jul
RC
guardian.co.uk © Guardian News & Media Limited 2010
Published via the Guardian News Feed plugin for WordPress.
Categories
Tags