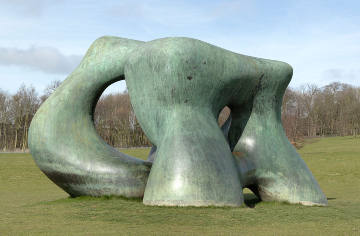 HENRY MOORE Large Two Forms, 1966 Reproduced by permission of The Henry Moore Foundation
---
This article titled "This week's new exhibitions" was written by Robert Clark & Skye Sherwin, for The Guardian on Friday 25th May 2012 23.05 UTC
Tracey Emin, Margate
Tracey Emin's first big show in her old home Margate must surely feel like a milestone for Britart's original bad girl. The story of underage sex and one fateful seaside dance competition, which is recounted in her brilliant Why I Never Became A Dancer, set the tone for a bittersweet relationship with the troubled seaside town which has been played out in various works over the years since. Where that early video ended in a celebratory "fuck you" to her past, what she offers here suggests that Emin has definitely moved on. The exhibition is dominated by Emin's scratchy, scribbly nudes, dashed off in pencil and blue watercolour, or stitched in fine, spidery thread and accompanied here and there by textual outbursts: "I didn't say I couldn't love you" reads one. These are paired with a choice selection of drawings by Rodin, whose intimate studies of the female form make an intriguing and stunning counterpoint to Emin's assertive vision of her own sexuality.
Turner Contemporary, Sat to 23 Sep
SS
ON: A Re-imagining Of Blackpool Illuminations, Blackpool
Anyone who considers that multimedia, site-specific installations are something culturally new should catch the Blackpool illuminations, which will be 100 years old this autumn. For many impressionable juvenile souls like myself, the lights were our first experience of art as pure amazement. They can also be seen as postmodern: a bizarre assemblage of historical samplings from cartoon teddies to giant Tiffany lamps, from ancient Greece to B-movie sci-fi. Here, artist Brian Griffiths celebrates the centenary by creating his own version of the annual spectacle inside the Grundy.
Grundy Art Gallery, to 28 Jul
Robert Clark
Henry Moore, London
The most frequent complaint levelled at Henry Moore's sculpture is how ubiquitous it is. Up to his death in 1986, his huge public commissions erupted across the world from London to Dallas, Berlin to Hong Kong. In parks, plazas, outside or atop buildings, they seem as easy to miss as streetlights. This show redresses the balance, with late works of the 1960s and 1970s brought indoors and centre stage. Working in bronze meant Moore could go big, and these smooth, prehistoric-looking sculptures, largely culled from the grounds of Much Hadham's Henry Moore Foundation, are the size of Fred Flintstone's house. They come in rippling shapes like the sea-washed bones of some primeval giant or, as with his Large Spindle Piece, horned like a rhino.
Gagosian Britannia Street, WC1, Thu to 18 Aug
SS
Simon Fujiwara, Cork
The British-Japanese artist Simon Fujiwara's Museum Of Incest is a bizarre amalgam of historical fact and dreamed-up fictions. Staged as a series of museum exhibits, complete with glass vitrine cases and carefully labelled specimens, the work appears to be an "authoritative" history of the human race that claims with deadpan conviction that without incest there would be no humankind. There are archaeological curios and autobiographical souvenirs, accounts of a visit to the "Cradle of Mankind" burial site of the earliest human ancestors in the Olduvai Gorge, Tanzania and assorted newspaper cuttings: "Oldest Footprint Found"; "Man's Dread Of Incest A Deeply Rooted Feeling". The whole thing would be plain daft, of course, if it were not for Fujiwara's attention to detail, his precise balancing of truth and lies, and his ongoing ability to suspend disbelief through pure, persuasive cheek.
Crawford Art Gallery, to 27 Jun
RC
Heatherwick Studio, London
Thomas Heatherwick is no longer the bright upstart of British design. He's one of its major talents, as this survey of his tirelessly inventive career is set to affirm. Londoners will know him through projects like his Rolling Bridge, a hexagonal box that unfurls to cross the Grand Union canal at Paddington Basin; and most recently his revamped hop-on-hop-off Routemaster buses. Heatherwick, though, has a feel for the playful as much as the practical. His designs include a spinning chair that dips backwards like a funfair ride, and his award-winning British pavilion for the 2010 Shanghai Expo, which wore a shaggy coat of light-reflecting rods so it seemed one part sea anemone, one part fibre optic lamp. As with many designers-cum-architects, some of Heatherwick's most interesting projects are yet to be made, like his Teesside biomass-fuelled power station: a silvery, space-age volcano on a tiny island.
V&A, SW7, Thu to 30 Sep
SS
Zed Nelson, Henry Tonks, Durham
A thought-provoking pairing of Zed Nelson's photography of the worldwide beauty and cosmetics industry with medical drawings by the Slade School lecturer, painter and first world war medical corps volunteer Henry Tonks. Tonks's cataloguing of the facial injuries suffered by soldiers presage Francis Bacon's paintings by some 50 years. Set against such disturbances, Nelson's beauty queens and bodybuilders – sourced from 18 countries across five continents – come across as all the more interestingly perverse.
DLI Museum & Durham Art Gallery, to 24 Jun
RC
Doris Salcedo, London
Silence roars in Doris Salcedo's art, be it the untold inequality of the voiceless oppressed or the quiet of unmarked graves. As with the great, zigzagging crack in the floor of Tate Modern's Turbine Hall five years ago, she addresses the hush that descends after the violent act. Plegaria Muda, a major installation featuring pairs of reconfigured coffin-sized tables that was begun in 2004 and is shown in an amended form here, is a response to her research into life in Los Angeles ghettos as well as into the deaths of over 1,500 Colombian men, cajoled into joining the army and then murdered as reported guerrillas. The funereal furniture is paired with a new installation, A Flor de Piel, a shroud of thousands of rose petals.
White Cube Mason's Yard, SW1 to 30 Jun
SS
Laura Belém, York
Laura Belém's The Temple Of A Thousand Bells finds its perfect home in the medieval ambience of York St Mary's. Belém has stated she wants to touch the viewer's "inner score" with the work and it does strike one with a hush of silent enchantment. A thousand cast glass clapper-less bells hang by nylon threads from the church's ceiling in a kind of ghostly carillon. The muted underwater atmosphere of the piece is derived from a legend about a sailor trying to listen in to an island temple that had sunk below the ocean. Belém's installations depend on the precise placement of elements within sites that set the scene for a freeform lyrical reverie.
York St Mary's, to 4 Nov
RC
guardian.co.uk © Guardian News & Media Limited 2010
Published via the Guardian News Feed plugin for WordPress.
Categories
Tags