Curated by Kay Roberts and Chantelle Purcell
Private View – Thursday 10th May 2012 – 5pm – 9pm
Friday 11th May 2012 – 11am – 8pm
Saturday 12th May 2012 – 11am – 6pm
Sunday 13th May 2012 – 11am – 6pm
FAD OFFICE is a four day event curated by Kay Roberts and Chantelle Purcell, which presents performances and talks from established artists and curators alongside emerging artists; Terry Smith, Silvia Ziranek, Michael Petry, Kay Roberts, Douglas Park, Zeitgeist Arts Projects, Will Corwin, Jack Catling, Vanessa Mitter, Arcadia Missa, Ladies of the Press, Vitrine Gallery, Francesca Goodwin from Fabelist, Victory Press, Phil Nutley, Ilona Szalay and Jennifer Cluskey.
FAD OFFICE presents a fictional construct of a 1970's magazine at this year's  The Other Art Fair (2012). FAD looks to the past to re-imagine the role of the publisher in the future, using the office as a testing site to research and critique ideas that are not openly discussed today. To comment on the shifting values in art both politically and socially. FAD asks; do we need to look back in order to move forward? And what will the future hold for art?
In a hope to bridge the gap between the online and physical incarnations of FAD, FAD Office will present a curated programme of presentations with invited artists and curators from 2pm on Friday & Saturday and 1pm Sunday; FAD office will also run a series of interviews with The Other Art Fair artists 2012, all of which will be documented and available online. The responsive staging of the office will take place over the four days for the public to watch – welcoming critical and collaborative discourse and exchange.
(From 11am to 1pm the space will be an open forum and working office space, visitors will be free to add their comments or be interviewed. Throughout the days FAD office staff will be re-enacting performances from the seventies whilst documenting the evolving staging throughout the four days).
THURSDAY 10TH MAY 2012
ARCADIA MISSA – 6pm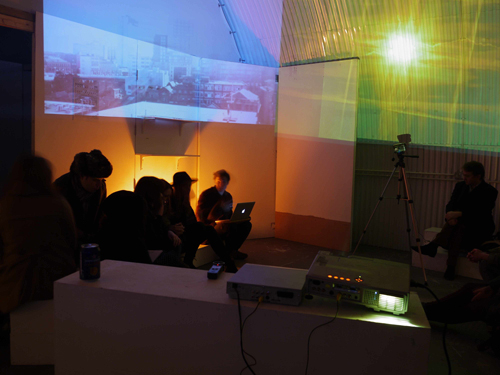 On the opening night of The Other Art Fair, ARCADIA MISSA will be presenting an animation of their upcoming installation and programme, alongside this Journals 'How to Sleep Faster' Issues 1 & 2 will be available to read so come into FAD OFFICE and have a look.
Arcadia Missa is a studio, project space based in Peckham South London that was formed in 2010. Arcadia Missa seeks to experiment with and present questions to the socio-political role of visual culture, be it from the past, contemporary, analogue or digital. Focusing on investigatory practices, Arcadia Missa encourage critique and conversation between participants and consider their relationship to social and cultural forms. Key to discussion is how might creative practice form, rather than just inhabit, a social realm?
VANESSA MITTER – 8pm
'Aesthetics of Emptiness', Forza Nuova, during 54th Venice Biennale, July 2011
Artist Vanessa Mitter will be performing 'Marionette' a piece involving an invocation, an absurdist take on painting and the difficulties and failures encountered as a painter. The piece is loosely based on certain aspects of 'Wide Sargasso Sea', in particular, notions of spirit possession. Mitter makes paintings and drawings, as well as devising performances and writing. Mitter is interested in the use of alter egos, in autobiography, playing with the gestural and the performative and exploring their complex history(ies).

Vanessa Mitter graduated from Chelsea College of Art and Design with a MA in Fine Art in 2010. Recent exhibitions have included: Collective (Frieze Week Exhibition) The Bear Pit London (through Carter Presents). 'Forza Nuova' at Space 4828, curated by Nicola Ruben Montini during 54th Venice Biennale, 2011. Trajector Art Fair, Brussels, Carter Presents, London. Group show 'de Kooning, de Kooning, de Kooning' at the David Risley gallery, Copenhagen in 2011, curated by Dexter Dalwood.  'I Am Not Here To Entertain You Curated by Karl Weill At the Bun House'. 'I Am Not Here To Entertain You', curated by alter ego, Karl Weill at Field Project Space, South London in 2010 and 'The Dandyism of Contempt', curated by Vanessa Mitter in 2010.
http://showtime.arts.ac.uk/VMitter
JENNIFER CLUSKEY –  5-9pm & (11am – 8pm friday)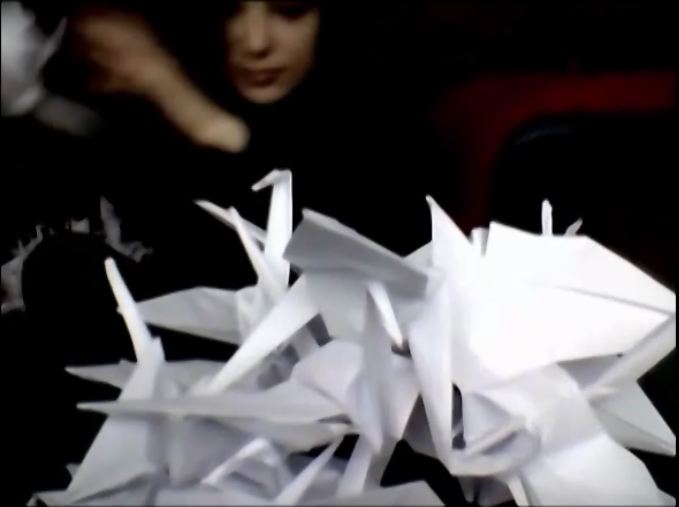 Artist in Residence – (10th Thursday & 11th Friday 2012)
Jennifer Cluskey started making origami guns as a reaction to; government decisions on the arts, the environment and arms dealership, finding herself deeply saddened that quality of life is compromised for status and power, (e.g the National Gallery hosting Arms Fairs). For every gun Cluskey makes, these can be unfolded to make two peace cranes. The gun although easier in its construction uses more paper, oppositionally the peace crane is more complicated to make but uses less paper.
Cluskey will be inviting people to come into FAD Office and make either origami guns or peace cranes. Cluskey will also be giving away origami pieces starting with 100 peace cranes and 100 guns. The statistics will be recorded throughout the process to document the economy exchange and the renewal and depletion of the two items, raising the question of which is worth more?
Cluskey's work was featured  in Vivienne Westwood's , 100 Days of Active Resistance, (2011) Damiani. Exhibitions include; Circus and Bread II (2011) The Undercroft, Guildford, Circus and Bread I (2011) Kingston University and Eleven (2009) Clipper Race Launch/ Freedom Festival, Hull.
FRIDAY 11TH MAY 2012
TERRY SMITH – 2pm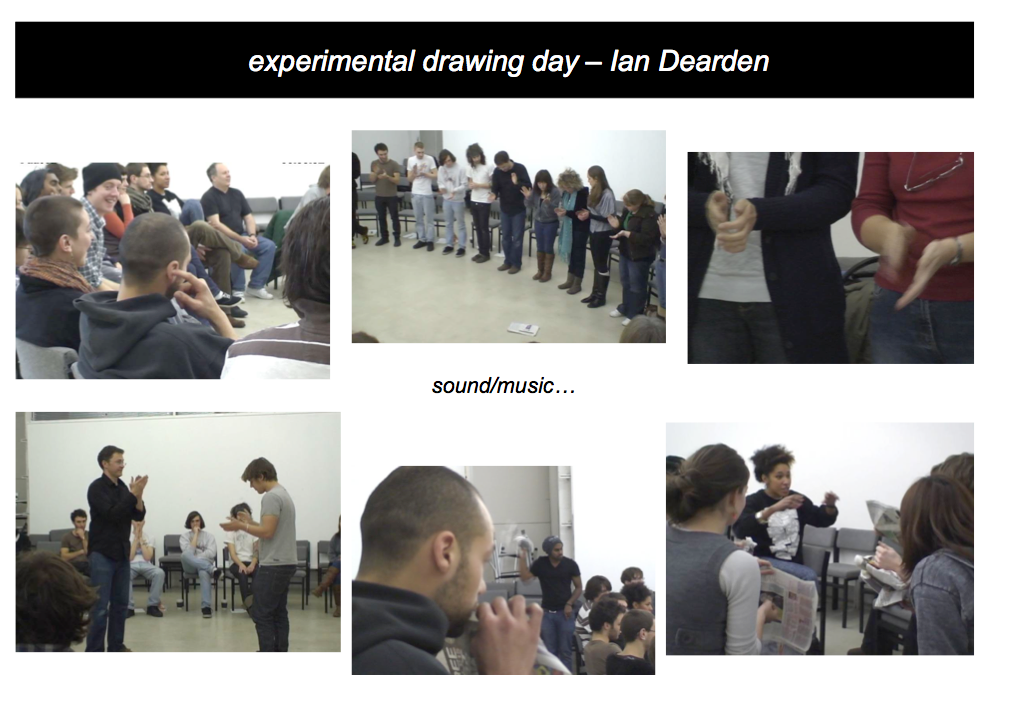 British conceptual artist Terry Smith will discuss art education and the recent launch of 'The Experimental Art School' 2012.
In 1977 Terry Smith, a second year degree student at Goldsmiths College, took a year out from education. During this time, with fellow student John Wallet he visited almost every degree show in the England. This journey resulted in an article in Artscribe magazine entitled BA MEANS GOODBYE. Some thirty years later having exhibited in museums, galleries and derelict spaces around the world, Smith returns to these questions to re-examine what art school is really about. The experimental art school aims to examine and practice art in every possible manifestation. To look forwards, backwards, upside down and sideways. Its a system of self organising cells that are independent. The school has no building its site is everywhere.
Smith has been creating substantial works on the margins for over two decades – most notably, a series of secret and unseen projects. These include wall drawings and 'building cuts' in derelict East London houses and building interventions during the reconstruction of Tate Modern and the refurbishment of the British Museum. Smith will be hosting the Venice Agendas next year for the Venice Biennale and he was a winner of the prestigious Paul Hamlyn Artists' Award in 2008. He is currently preparing two new works for this summer first a multi-screen video – live performance and music work called, Combine at V22 in South London. Combine is a one-night, one-off event on June 22. In August he will be presenting a new work for video and voice called Unsung to be performed in the Great Medieval Hall, as part of the famous Dartington Summer School.
ZEITGEIST ARTS PROJECTS – 3.15pm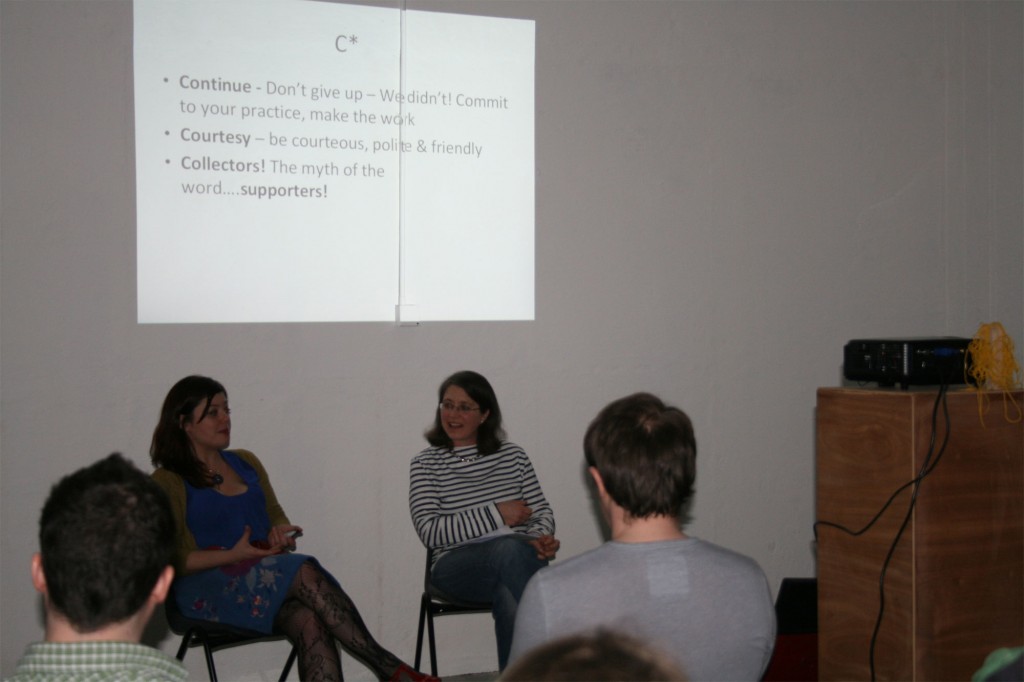 Zeitgeist Art Projects A-Z Talk at ASC Studios
Zeistgeist Arts Projects will discuss SUSTAINABLE FUTURES and the conception of the highly successful DIY EDUCATE. Along with Terry Smith, Zeitgeist Arts Projects will focus on the possibilities for art education.
ZeitgeistArtsProjects is Rosalind Davis (Director of Core Gallery, Deptford 2009-11) and Annabel Tilley, the innovative partnership behind the highly successful DIY Educate programme SHOW & TELL, delivered originally at Core Gallery in 2011. ZeitgeistArtsProjects is based at ASC Studios in New Cross Gate and will deliver DIY Educate, a series of high quality professional practice events, artists talks, tutorials and peer critiques. Tilley and Davis also curate exhibitions of work from outstanding new and established artists which launched with Collectible in April, exhibiting 68 promising and established artists.
ZAP is run and curated by the esteemable Rosalind Davis and Annabel Tilley, with a huge amount of discernment, energy and gusto. Andrew Bracey

http://www.zeitgeistartsprojects.com/
FRANCESCA GOODWIN – 4.30pm
Francesca Goodwin will be discussing the conception and work of Fabelist and her views on the role and changing approaches of young curators today. Francesca is the Director and Founder of Fabelist- an interdisciplinary collective with a focus upon the process of creativity and the voices behind the artwork.
Fabelist provides mentoring, peer support, and access to local and wider communities through an online presence, as well as meetings, events and public outreach programmes, to those embarking on careers in the arts.
At just 22, Francesca represents the future of curatorial practice, with a directory of some of the most dynamic and productive talents on the arts scene already working under her headship. Her hands- on approach and close working relationships with the artists that she represents is a far cry from the days of creatives courting curators, sitting within the white walls of a gallery. She will be sharing her experience of forging these connections and, her belief in the value of post university support through working collaboratively.
Francesca will also be accompanied by the Fabelist performance duo Coffee Sponge who will be giving a short slide- show, and talk and by movement artist Polly Bagnall who will be recording the ambience of the FAD office with her 'artemeter'.
Having collaborated with FAD on a pick and mix of performances and live art for the pre-fair launch at The Box Park, Fabelist are now presenting a pop up 'marketplace' exclusive to The Other Art Fair. Here visitors can buy art directly from the makers- including some exclusive affordable small works- whilst they view, interact and learn from a series of performances, talks and master-classes to tantalise the mind and senses.
PHIL NUTLEY – 5.30pm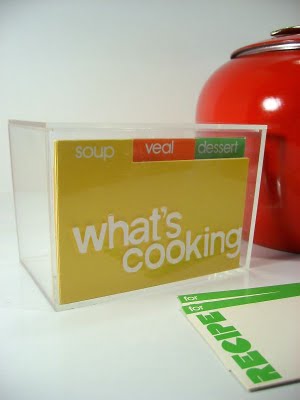 Phil Nutley, Corridor's Founder and Creative Director, was born in the 70's and will invite people to the FAD Office to discuss whether we should look back in order to help us look forward? Could the design, art and cultural makeup of the 1970's hold some answers to our future collaborative happiness?
Corridor creates ideas for communities across both physical and digital spaces. It works closely with a range of brands, corporations and cultural institutions engaging both internal audiences with the design process, and telling memorable stories outside of the workplace. Corridor partners with a range of clients from football clubs, the Design Council and American Express to name a few.
ILONA SZALAY – 6.30pm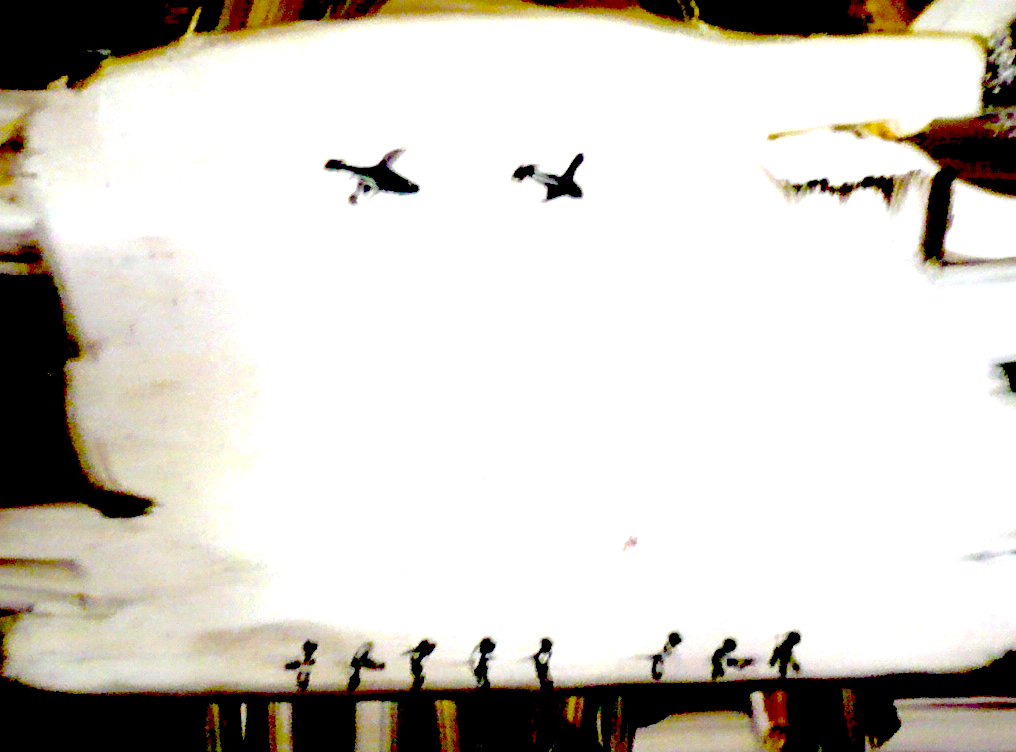 Ilona Szalay Still 2 'The Pilot'
Ilona Szalay's paintings trace a path through a world of conflict and power play, a place of rigid hierarchy and fierce competition. Using a spare, concise visual language the work explores notions of vulnerability and beauty, dominance and submission, violence and control. The work seeks to investigate the tension between protection and control and as a result there is an ambivalence in the images, a questioning of motive/morality, and an examination into our impulses to both create and destroy.
In her most recent work she uses stop motion animation to create free-wheeling narratives of oil paint on glass. These 'moving paintings' exist only in recorded form as each drawing is extinguished to allow room for the next, as such the work is ephemeral and spontaneous, the images dissolving into each other and sliding across the surface of the glass. The pictures tell of metamorphosis, desire, dreams and death.
Ilona Szalay studied at Oxford University (BA) and Byam Shaw, University of the Arts (MA). Her work has been exhibited at numerous galleries including Transition, Standpoint, the Arts Gallery, Whitfield Fine Art and the Royal Academy.
SATURDAY 12TH MAY 2012
VICTORY PRESS – 11am – 6pm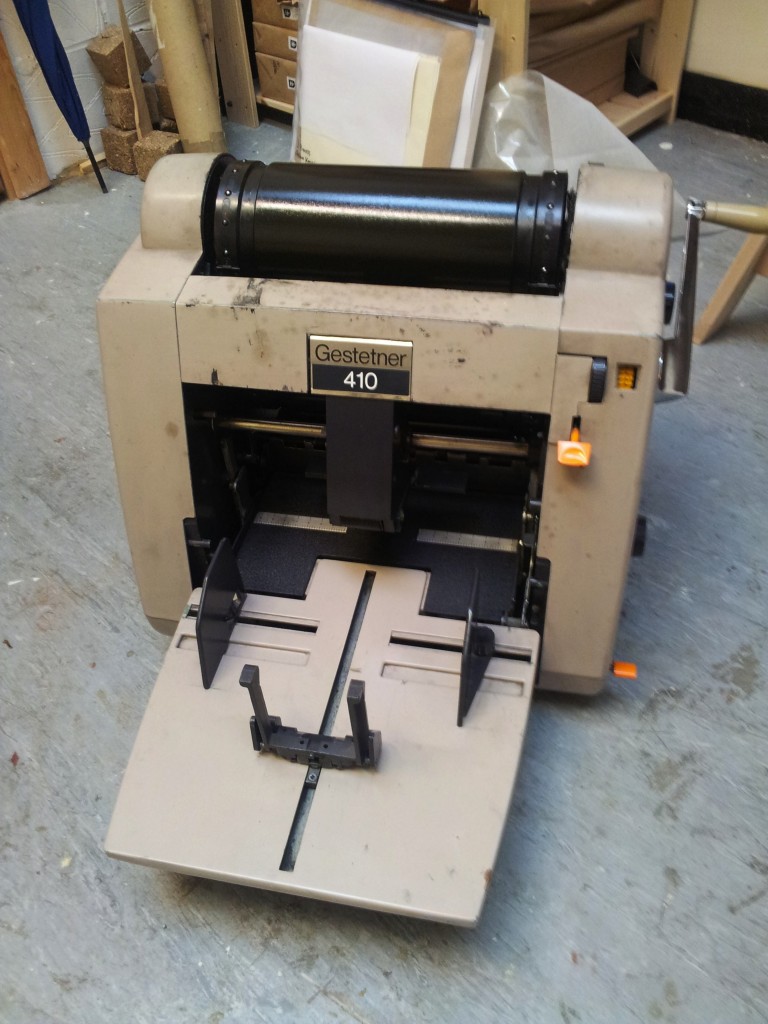 Victory press is a small printer and publisher based in Camberwell.  Specialising in creating experimental publications and prints using a mixture of current and outdated print technology. Victory Press, print using a Risograph RZ570 digital duplicator (circa 2010)  with 10 colours. They also house a Gestetner 410 silk screen duplicator (circa 1960) and a hot foil platen. Both the Risograph and Gestetner machines print by passing ink through a stencil, the Risograph's are made electronically giving a high quality image where as the Gestetner's were traditionally made using a type writer or by hand drawing.
MICHAEL PETRY – 2pm
Michael Petry © courtesy of the artist and Palm Springs museum
TALK: Making Work in Times of Depression
Petry will talk about his experiences as a young artist at the end of the 70's and the early 80's in London. Petry will look at prevailing notions of a 'counter-culture', how young artists desired to belong to it, and how different that is from the position of his students today.  But Petry is also critical of utopianism in the art world in the 70's and 80's, and cautions mere nostalgia and backward longing.
Michael Petry (born 1960) is a multi-media artist, director of MOCA London, and co-founder of the Museum of Installation, London. He was born in El Paso,Texas, and has lived in London since 1981. He received a BA at Rice University (Houston), an MA at London Guildhall University, and a Dr in Arts at Middlesex University. He lectures part time at the Royal Academy Schools and was Guest Curator at the KunstAkademi, Oslo, and Research Fellow at the University of Wolverhampton. Petry is represented by the Sundaram Tagor Gallery, New York, Houston, Westbrook Gallery, London and Zane Bennett, Santa Fe. Petry was the first artist in residence at Sir John Soane's Museum.
WILL CORWIN – 3.15pm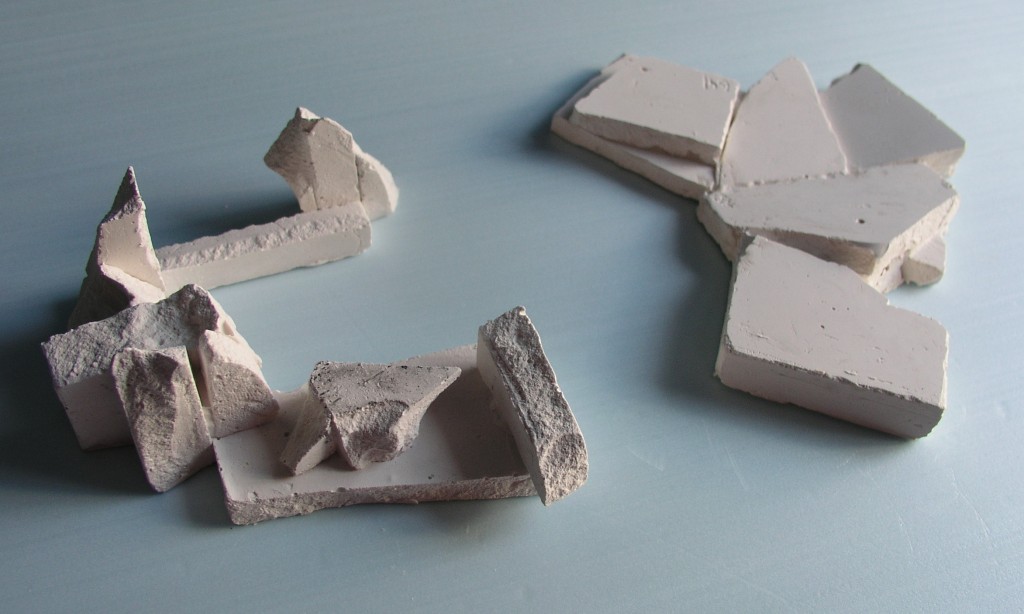 Will Corwin, Lucy's Skeleton, Mt. Zion, George and Jorgen Gallery
Lecture with artist Will Corwin, on the 'Life and Time of Joseph Smith' the founder of the cultural group the Mormons. The talk will have a context of the presidential election in America.
This coincides with his second solo exhibition at George and Jørgen, Mount Zion. The show explores the notion of prophesy through sculpture: the conceptual choices people make in choosing what they think divine communication will look like. He is interested in the objects often involved in revelation: tablets, talking bushes, angels, and in particular, the person involved in the revelation itself.
The initial concept behind the work arose as a result of this election year in America where one of the presidential candidates will be Mormon. This American cultural group was founded by Joseph Smith in 1823, reportedly following a vision in which an angel named Moroni directed Smith to a buried book. Written in hieroglyphics, on invisible golden tablets, the book contained the religious history of an ancient people in upstate New York. As a subject, rather than approach Mary, Jesus, Joseph Smith or Mohammed, Corwin found a contemporary and unwilling saint: the 3.2 million year old fossilised skeleton of 'Lucy' (Australopithecus Aferensis). Discovered in 1978 by Donald Johanson the bones represent an early indication of bipedal walking and symbolise the theory of evolution. Corwin explains: "It's amazing and touching that this little 3 foot 8 inch tall ape-like person has become the mother of us all, as much a symbol of the triumph of science as she is a symbol of the triumph of walking upright."
http://www.georgeandjorgen.com/

VITRINE GALLERY – 4.00pm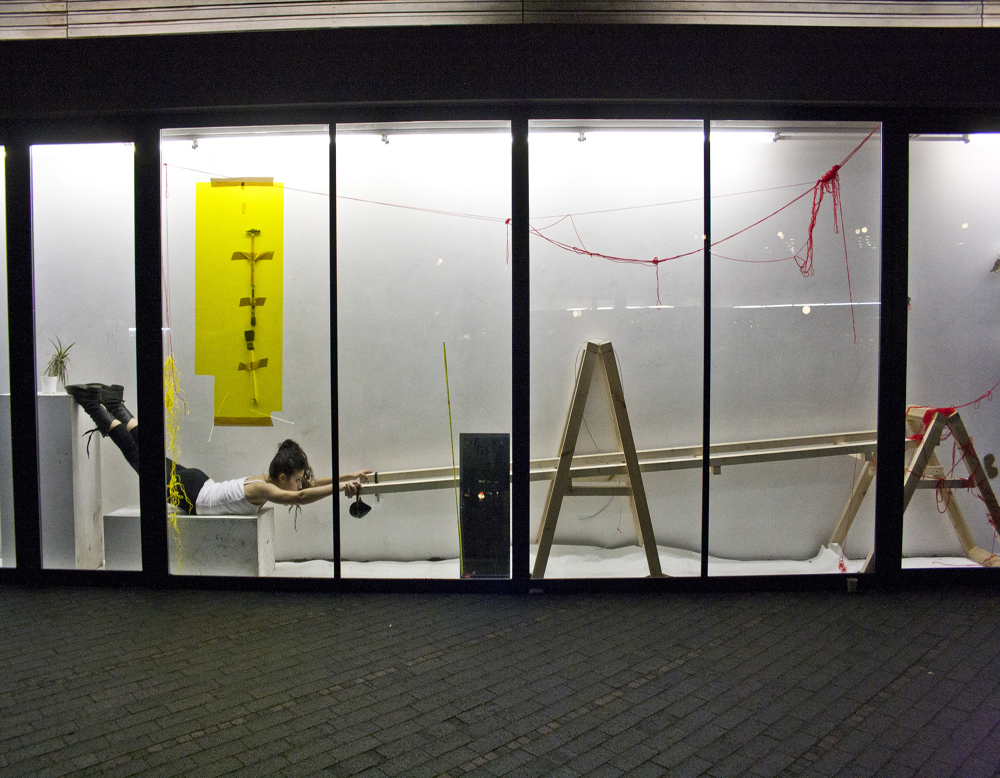 Leah Capaldi, Prop, 2012. Courtesy of Vitrine Gallery
For FAD office, Vitrine Gallery will premiere filmed documentation of the VITRINE LIVE season and all four works. This screening will be accompanied by a short discussion about the project, with curator and Vitrine Gallery Director Alys Williams and several of the Vitrine Live artists. It will consider performance from the viewpoint of sculpture discussing it from a cross-disciplinary perspective. Bringing into focus the particular practices of the artists whose work is part of VITRINE LIVE.
VITRINE LIVE launched in March 2012 with an eight week season of four live installation works by Leah Capaldi, Edwin Burdis, David Paredes and Eddie Peake. For the first time, performance activated the main gallery, imbedded in a complex framework of images within this unusual exhibition space. Artists were invited to explore the crossovers in their practice between live art and the visual field.
Vitrine Gallery was set up in 2010 as a contemporary art space with a commitment to presenting emerging art practices and ideas from the unique aspects of the gallery. The 16 metre long window is prominently located on Bermondsey Square with exhibitions viewable 24-hours a day. Vitrine Gallery is dedicated to working with emerging and mid-career artists across all mediums, focusing on site-responsive exhibitions and installations.
Accompanying its exhibitions is a diverse programme of events that includes music, film, artist talks and performance presented in the main gallery space, the public square, neighbouring Shortwave Cinema and other areas of the building. Off-site projects and Art Fairs are also becoming an integral part of its programme.
http://www.vitrinegallery.co.uk/
JACK CATLING – 5.30pm
© Jack Catling
Presents an imagined vision of the conjuror, reconfiguring the secrecy and meaning behind his methods using performance and installation. Jack is also director of the international performance group The Parlour Collective, his interests include Grand Guignol, coincidence, and shamanism.
SUNDAY 13TH MAY
DOUGLAS PARK 12.30pm
Douglas Park reading at ISONERV 2003
Douglas Park is a U.K based and internationally active visual artist, author of literary prose and critical essays, also exhibition curator, as well all practices combined.
Much of Park's practice and output consists of written art and literary prose, whether within his own work, collaborations with others, project input and sometimes en lieu of critical essays.  Often, Park generates architecture, landscape, weather and processes, delivered with imagery and lingual phrasing, presence and overall experience thats at once some familiar but strange, hybrid cross-between nature and artifice, deliberately given unclear attribution and moral ambiguity.  Some of these "stories" are born out of reaction to site-visits, research and insight, which Park follows up, develops and perfects.
http://www.myspace.com/douglas_park https://www.facebook.com/douglasrpark
SILVIA ZIRANEK – 1.30pm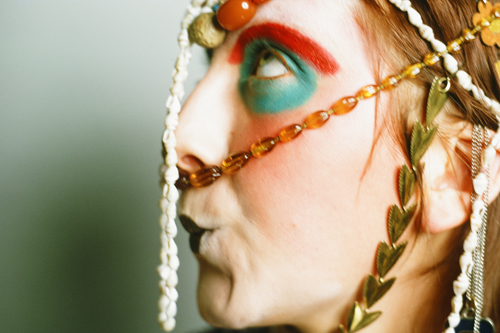 © Silvia Ziranek
will be performing 'SOVIET SENSATION 1977'
THE EPITOME OF CERTAIN LIVES, THEY GLORIFY FEW, WHILST ENRICHING MANY. FEW ARE ENTIRELY WITHOUT THEM, FEWER STILL HAVE REACHED ANY DEGREE OF EXCELLENCE WITH THEM, RARE CHARACTERS HAVE BEEN KNOWN TO REVEL IN THEM. THOSE ELUSIVE YET SUPREMELY FINE ACCOMPLISHMENTS, THEY CALL THEM . . . FEET.
© SCZ
(SOVIET SENSATION, originally performed at Goldsmiths in 1976 and Acme Gallery, Covent Garden in 1977 London).
Silvia is a performance artist, sculptor, photographer and writer. She studied Russian and Arabic at Leeds University (1970-72)and fine art at Goldsmith's College, London (1973-6), where the progressive approach to contemporary art led her to design her own course of study, which focused on all aspects of performance art. Influences upon her work include Yves Klein and Bruce McLean. Her ability to deflate the pretentious and absurd in daily life was demonstrated in unrehearsed, highly skilled displays of intuitive stagecraft.
These are extended monologues that engage the audience with a mesmerising mixture of mimicry, metaphors, verbal and visual cliches and that explore the conventions of suburban existence and the domestic role of women (e.g. Rubbergloverama-Drama; 1980, London, ICA). Although known primarily as a performance artist, she has also made sculptural works and 'costume constructions' initially created in connection with a performance, but which later existed as autonomous objects. Ziranek also took photographs, wrote (e.g. The Very Food Book, 1987-8), gave lavish banquets as works in themselves and made videos.
Silvia Ziranek's live work delves into a wide range of topics and approaches, including fashion, feminism, architecture, geography, gender and almost everything and anything else. Through improvisational movement, sculptural installation, props and costumes, Ziranek intimately explores her own experiences and emotions. Her art seeks the patterns of behaviour, speech and dress beneath the superficial.
Sponsored by www.oasishairlondon.co.uk and  www.abetterbadge.com
KAY ROBERTS – 2.30pm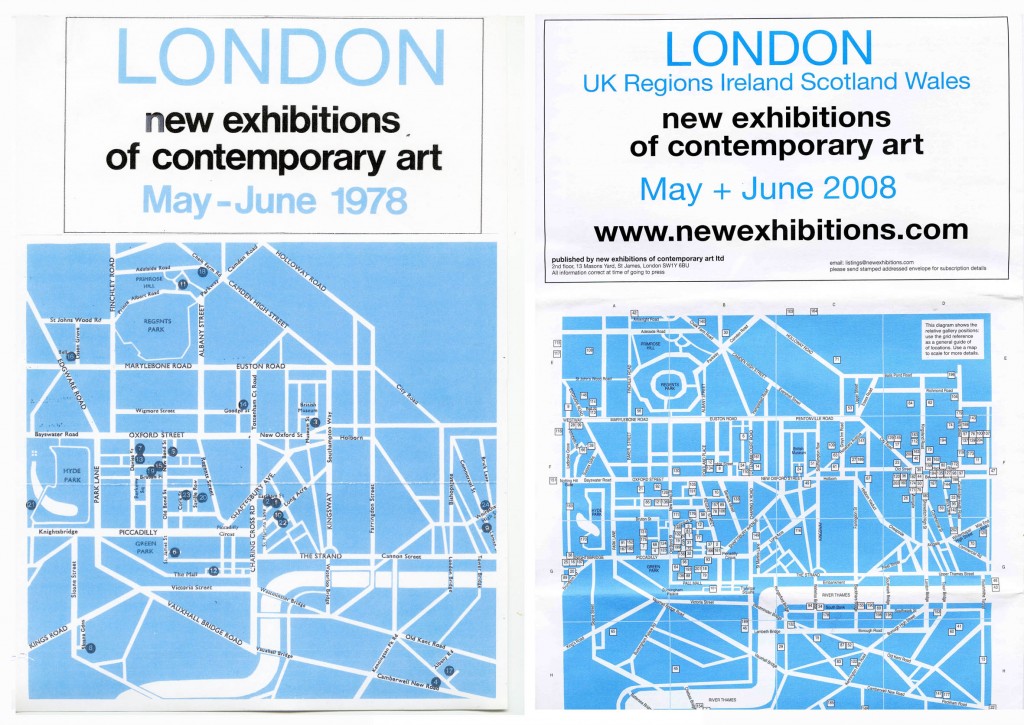 Kay Roberts, copies of NECA 1978 – 2008
Book launch – Kay Roberts will be discussing the research behind the forthcoming book that delves into the gallery scene in London from 1977 – 2008 using neca as an archive.
0 to 250 in 30 years
Kay Roberts is back in London after 10 years in Paris, where she reviewed art shows for Vingt.Paris & site specific work for Art&ArchitectureJournal. In the 70's she was part of Coracle & in 1978 began publishing new exhibitions of contemporary art listings, eventually developing the web site before leaving for France in 2003. She has an MA in Interactive Multimedia RCA/LCC & did a Churchill Travel Fellowship in the U.S.A., looking at gallery archival systems. In between studies she ran Actualites, a project based in Docklands, curated shows in London & Italy, worked for Art in America & Journal of Art N.Y. and has continued making her own photographic work. She is currently writing a 30 year history of the London gallery scene using her archive.
LADIES OF THE PRESS -1-6pm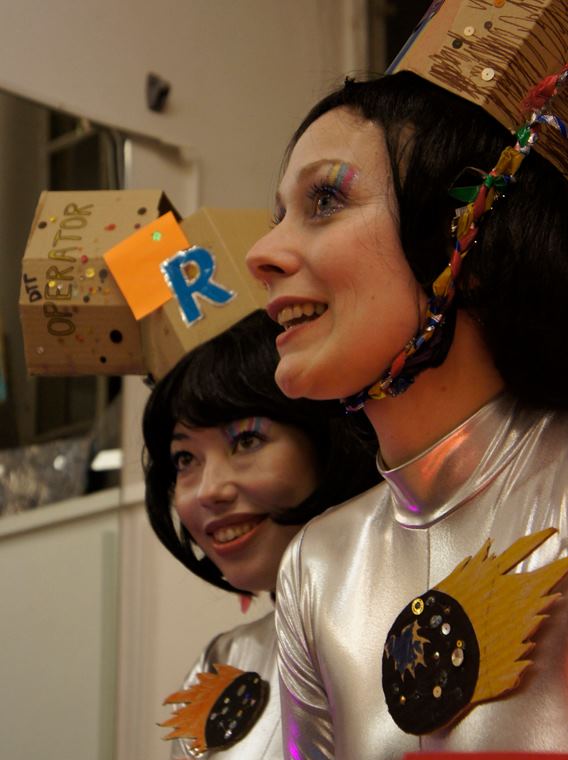 Ladies of the Press at Sluice 2011
The performative duo Ana ?avi? and Renée O'Drobinak will be the closing FAD office with their signature LIVE PRESS performance. LIVE PRESS! is a performance of impromptu gazette-making.
The Ladies of the Press* will be celebrating publishing wares in a 70s disco inspired scenario: picture two secretaries at a themed office 'do', running wild with the office stationary, distributing all the bits of drawings and poetry they have been amassing from their colleagues all week. Ladies of the Press will be encouraging the public audience to send in post-its, emails, and even text messages sneaked in while the boss is not looking from a few days prior to the performance and of course on the day, all of which will be printed off at the in situ at FAD OFFICE and ready to take away at the end of Sunday. Lights off, disco ball on.
The Ladies of the Press* would like to invite you to take a second during your working day to send in your daydreams, poetry, doodles and more to be published in a zine edited and printed live during FAD's finissage at the Other Art Fair! Email us at office@ladiesofthepress.org (when your boss is not looking, of course) so we can let your daytime ideas run loose!
What better way to celebrate the end of the fair! See you at the DIY disco Sunday, be there or be square!
http://www.ladiesofthepress.org/
Follows with FAD office – CLOSING PARTY bring a name badge and join the party!
For more information: Please visit |  https://fadmagazine.com/ For more information: visit FAD office's temporary site: http://fadoffice.com/  for press enquiries e: chantelle@fademail.co.uk
Categories
Tags