We are delighted to announce that British conceptual artist Terry Smith will be coming into FAD office to discuss art education and the recent launch of 'The Experimental Art School' 2012 11th May 2012 at 2pm.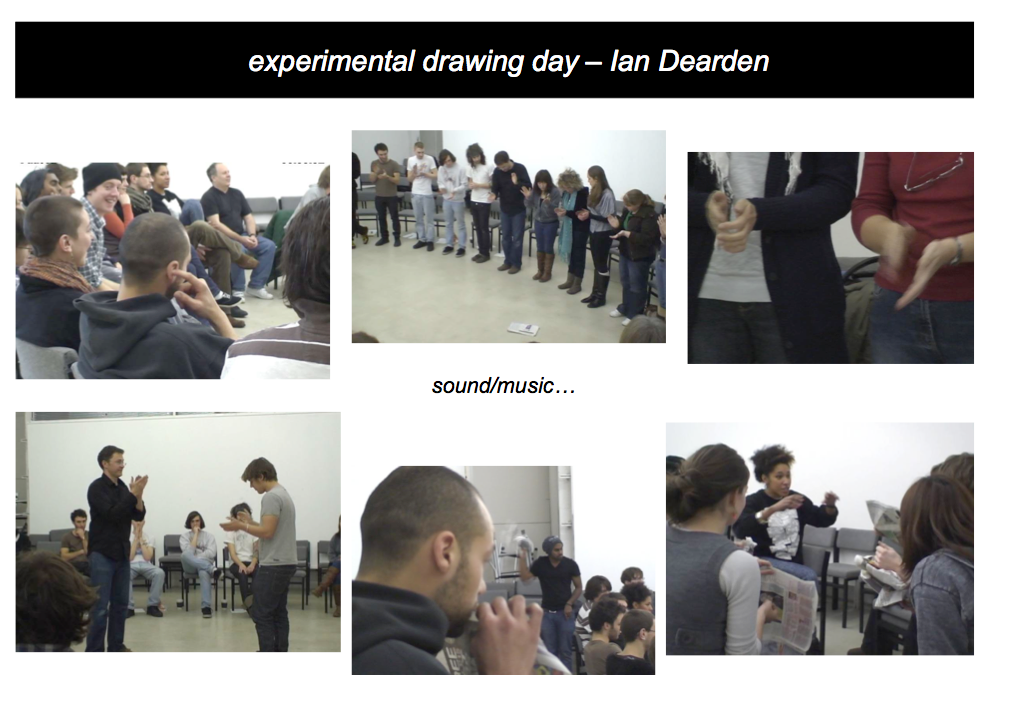 Experimental Drawing Day, Ian Deardan © Experimental Art School
In 1977 Terry Smith, a second year degree student at Goldsmiths College, took a year out from education. During this time, with fellow student John Wallet he visited almost every degree show in the England. This journey resulted in an article in Artscribe magazine entitled BA MEANS GOODBYE. Some thirty years later having exhibited in museums, galleries and derelict spaces around the world, Smith returns to these questions to re-examine what art school is really about. The experimental art school aims to examine and practice art in every possible manifestation. To look forwards, backwards, upside down and sideways. Its a system of self organising cells that are independent. The school has no building its site is everywhere.

Wall Works, Experimental Drawing Class © Experimental Art School
Smith has been creating substantial works on the margins for over two decades – most notably, a series of secret and unseen projects. These include wall drawings and 'building cuts' in derelict East London houses and building interventions during the reconstruction of Tate Modern and the refurbishment of the British Museum. Smith will be hosting the Venice Agendas next year for the Venice Biennale and he was a winner of the prestigious Paul Hamlyn Artists' Award in 2008. He is currently preparing two new works for this summer first a multi-screen video – live performance and music work called, Combine at V22 in South London. Combine is a one-night, one-off event on June 22. In August he will be presenting a new work for video and voice called Unsung to be performed in the Great Medieval Hall, as part of the famous Dartington Summer School.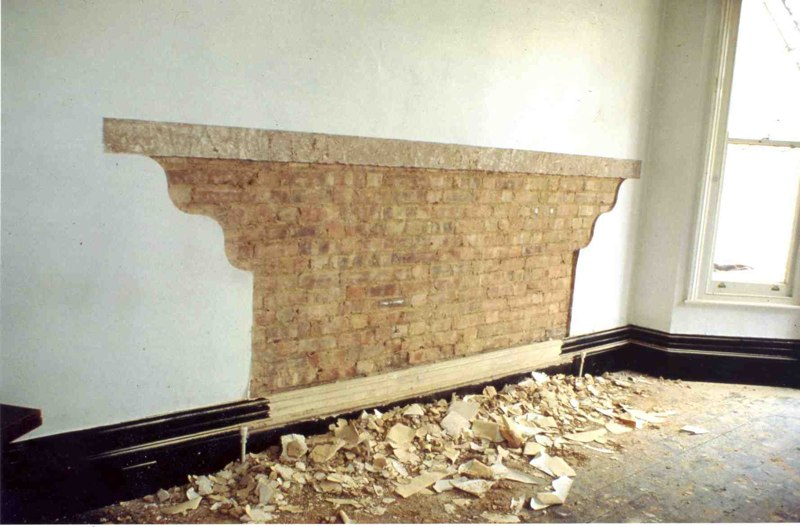 Base, Site Unseen Leytonstone, 1994
FAD OFFICE at
The Other Art Fair 2012
Curated by Kay Roberts and Chantelle Purcell 
Private View – Thursday 10th May 2012 – 5pm – 9pm
Friday 11th May 2012 – 11am – 8pm
Saturday 12th May 2012 – 11am – 6pm
Sunday 13th May 2012 – 11am – 6pm
FAD OFFICE is a four day event curated by Kay Roberts and Chantelle Purcell which presents performances and talks from established artists and curators alongside emerging artists. Terry Smith, Silvia Ziranek, Michael Petry, Kay Roberts, Douglas Park, Zeitgeist Arts Projects, Will Corwin, Jack Catling, Vanessa Mitter, Arcadia Missa, Ladies of the Press, Vitrine Gallery, Francesca Goodwin from Fabelist, Victory Press and Jennifer Cluskey. (More to be announced!)
FAD OFFICE presents a fictional construct of a 1970's magazine at this year's Other Art Fair (2012). FAD looks to the past to re-imagine the role of the publisher in the future, using the office as a testing site to research and critique ideas that are not openly discussed today. To comment on the shifting values in art both politically and socially. FAD asks; do we need to look back in order to move forward? And what will the future hold for art?
In a hope to bridge the gap between the online and physical incarnations of FAD, FAD Office will present a curated programme of presentations with invited artists and curators from 2pm Friday & Saturday and 1pm Sunday; FAD office will also run a series of interviews with The Other Art Fair artists 2012, all of which will be documented and available online. The responsive staging of the office will take place over the four days for the public to watch – welcoming critical and collaborative discourse and exchange.
From 11am to 1pm the space will be an open forum and working office space, visitors will be free to add their comments or be interviewed. Throughout the days FAD office staff will be re-enacting performances from the seventies whilst documenting the evolving staging throughout the four days.
For more information visit FAD office's temporary site: http://fadoffice.com/
For more information on Terry Smith or The Experimental Art school:
http://www.arts.clara.net/
www.experimentalartschool.com
www.workinprogressuk.com
www.veniceagendas.com
Categories
Tags