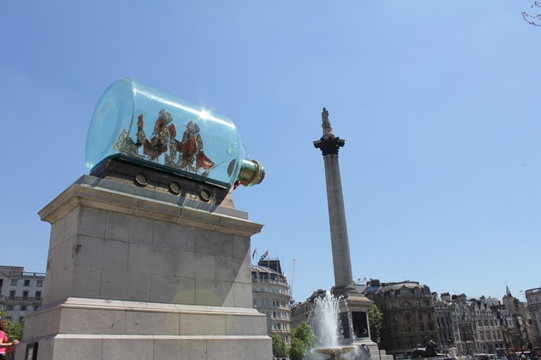 Nelson's Ship in a Bottle, by Yinka Shonibare, on the fourth plinth in Trafalgar Square by Thisistomorrow
This article titled "Yinka Shonibare's ship in a bottle goes on permanent display in Greenwich" was written by Mark Brown, arts correspondent, for theguardian.com on Monday 23rd April 2012 18.12 UTC
Yinka Shonibare's ship in a bottle is to remain on public display in the UK after the success of a public fundraising appeal, it has been announced.
The work, a scaled-down replica of Nelson's ship Victory first seen on the fourth plinth in Trafalgar Square, was this week being installed in its new home in Greenwich, outside the new Sammy Ofer wing of the National Maritime Museum.
The work was secured with the help of £264,300 in contributions from the public after the Art Fund launched an appeal last November. Shonibare said he was "absolutely delighted and touched by the public's generosity".
He added: "The piece was wholeheartedly embraced by the public while at Trafalgar Square and I am glad that the same affection for the work will continue at Greenwich."
The appeal for £362,500 was launched by the Art Fund after it gave a grant of £50,000. As well as the public money, both the National Maritime Museum and Shonibare's gallery, Stephen Friedman, gave £49,100. Overall, the work was valued at £650,000, but £140,000 of that – production costs – had been met by the Fourth Plinth programme and the gallery had given a 15% museum discount of £97,500.
Nelson's Ship in a Bottle, 4.7 metres in length and 2.8 metres in diameter, goes on display in time for the museum's 75th anniversary on 25 April.
Stephen Deuchar, director of the Art Fund, said it had been the charity's first fundraising appeal for a contemporary work. "It is not an easy environment in which to run a campaign but the campaign's success is testimony to the popularity of Yinka's work and to the continued generosity of the many enlightened individuals upon whom the charitable sector depends."
guardian.co.uk © Guardian News & Media Limited 2010
Published via the Guardian News Feed plugin for WordPress.
Categories
Tags