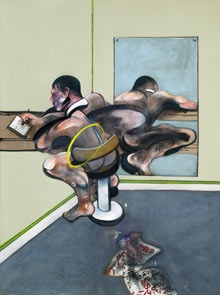 Francis Bacon's Figure Writing Reflected in Mirror, to be sold at Sotheby's New York in May. Photograph: Westimage Art Digital Studio
This article titled "Francis Bacon painting, Figure Writing Reflected in Mirror, in Sotheby's sale" was written by Mark Brown, arts correspondent, for The Guardian on Wednesday 4th April 2012 23.01 UTC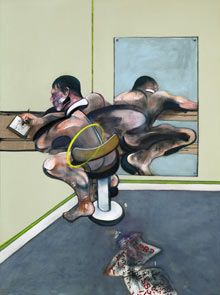 A powerful and important Francis Bacon painting showing a contemplative figure writing, which has remained in the same private collection since it was bought in 1977, is to be sold at auction in May.
"It is a very, very serious painting that we've chased for years," Tobias Meyer, Sotheby's worldwide head of contemporary art, told the Guardian ahead of the sale announcement.
The auction house believes Figure Writing Reflected in Mirror is as important as two works by Bacon which set auction records for post-war art in 2007 and 2008. First Study from Innocent X briefly held the record when it sold for .6m but was later pipped by a Mark Rothko. Triptych 1976 now holds the record after Roman Abramovich bought it for .3m, an astonishing sum that had jaws dropping – not least because it was a time when many were predicting an end to crazy auction prices.
Both the triptych and the new-to-market Bacon were part of a small and now famous 1977 show of his work at the Galerie Claude Bernard in Paris.
Meyer recalled seeing the Bacon up close. "It was quite something," he said. "But great Bacons do that you, hit you over the head a little bit and the body of work that was shown in 1977 does that with great vigour and energy.
"Apart from being important paintings and very convincing, they are also incredibly beautiful because it is probably Bacon at the height of his skills as a painter."
Another painting in the show included Three Figures and Portrait, now owned by Tate and on display in Liverpool.
Figure Writing Reflected in a Mirror shows a male figure in white underwear who bears a distinct resemblance to the artist's lover George Dyer, who, with breathtaking timing, killed himself on the eve of Bacon's important retrospective at the Grand Palais, Paris, in October 1971. The black sweep of hair resembles Bacon, so it can be interpreted as representing both artist and lover.
Dublin-born Bacon was hugely inspired by literature, whether the Oresteia or TS Eliot, and the figure writing, with crumpled paper on the floor, would seem to be a direct manifestation of the artist's obsession with the written word. No other Bacon canvas has someone writing.
The painting remains something of a mystery, as it is difficult to fathom exactly what was going on in Bacon's mind. Unlike other works there are no classical references. "There are no birds swooping down to eat the liver of Prometheus," said Meyer.
Sotheby's has estimated the painting at m-m (up to £25m) and Meyer said it might be easier to sell because it is a single panel and not as violent as the Triptych.
Figure Writing Reflected in Mirror was clearly considered a star at the 1977 exhibition because it was used as the catalogue cover and the anonymous collector who bought it had been given first choice of the works by Claude Bernard.
Bacon who died in 1992, aged 82, was one of the greatest and most influential 20th century artists. The critic Robert Hughes, writing in the Guardian in 2008, described him as "England's most celebrated recently dead painter. He is probably the best-known one, and possibly the most popular, since JMW Turner." His distorted paintings of tormented figures were not to everyone's tastes. Margaret Thatcher once called him "that awful artist who paints those horrible pictures."
The painting will be sold by Sotheby's in New York on 9 May but British audiences can see it at the auction house in New Bond Street, London, for a spell from 13 April.
guardian.co.uk © Guardian News & Media Limited 2010
Published via the Guardian News Feed plugin for WordPress.
Categories
Tags