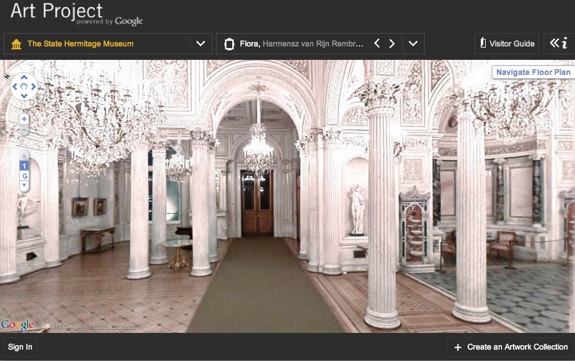 This article titled "Ten more UK galleries join Google Art Project's virtual culture tours" was written by Mark Brown, arts correspondent, for theguardian.com on Tuesday 3rd April 2012 11.41 UTC
Google has added a further 151 galleries and museums to its Art Project, which allows anyone with a computer to consider a virtual wander through the treasures of Versailles, the joys of the National Gallery in London or, if the mood takes them, Brazilian street graffiti in São Paulo.
The expansion of the project, which allows virtual access to artworks in 40 countries, means more than 30,000 objects are available to view, compared with 1,000 in the first version launched last year.
The head of the project, Amit Snood, said: "The Art Project is going global, thanks to our new partners from around the world. It's no longer just about the Indian student wanting to visit Metropolitan Museum of Art in New York. It is also about the American student wanting to visit the National Gallery of Modern Art in Delhi."
Ten more British galleries are joining the National Gallery and the Tate, which were already in the scheme. In London they include England's first public gallery, the 201-year-old Dulwich Picture Gallery, the V&A, the Serpentine Gallery, the Royal Collection, the Imperial War Museum and the Jewish Museum. Also there are the National Galleries of Scotland and the Walker Art Gallery in Liverpool.
A total of 46 museums have been given the 360-degree Google Street View treatment, allowing visitors to wander through crowd-free galleries using only their mouse – from Tate Britain to the White House to the National Gallery of Australia.
For the others, users will be able to browse a vast array of treasures in high resolution, whether paintings, photographs, sculptures or decorative pieces.
The V&A's director of programming and public affairs, Damien Whitmore, said he was delighted to be joining up. He said: "Some of the V&A's greatest treasures will be able to view in extraordinary high resolution for the first time – from the famous Gloucester candlestick, a masterpiece of English metalwork, to the Ardabil carpet, one of the largest examples of Islamic carpets in existence, the wedding suit that the Duke of York wore to his wedding in 1673 to one of the finest examples of Donatello's work in relief."
Google also said it was adding new explore and discover tools allowing users to find artworks by period or type or artist.
guardian.co.uk © Guardian News & Media Limited 2010
Published via the Guardian News Feed plugin for WordPress.
Categories
Tags