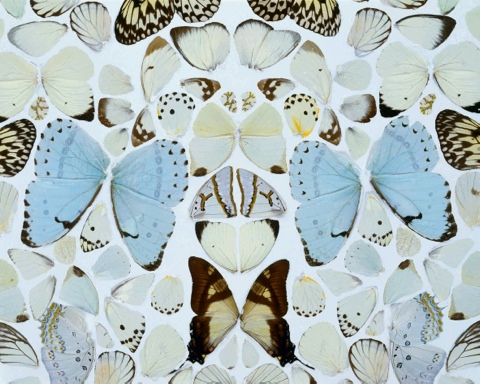 Damien Hirst Sympathy in White Major – Absolution II 2006 © Damien Hirst and Science Ltd. All rights reserved. DACS 2011. Photo: Photographed by Prudence Cuming Associates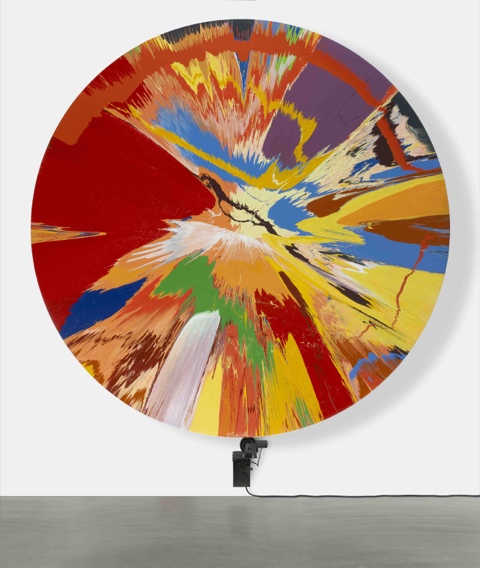 Beautiful, childish, expressive, tasteless, not art, over simplistic, throw away, kid's stuff, lacking integrity, rotating, nothing but visual candy, celebrating, sensational, inarguably beautiful painting (for over the sofa) 1996 © Damien Hirst and Science Ltd. All rights reserved. DACS 2011. . Photo: Photographed by Prudence Cuming Associates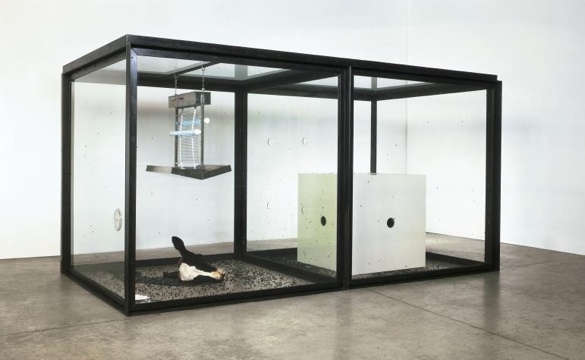 A Thousand Years 1990 steel, glass, flies, maggots, MDF, Insect-O-Cutor, cow's head, sugar, water (C) by Damien Hirst; photo (C) by Sergey Illin courtesy of the Pinchuk Art Centre
4th April to 9th September 2012
We like Damien Hirst !
There we said it , It's easy to knock the UK's most financially successful artist especially taking into account his recent spot paintings and the quantity of which he churns them out but I'm sure he'd say he's only satisfying demand.
Personally my favourite work by Hirst is a Thousand Years I really like how he shows how cyclical life and death is how we really have no control or power on how we live it , it's all pre ordained in our genes.
I also think Damien is a fly he knows that taking the money will kill him as a credible artist but like the fly that is attracted to the light he can't do anything about it. He knows it will kill him but he still takes it (goes towards it).
He made a choice to produce work that would sell and considering the era he grew up in who can blame him ? I'm looking forward to seeing his early work from the early 90's. It's also fitting I think that the show sponsor is ten Qatar Museums Authority.
Damien Hirst 4th April – 9th September 2012 Sponsored by the Qatar Museums Authority At Tate Modern.
Open every day from 10.00–18.00 and late until 22.00 on Friday and Saturday
From Adrian Searle in The Guardian Today:
With its cow's head and flies, A Thousand Years comes not far into Tate Modern's show, Hirst's first in a British museum. Made the year after he left college, this double-vitrine was first shown in the warehouse group show Gambler, in south London. A Thousand Years is still extremely powerful, and still surprising. Clean and dirty, full of life and death, formally shocking and rich, it has an air of maturity and finality. In a recent interview for the exhibition catalogue, Hirst tells Tate director Nicholas Serota that it is still possibly the most exciting thing he has ever made. Hirst recalls that Lucian Freud said to him, about this work, that "I think you started with the final act, my dear."
And
Others have already weighed in with spite, gall and a fury quite out of proportion to the fact that Hirst is only an artist. There are some who look forward to his downfall. In 1991, reviewing In and Out of Love, I wrote that Hirst's work had enormous spirit and great originality, and that I was glad he was around. By 2009 I was writing that his recent paintings were "momento mori for a reputation" (the hapless paintings Hirst showed at the Wallace Collection that year have thankfully been passed over here). My problem with Hirst is not the money (Picasso made lots, and nobody cares), nor the vulgarity he has opted for, but his capitulation as an artist. He could have been so much better. It is an enormous disappointment.
Tate Press Release.
Tate Modern will present the first substantial survey of Damien Hirst's work ever held in the UK. Hirst is widely regarded as one of the most important artists working today and has created some of the most iconic works in recent history. Sponsored by the Qatar Museums Authority, the exhibition will provide a journey through two decades of Hirst's inventive practice. It will also form part of the London 2012 Festival, the culmination of the Cultural Olympiad.
Damien Hirst first came to public attention in London in 1988 when he conceived and curated Freeze, an exhibition of his own work and that of his friends and fellow Goldsmiths College students, staged in a disused London warehouse. In the nearly quarter of a century since that pivotal show, Hirst has become one of the most influential artists of his generation.
Bringing together over seventy of the artist's seminal works, the exhibition will include sculptures from the early 1990s, such as The Physical Impossibility of Death in the Mind of Someone Living, in which he suspended a shark in formaldehyde and Mother and Child Divided, a four-part sculpture of a bisected cow and calf. Also on show will be important vitrines, such as A Thousand Years 1990, in which the cycle of life is represented by a cow's head, flies and insect-o-cutor. Alongside these sculptures will be cabinets displaying rows of pills, instruments and medical packaging, as well as paintings made throughout Hirst's career from his spot, spin, butterfly and fly series. In addition, two major installations will be on view: In and Out of Love 1991, which has not been shown in its entirety since its creation, and Pharmacy 1992.
Damien Hirst was born in 1965 in Bristol, UK. He lives and works in London and Devon. He is one of the most prominent artists to have emerged from the British art scene in the 1990s. Hirst's exploration of imagery is notable for its strong associations to life and death, and to belief and value systems.
tate.org.uk/
www.damienhirst.com/
Watch Noel Fielding interactive preview of the Damien Hirst's show: channel4.com/
Damien Hirst has participated in numerous group exhibitions including the Venice Biennale in 1993 and 2003; Twentieth Century British Sculpture, Jeu de Paume, Paris, 1996; Extreme Abstraction, Albright Knox Art Gallery, Buffalo, 2005; Into Me / Out of Me, P.S.1 Contemporary Art Center, New York, 2006; Re-Object, Kunsthaus Bregenz, 2007 and Color Chart: Reinventing Color 1950 to Today, Museum of Modern Art, New York, 2008. Solo exhibitions include Internal Affairs, ICA, London, 1991; Astrup Fearnley Museum, Oslo, 1997; The Agony and the Ecstasy, Museo Archeologico Nazionale, Naples, 2004; Museum of Fine Arts, Boston 2005; For the Love of God, Rijksmuseum, Amsterdam, 2008 and Palazzo Vecchio, Florence, 2010/1. He received the DAAD fellowship in Berlin in 1994 and won the Turner Prize in 1995.
Damien Hirst is curated by Ann Gallagher, Head of Collections (British Art), Tate, with Loren Hansi Momodu, Assistant Curator, Tate Modern and is coordinated by Sophie McKinlay, Project Manager, Tate Modern. The exhibition will be accompanied by a fully illustrated catalogue by Tate Publishing.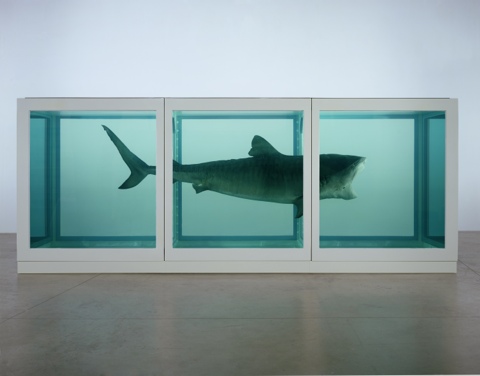 The Physical Impossibility of Death in the Mind of Someone Living 1991 © Damien Hirst and Science Ltd. All rights reserved. DACS 2011. . Photo: Photographed by Prudence Cuming Associates
About Mark Westall