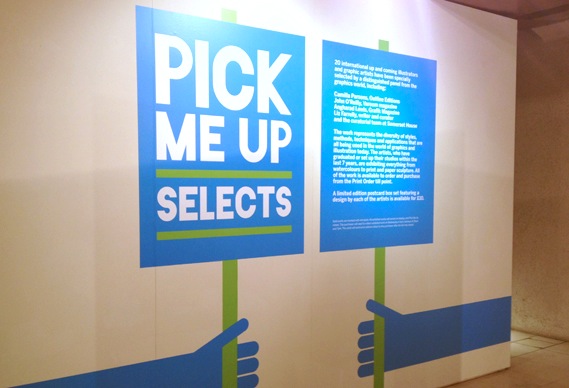 I went along to the press view of this year's Pick Me Up 2012.  Like other art fairs, the most exciting section at Pick Me Up art fair is the exhibit that presents the new talent.  "Pick Me Up Selects" showcases the work of the most interesting new graphic art talent with 20 emerging designers and illustrators on display.  The selected designers were hand picked by a selection panel of distinguished figures from the graphics world including; Camilla Parsons, Outline editions, John O Reilly, Varoom magazine, Angharad Lewis, Grafik magazine, Liz Farrelly, writer and the curatorial team at Somerset house.
When entering the fair it is clear that a great deal of consideration that has gone into the curation and the show is distinct from the rest of the fair.  Each designers' work is presented within an individual section, where we learn about their background and see a body of their work.  A uniformed and democratic approach that creates cohesion.  The works extend beyond the boundaries of "design or illustration" and could easily align within the realms of contemporary fine art.
What is it about new or emergent talent that we gravitate to?  Is it the freedom of approach?  The birth of currency?  Or the promise of something new or different?  I walked around the exhibition and began to ask why these pieces appealed to me so much?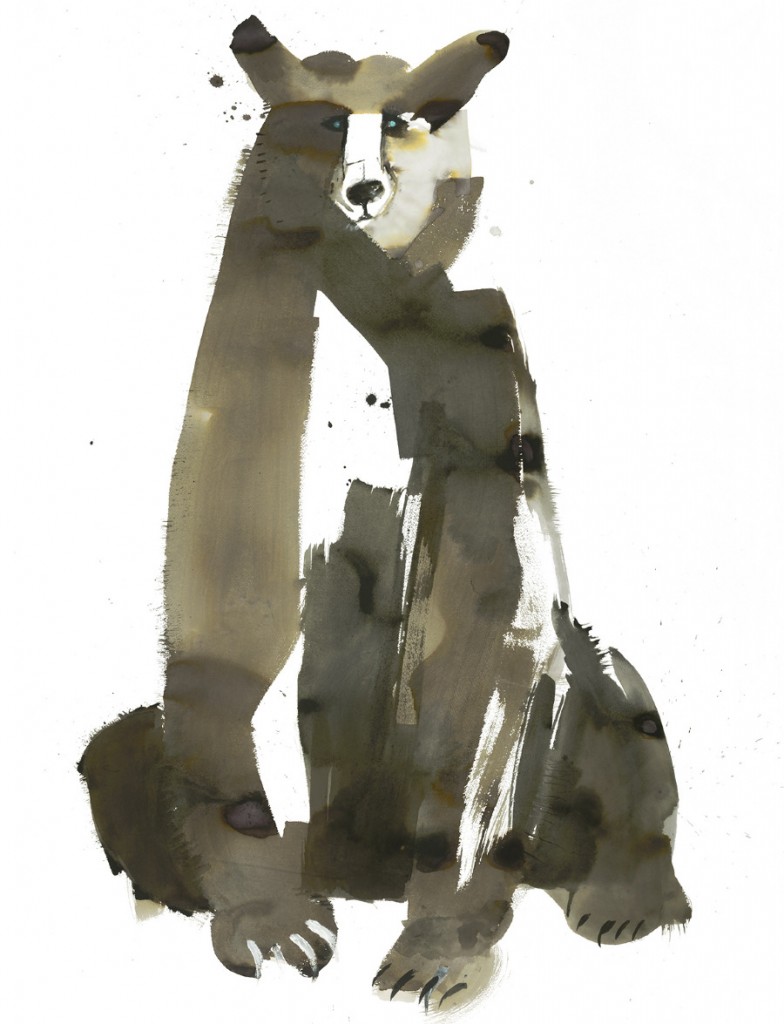 Sarah Maycock, Bear, 2011
One of the most promising designers on display I believe, is Sarah Maycock, who presents "Bear" a large-scale painting. The fluidity within "Bear" manifests itself through the simple and organic marks, the approach and scale of the work creates a life like impression of a bear.  Maycock has said that whilst making the piece for her final exhibition she had to stand, sit, lay and crawl across the paper in order to paint him, this connection between artist and work reveals a confidence with the materials and the marks left by Maycock feel as direct and intimate as light striking an object, and the object casting a shadow.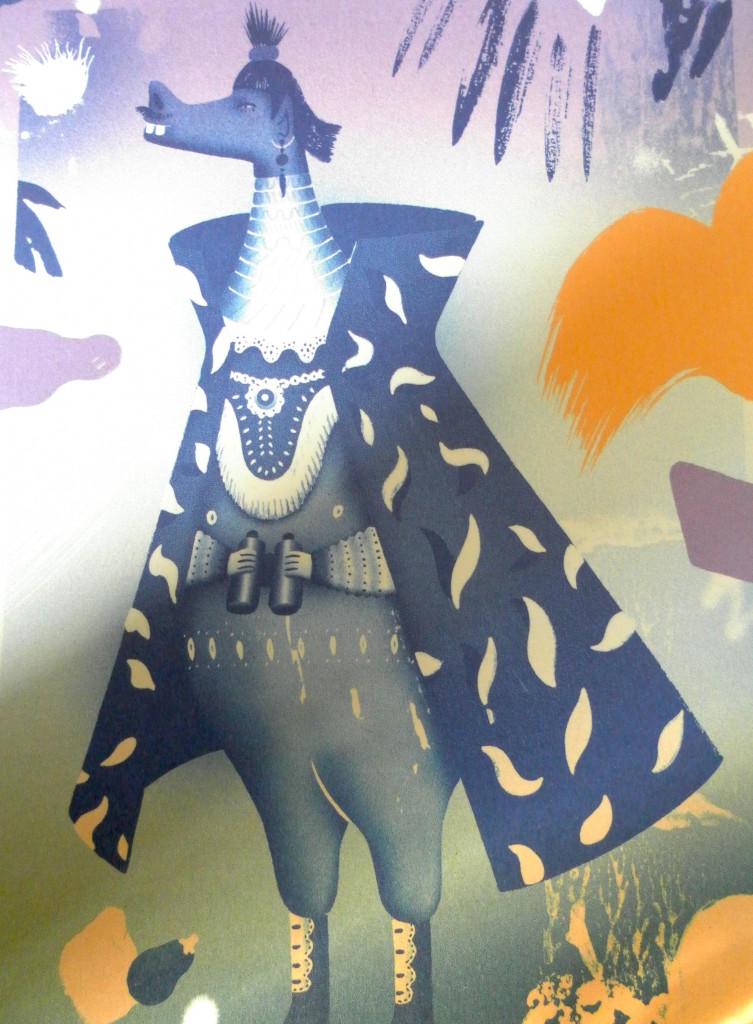 Sac Maguire, snapshots from Ahfaa 1, 2012
Sac Maguire presents us with three richly detailed illustrations that capture fleeting moments of strange unexplainable situations.  Maguire creates a snapshot of the inhabitants of Ahfaa a fictitious rundown, overgrown town somewhere near the Mediterranean.  His characters are North African singers notably who have fallen on hard times, intellectually advanced birds and unemployed super-heroes.  When looking at these works I can see a connection to Chris Ofilli's work, through his intensely bright colour palette and playful use of patterns which becomes ornamental.  Even though Maguire interweaves fabulation, it is in his seamless integration of popular culture and cultural mythologies, that make the characters seem oddly familiar, the inhabitants of Ahfaa take a real place within our minds.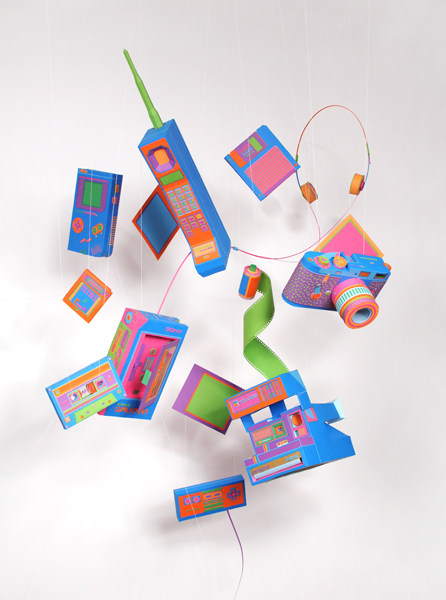 Zim and Zou, Back to Basics Installation, 2011
Zim and Zou is the union of Lucie Thomas and Thibault Zimmermann, based in a French studio their oeuvre encompasses various fields; including paper sculpture, installation, graphic design and illustration.  Their approach is very physical and they prefer to create real objects with paper and photograph them.  Questioning the gap between representation and presentation.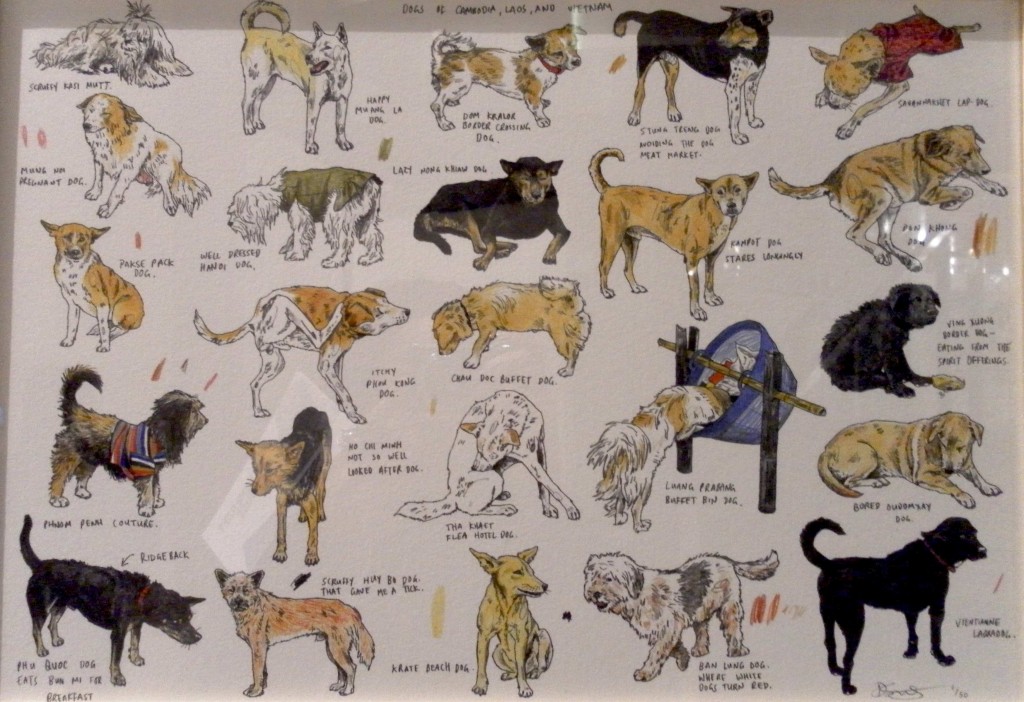 David Sparshott, Dogs of South East Asia, Giclée Print, 2012
David Sparshott's use of repetition is reminiscent of Ed Ruscha's "Twenty six gasoline stations" or John Baldessari's "The backs of all the trucks passed while driving from Los Angeles to Santa Barbara, California, Sunday, 20 January 1963".  Like Ruscha and Baldessari he creates self explanatory works that are open and easily readable, the individuals components within the works become more powerful when situated within the collective.  This idea of classification and ordering becomes the overriding force and we begin to see the artist within an anthropological light.
Within Pick Me Up Selects there is an array of fresh and exuberant works.  As the curatorial team stated in an interview with FAD "It's important that the visitor feels they are entering into the world of the artist, or walking through their head."  This intrinsic quality is certainly felt within this particular exhibit.
Within the works there is also a familiarity, the designers utilize the past as a sort of reverse science fiction tapping into historical references and past trends to reveal something new about contemporary art and design now and within the future.  This is a definite must see and I am sure there will be something for all visitors to Pick Up.
There is too much on show at "Pick Me Up" to discuss in this post, but here are some more photos to get lost in: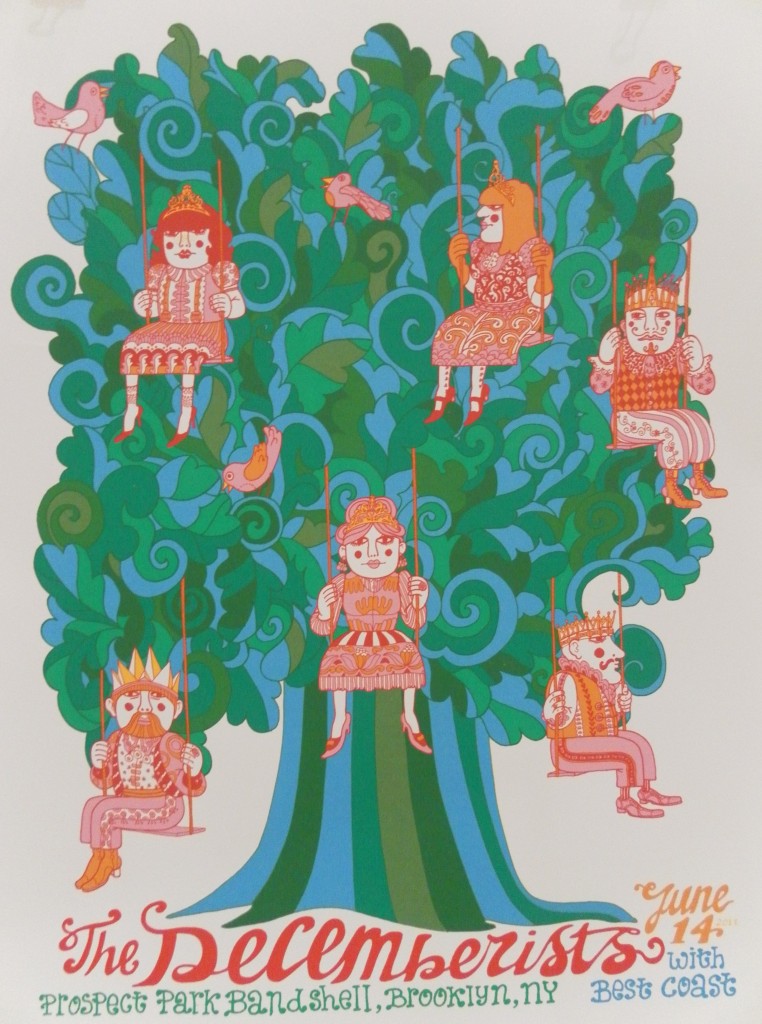 © Zeloot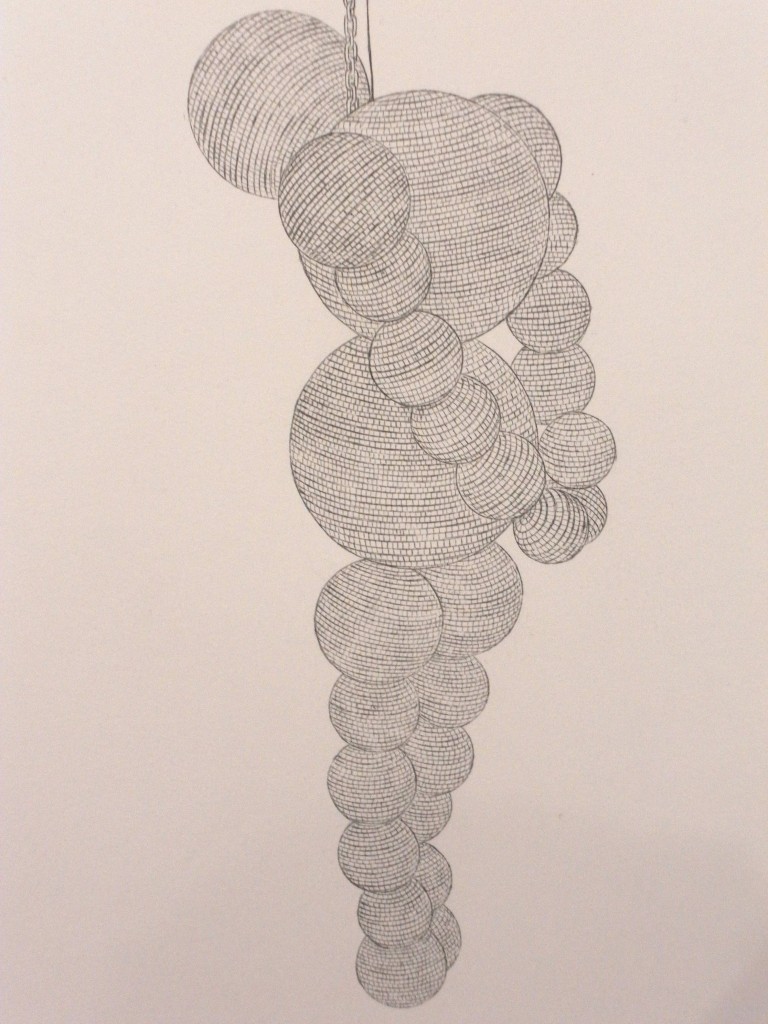 © Tim Enthoven
Mimi Leung, Cat, 2009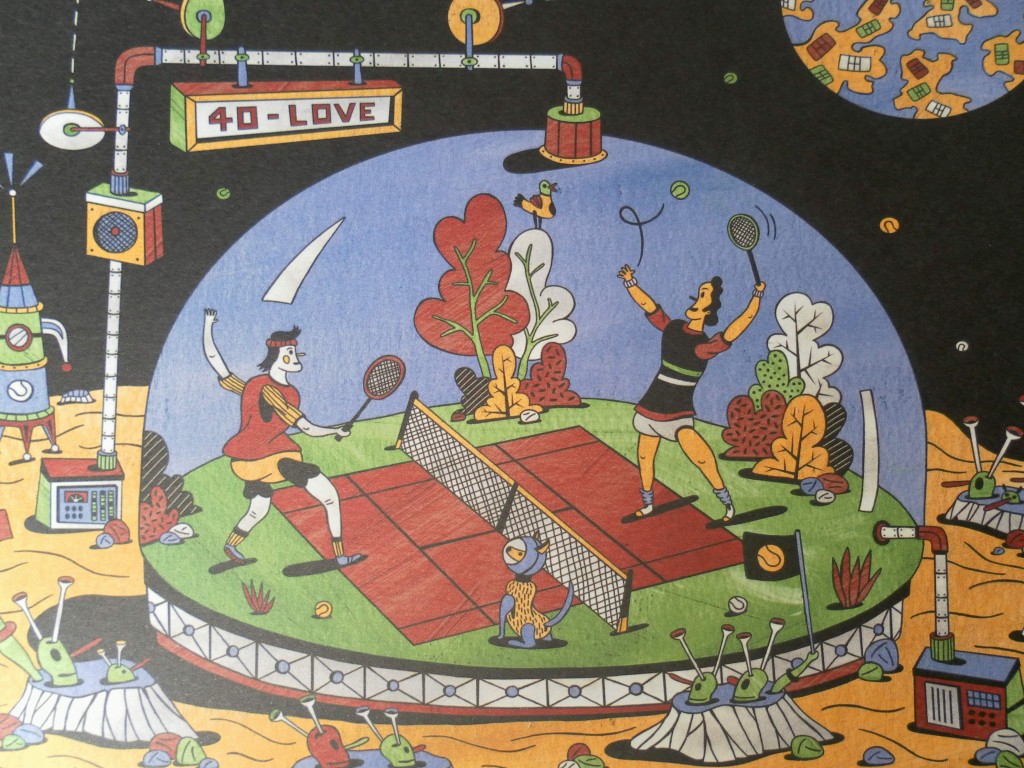 Phil Wigglesworth, Anyone For Space Tennis? 2012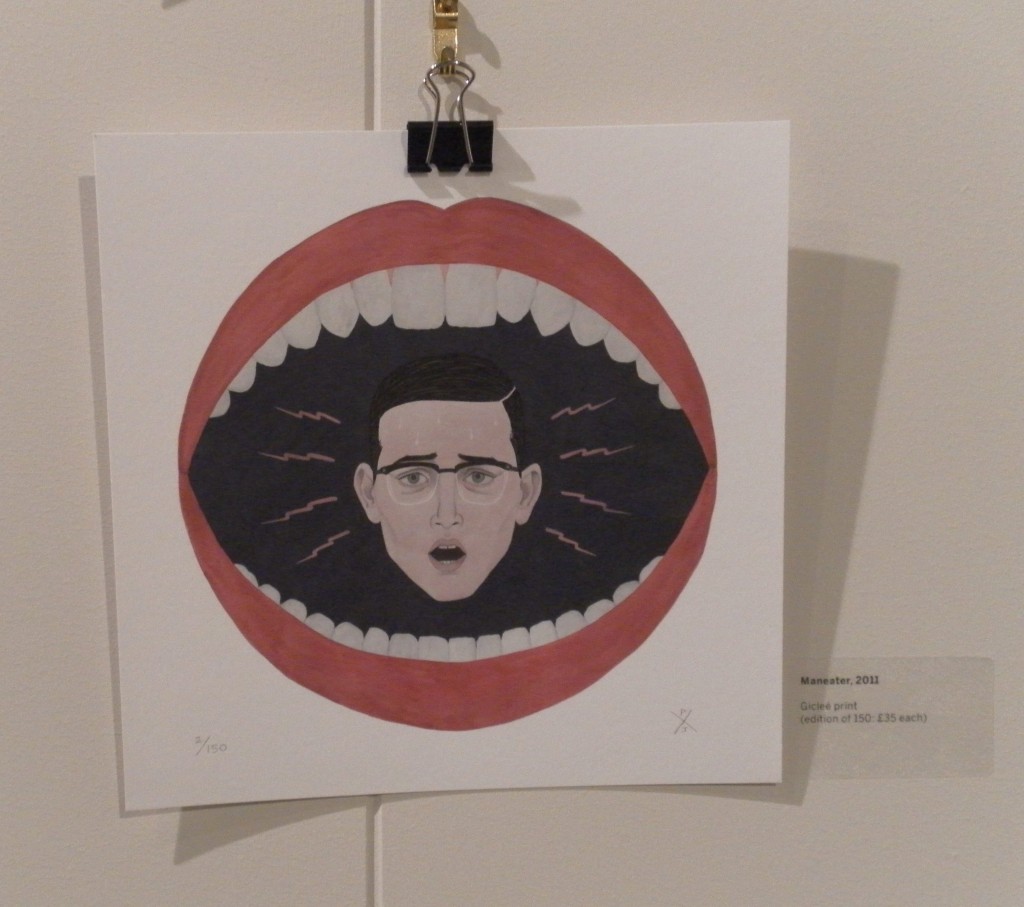 Paul X Johnson, Maneater, giclée print, 2011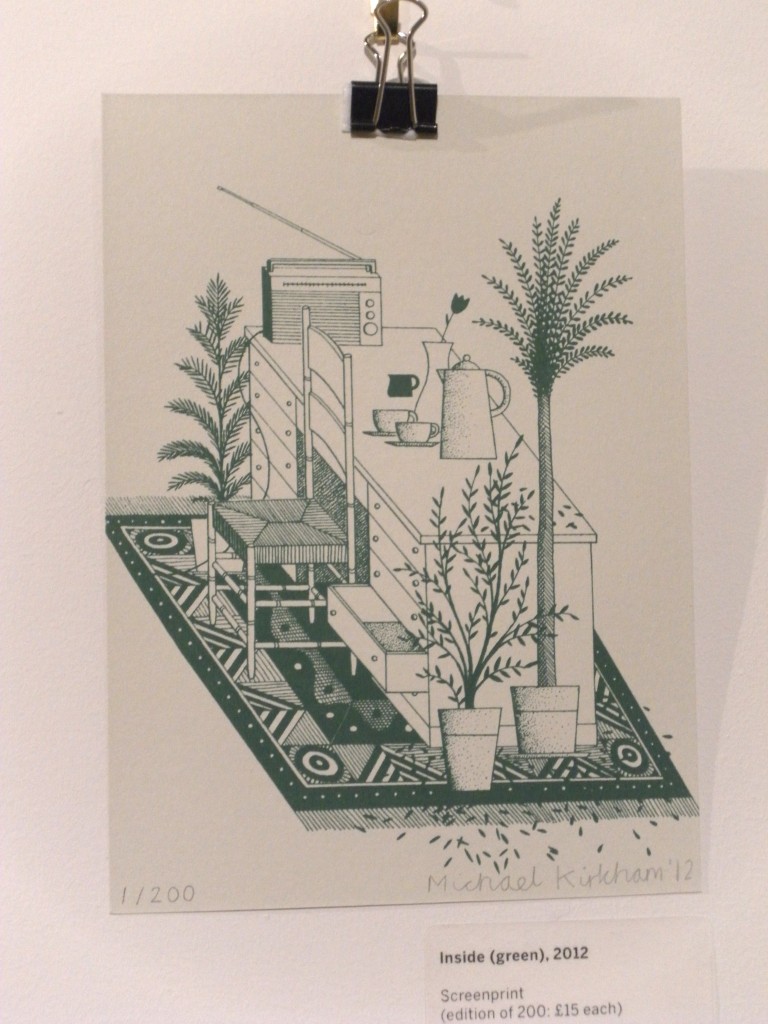 Michael Kirkham, Inside, screenprint, 2012
 For more information, please visit: http://www.somersethouse.org.uk/visual-arts/pick-me-up-2012
Review by Chantelle Purcell
Categories
Tags