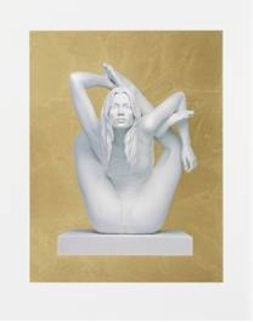 Marc Quinn, Sphinx, silkscreen prints in gold and silver leaf. Each in an edition of 150, sheet size 70 x 55cm, £960 (inc vat)
'This is not a portrait of a person, it's a portrait of an image twisted by our collective desires. She is a knotted Venus of our age' … Marc Quinn on Sphinx.
From 10th May 2012, Manifold Editions will launch a brand new commission, Sphinx by Marc Quinn, two intricately detailed silkscreen prints, in gold and silver leaf, of the well-known sculpture of supermodel Kate Moss. In April 2006 Marc Quinn revealed sculptures depicting a woman of unearthly beauty, but with her limbs contorted in an extreme yoga pose.
Commenting on his choice of Moss, Quinn said 'She is a contemporary version of the Sphinx, a mystery. There must be something about her that has clicked with the collective unconscious to make her so ubiquitous, so spirit of the age. For me as an artist it's interesting to make something about the time I live in.'
Taking a three-dimensional image of the sculpture, and working directly with the artist, Manifold Editions has produced silkscreen prints in two editions of 150 – one surrounded by gold leaf, the other by silver leaf. The transformation to a two-dimensional plane emphasizes the hieratic quality of the sculptural pose, recalling the multi-armed Shiva, Hindu goddess of destruction.
'Manifold Editions offers affordable art from leading gallery names that look fantastic in your home. Sphinx is a powerful work from one of Britain's most inventive and challenging artists, and we are delighted that he has chosen to work with us.' – James Booth-Clibborn, founder, Manifold Editions.
Sphinx will be launched at the Manifold Editions store, The Front Room St Martins Lane, 45 St Martin's Lane, London WC2, on Thursday 10 May 2012.
Marc Quinn's Sphinx as a new series of prints in gold and silver leaf.
www.manifoldeditions.com
Categories
Tags