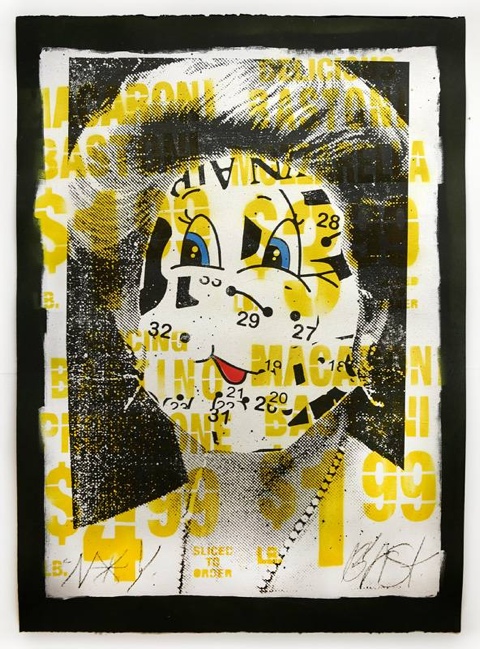 BÄST ? Boof-Fonty Screen print with spray paint and stencilling on Somerset Velvet black 400gsm paper Varied edition of five signed by the artist 124cm x 90cm £1400
Varied editions 'Boof-Fonty' and 'Hangar 12' are quintessential works from BÄST, the New Yorker noted for his work with collective Faile and fashion designer Marc Jacobs.
A paste-up graffiti artist synonymous with his native NY, while visiting the UK BÄST created several screen print editions inspired by London. Each giant screen print from the 'Boof-Fonty' and 'Hangar 12' varied editions comes uniquely hand-finished by BÄST using stencils, spray paint and emulsion.
'Boof-Fonty' takes the mid-80s sloane ranger lifestyle embodied by the young Princess Diana for its stimulation. 'Hangar 12' meanwhile features a Flying Fortress bomber, twenty of which were donated to the Royal Air Force by the Amercian government in the early months of World War Two.
Both 'Boof-Fonty' and 'Hangar 12' by BÄST will be on sale from 16:00 GMT (that's 08:00 on the west coast of the USA, 11:00 on the east coast and 17:00 on continental Europe) on Thursday 15th March 2012 at www.theoutsiders.net/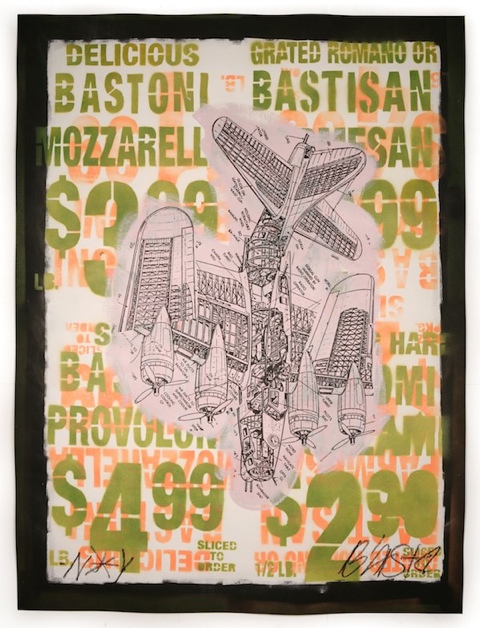 BÄST ? Hangar 12 Screen print with spray paint and stencilling on Somerset Velvet black 400gsm paper Varied edition of two signed by the artist 125cm x 90.5cm £1600
Categories
Tags