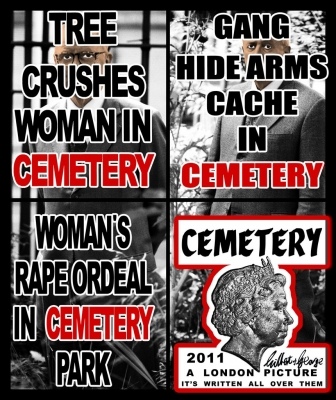 This article titled "Read all about it: how Gilbert & George stole the headlines and made art" was written by Mark Brown, arts correspondent, for The Guardian on Thursday 8th March 2012 14.18 UTC
If you are a London newsagent and have noticed an impeccably dressed but slightly shifty gentleman in his 60s regularly buying chewing gum in recent years, you may have been the victim of a "crime".
He was, in fact, a distraction to prevent you from seeing another impeccably dressed gentleman outside, removing the local newspaper bill from its metal rack.
"We realised we had to steal them," said Gilbert. "We had a drawer full of chewing gum at one stage," said George.
The men responsible for the systematic theft of 3,712 newspaper bills in east and north London are, of course, the artists Gilbert & George – and on Thursday they revealed the results in an exhibition across all three White Cube galleries in London.
The 292 bills that made it into London Pictures form Gilbert & George's largest series of works.
The artists have grouped the bills together by subject – yobs, for example, with LASER YOBS ENDANGERED COPTER PILOT and RABBIT IS SET ALIGHT BY YOBS – and laid them out in groups on a background which features them as ghostly observers.
They assumed that getting the bills would be easy. "We thought it would be very simple, we'd ask the shopkeeper to keep last week's poster," said George.
"But it was: 'What do you want that for guv?'. 'What's your game?' and 'Where are you from anyway?' They were very suspicious and very aggressive – they would never let you have one."
"Not one," interjects Gilbert.
They were caught in the act only once when an "overenthusiastic" policeman came up to George as he was putting a bill in his pocket. He pretended to be a teacher making a display of the posters at his school to try to curb antisocial behaviour and relieve pressure on police. "He replied: 'Oh sir, if only more people were like you.'?"
The project has taken up all their time. "We've lived it, we've breathed it, we've sexed it, we've thought it … everything," said George. "More than any other pictures, they went all the way through us."
He said appropriating the bills allowed them to tackle subjects they otherwise may not have tackled: "I wouldn't like to start thinking about how you draw or paint a group of yobs – it would seem very patronising or awkward."
Gilbert & George have been hoarding the bills at their studios in Fournier Street, east London, where they have lived and worked for 40 years. They are something of an institution and there are people who will hang around the street in the hope of spotting the two on their regular walks.
They have won the Turner prize (1986), represented Britain at the Venice Biennale (2005) and had a retrospective at Tate Modern (2007). Throughout, they have never been shy of offending sensibilities: the Naked Shit Pictures from the mid-1990s, for example, which featured the artists naked alongside giant turds.
Four years ago, they entered into a civil partnership which they said was primarily to do with protecting the other's interest if one of them were to die.
Most of the bills in the new show are from Gilbert & George's normal hunting ground around Spitalfields and Liverpool Street, in east London, but some betray a wider journey – N7 GAS TERROR AS COPPER THIEVES STRIKE, for example, which features the postcode for Holloway. "We went to north London for dinner," said George.
The bills are a reflection of a society that we are all complicit in, the artists said.
"It is quite extraordinary that you have this slogan, this poster every single day and everybody just moves on. The next day it's another one. This is life standing still," said Gilbert.
The works are full of "death plunges", "terror" and "murder" but they also have a positive side.
"Yes there's a lot of misery, shame and unhappiness but this is also a celebration in a way because there are many countries where you can't have posters like this. It's a sign of an amazing freedom," said George.
The pictures will be on display at the White Cubes in Bermondsey, Hoxton and Mason's Yard, in central London, until 12 May – it costs nothing to get in and see them, but anything between £50,000 and £250,000 to buy one.
guardian.co.uk © Guardian News & Media Limited 2010
Published via the Guardian News Feed plugin for WordPress.
Categories
Tags