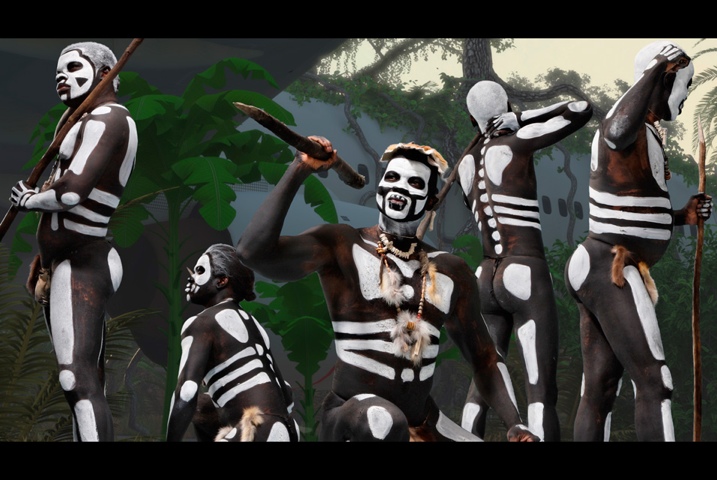 AES+F, Allegoria Sacra, 2011, video still image © AES+F Courtesy Triumph Gallery, Moscow.
Allegoria Sacra, the monumental new video work by celebrated international collective AES+F, screened for the first time in Australia as part of the Adelaide Fringe.
Art Gallery of South Australia Director, Nick Mitzevich says 'Allegoria Sacra' is the third work by Russian collective AES+F in a broadly conceived trilogy that also includes Last Riot 2 and The feast of Trimalchio, whose visual splendour and magnificence captivated more than 82,000 visitors to the Gallery in 2010.' '
This digitally animated collage, comprised of thousands of photographs, bombards the senses and offers a potent allegory of contemporary culture', says Mr Mitzevich. Set in an international airport; the protagonists are suspended in time and place – purgatory. Here they wait, united by their desire to move from one world to another, yet remain detached and selfabsorbed, like the figures in the iconic Giovanni Bellini painting of the same name.
Futuristic scenarios, images of idealised beauty, youth, style, progress and wealth, and the fusion of historical with the contemporary seduce the viewer. Painterly compositional devices, particularly those of the Italian Renaissance and Baroque traditions, provide the structural basis and visual splendour of individual frames. AES+F draw on varied references, from religious symbolism to Delacroix's orientalism and 1960s sci-fi cinema, but the social issues that sustain the work are drawn from the present.
The viewer is ultimately left to question whether humanity can return to something more pure. Allegoria Sacra made its Australian premiere at a free outdoor event on North Terrace as part of the Adelaide Fringe. Following the opening, it will be exhibited in Gallery 15 until 3 June 2012. This spectacular video work has been acquired for the permanent collection of the Art Gallery of South Australia through the Director's Project – a fund initiated through Contemporary Collectors, and supported by a visionary group of benefactors, to secure extraordinary art projects and works of art. VIA:[www.artdaily.org/]
About Mark Westall