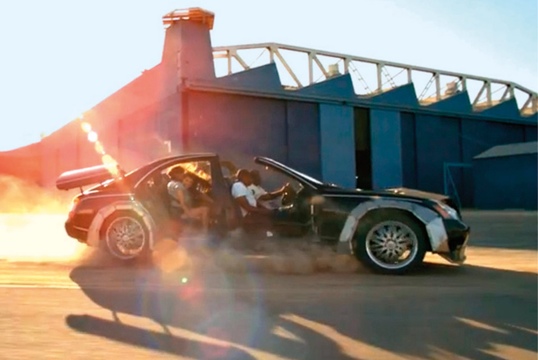 JAY Z, KANYE WEST, SPIKE JONZE, OTIS MAYBACH, 2011, 2004 Maybach 57 customized for the video for the Grammy Award winning song Otis, 2011 Featuring JAY Z and Kanye West, directed by Spike Jonze. Chassis no. W240 a Engine Type: Gas V12. Brake ABS System: 4-Wheel, Vin#: 4DBVF78JX4A000662. For Terms & Conditions on the sale of this charity lot please contact the Contemporary Art Department. Est: $100,000-150,000.

CINDY SHERMAN Untitled #426, 2004 colour photograph 79 1/2 x 54 3/4 in. (201.9 x 139.1 cm)Signed, numbered and dated "Cindy Sherman, 2004, 5/6" on a label affixed to the reverse of the backing board. This work is number five from an edition of six.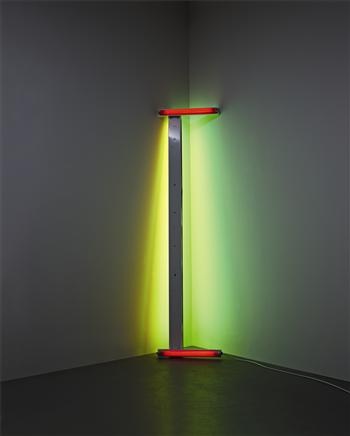 DAN FLAVIN Untitled (To Pat and Bob Rohm), 1973 red, yellow, and green fluorescent light
96 x 24 in. (243.8 x 61 cm) This work is number two from an edition of five, and is accompanied by a certificate of authenticity signed by the artist.ESTIMATE $250,000-350,000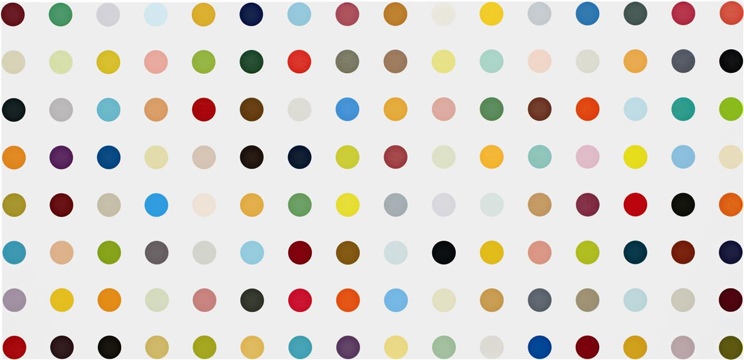 DAMIEN HIRST Sulfochlorophenol, 2007 household gloss on canvas 45 x 93 in. (114.3 x 236.2 cm)
Signed, titled, and dated "2007, Sulfochlorophenol, Damien Hirst" on the reverse and on the stretcher. ESTIMATE $700,000-1,000,000
Phillips de Pury & Company announced highlights from its New York Contemporary Art Evening auction. The Evening auction will take place on 8th March 2012 at 450 Park Avenue , New York . The auction will comprise 37 lots with a pre-sale low estimate of $4,720,000 and a high estimate of $6,900,000.
The sale will feature highlights from Dan Colen, Tauba Auerbach, Cindy Sherman, Damien Hirst and Steven Parrino. The auction will also showcase works from major movements from the last 50 years, from the pop art of Roy Lichtenstein and Andy Warhol through to the minimalism of Donald Judd and Dan Flavin, alongside blue-chip artists who came to prominence in the 80s: Jean-Michel Basquiat, Anselm Kiefer, Richard Prince and Takashi Murakami.
"Phillips de Pury is pleased to offer this strong selection of works by many of the greatest artists of the last 50 years. From newcomers Walead Beshty, Dan Colen and Tauba Auerbach to the established masters Warhol, Lichtenstein, Judd; this sale presents unique opportunities for today's collector to acquire exceptional works across styles and price points. The March 8th Evening sale is a testament to Phillips essential position in the robust international market that coalesces in New York each March, seeking the highest quality Contemporary Art." Zach Miner, Head of Contemporary Art Part I, New York, Phillips de Pury & Company.
HIGHLIGHTS INCLUDE:
DAN COLEN, The son of a white man (Air force pilot / plantation owner), 2010, estimated at $100,000-150,000. Drawing from mass media, environmental experience and sub-cultural language, Dan Colen's work infuses a sense of magic in the prosaic and ordinary. In the present lot, a canvas is coated, plastered, smeared, and overlaid with chewing gum. The once pristine surface is fictionally transplanted to the urban landscape of a metropolitan city. It immediately conjures images of the teenage ritual of smearing gum on the surfaces of municipal buildings, street signs, and benches. But unlike the haphazard and random design of this adolescent rebellion, the gum is stretched across the surface in beautiful arches of monochromatic tones. The overlapping blacks, criss-crossing whites, and entwined grays, rhythmically dance across the picture plane with the fluidity and vitality of Pollock's drip paintings. Instead of paying homage to the Abstract Expressionist painter's rich oils, Colen has instead replaced the traditional medium with that of a disposable and chewable substance.
TAUBA AUERBACH, Binary Lowercase, 2006, estimated at $40,000-60,000. Tauba Auerbach's suspiciously simple compositions explore both the freedoms and limitations of Semiotics through a visual word-play on palindromes, anagrams, ligatures, and other abstract sequences. Her work ranges from an idiomatically familiar study of phonetics to the obscure and esoteric origins of human communication. While her designs and explorations are clean, pure, and simple, they are woven with complexities and intricacies that are deeply rooted in Fluxus and Constructivist utility. Behind the razorsharp lines of her designs lies a language that both abides and challenges our laws of linguistics. The marriage of language and the visual in the present lot, converts arbitrary marks into a moment of conceptual awakening.
CINDY SHERMAN, Untitled #426, 2004, estimated at $300,000-500,000. Starting with her Untitled Film Stills in the 1970s, through her latest series of Clowns, Cindy Sherman has assumed a dual role: that of artist and of performer. In this latest series, she explores and discovers the masquerade of a multi-faceted character – the clown. In this series of clowns, as seen in her early black and white Untitled Film Stills, Sherman carefully manipulates pose, gesture, costume, makeup, lighting, and composition to create portraits of both the real and the imagined. By using digital image processing technology, Sherman is able to manipulate and dictate precisely how the final image should stand. She is able to multiply herself and stage herself as a group of persons, or in the case of the present lot, Untitled # 426, 2004, create a backdrop of vibrant and intense Technicolor. With each series, Sherman repeatedly finds new contemporary forms of representation and consistently advances the topics and subjects which have connected her work through its four decade span.
Damien Hirst , Sulfochlorophenol, 2007, estimated at $700,000-1,000,000. Damien Hirst's "spot paintings"—a form he has returned to on many occasions in the past twenty-five years—gleam as exemplary stalwarts of his internationally recognized oeuvre. Their omnipresence in the art world is topped only by their transcendence into the world of commercial art, advertising, and beyond; they walk the razor sharp line between renowned examples of the contemporary art market and universal symbols of the enduring value of modern painting. The present lot, Sulfochlorophenol, 2007, contains all of the quintessential elements of Hirst's famed series—chromatic beauty, patterned regularity, and considerable size. Yet it also assumes many of the conceptual paradoxes that make Hirst's body of work a study in depth and meaning. It is at once a celebration—of the simplicity of color, of the miracles of medical science, and of the power of painting in an age that is futuristic in its media. Yet it is also revelatory in its sinister underpinnings—in the deeper complexities of its subject, in its visual illusions, and in its reflection on society's medicinal dependence.
STEVEN PARRINO, Untitled, 1999, estimated at $80,000-120,000. Acquired directly from the artist by the present owner Steven Parrino's unique, single minded avant-garde oeuvre, dating primarily from the 1980s and 1990s and tragically cut short by his untimely death, has often been referred to as a new form of realism in art. At a time when painting was being relegated to the art historical past, Parrino had to literally and metaphorically tear painting apart in order to save it. The realism of Parrino's art makes the painting itself into an object. Untitled, 1999, is a deformed canvas, executed first by painting a monochromatic crimson square at the centre of the raw space, and then pulled forward from the stretcher, aggressively contorted, wrinkled, and crumbled. In its reincarnation, the surface becomes brutally present as it confronts the viewer in a proximity never before imagined.
Phillips de Pury & Company announced the sale of a unique customized Maybach featured in the video of the Grammy award winning song "Otis" , with JAY Z and Kanye West and directed by Spike Jonze, as Lot I of the Evening auction to benefit Save the Children. JAY Z, KANYE WEST, SPIKE JONZE, OTIS MAYBACH, 2011, estimated at $100,000-150,000. The Maybach sale proceeds will go to Save the Children, the leading independent organization creating lasting change in the lives of children in need around the world. It has been operating in Ethiopia , Kenya and Somalia over the last 20 years, where they monitor deteriorating conditions as the drought and food shortages, malnutrition, lack of safe water, and communicable diseases worsen in East Africa . The race to feed more than 12 million people facing severe food shortages in the Horn of Africa has seen humanitarian agencies make several funding appeals. Donor governments have contributed more than $1.46 billion out of the required $2.48 billion. Now celebrities like JAY Z and Kanye West have thrown their considerable influence behind the campaign to feed millions in the region, showing us their shared commitment to benefit those who need it most.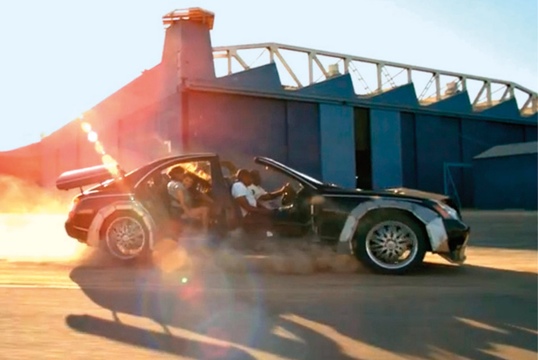 Categories
Tags