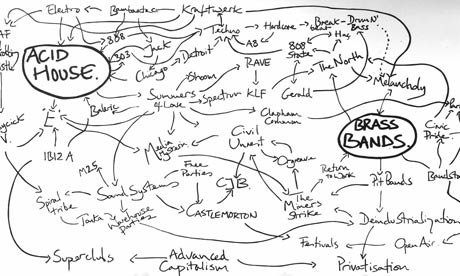 Jeremy Deller History of The World 1997
This article titled "This week's new exhibitions" was written by Skye Sherwin & Robert Clark, for The Guardian on Saturday 18th February 2012 00.05 UTC
Jeremy Deller, London
Jeremy Deller is a people's artist like no other. The past 25 years have seen him install parade floats and fan art in galleries, set brass bands playing acid house and revealed the British Library's intellectually competitive obscene toilet graffiti. As this first major survey shows, though, human experience is Dellar's focus. As cemented in his landmark work The Battle Of Orgreave, which reconstructed the confrontation between police and pickets during the 1984-85 miners' strike, the question of what people feel surfaces again and again in his politically charged and engaging probing of culture and class.
Hayward Gallery, SE1, Wed to 13 May
Skye Sherwin
Sarah Browne & Hamish Fulton, Birmingham
Two artists here, making art out of what most of us would call something else. Sarah Browne follows marginal social struggles. Her art goes out to those excluded or made redundant from the global market. A typical piece is a carpet, hand-knotted from leftover stock by two previous employees of the Donegal Carpets factory after their workplace was converted into a heritage centre. Hamish Fulton's exhibition, along with his show at Margate's Turner Contemporary, records his almost ritualised walking expeditions, politically orientated treks taking in the top of Everest and London's Chinese embassy.
Ikon Gallery, to 22 Apr
Robert Clark
Lothar Götz, Cardiff
Lothar Götz's hard-edged abstract paintings coat entire walls with clashing stripes, diamond lattices, criss-crossing lines and spooning curves. In the past 10 years the German-born, London-based artist has turned buildings into paintings you can walk around in, from underground bunkers to airy warehouses and the in-between spaces of Piccadilly tube station. Architecture and the history of the places where he works influence him, creating designs that bring overlooked interiors to life. Yet Götz's inspiration is often far more playful than the mathematical precision of his work suggests. The deliciously hued intersecting geometric shapes in his paintings and drawings take their cues from real and imagined spaces, from the colour scheme of the toy-filled castle in Chitty Chitty Bang Bang to the pattern of a supermodel's dress.
Chapter, to 1 Apr
SS
Van Dyck In Sicily, London
Van Dyck is known as the great painter of English aristocrats. In 1624, however, he spent a year in Palermo, Sicily. This exhibition marks the UK debut for the body of work that came about as a result, in particular a portrait of St Rosalia, a medieval hermit whose bones were said to have cured the city of the plague. Van Dyck depicts this symbol of hope as a transcendent figure in pauper's robes, interceding on behalf of the sick townsfolk.
Dulwich Picture Gallery, SE21, to 27 May
SS
Daniel Fogarty, Manchester
Daniel Fogarty's exhibition is called Totem yet, rather than tribal belonging, Fogarty's pile-ups of found imagery suspend us in deliberate, deadpan cultural alienation. Fogarty's source material ranges from retro poster design to The Roads Beautifying Association's 1930 publication Roadside Planting. Careful assemblage of these apparently uninspiring elements conjures curiously engaging works whose charm lies in the perversity of their painstaking focus.
Bureau, to 17 Mar
RC
Laura Aldridge, Glasgow
Laura Aldridge has described her work as "expanded collage". If a predominant stream of 20th-century art consisted of fragments of disparate images, Aldridge has artistic fun disassembling and even seemingly exploding her hand-crafted elements across gallery floors and walls. She recognises that the inanimate objects we use most intimately can replicate our bodily gestures. A crowd of oversized fabric pockets, made of cotton or denim, occupy the walls here like a theatrical lineup of puppetry wombs. Elsewhere, a series of fabric tubes, stuffed with solidified plaster, writhe like intestinal rag dolls. It's as if some slightly unhinged adult with an overactive sense of fun had been let loose in a playroom.
Centre For Contemporary Art, to 3 Mar
RC
The Fourth Plinth, London
The Danish-Norwegian duo Elmgreen & Dragset seem the perfect choice to create the next instalment for Britain's most public public art site: Trafalgar Square's fourth plinth in London. The duo have long displayed a wicked genius for the politics of place: from the replica Prada store they created in the Marfa desert, west Texas, to turning the Nordic Pavilion at the 2009 Venice Biennale into a decadent art collector's designer pad. They're also keenly attuned to the challenges of making modern monuments relevant. Witness their 2003 Berlin memorial to gay Holocaust victims, where, inside a bunker, a film of a kissing couple plays until it wears away. Their contribution to the plinth is a cheeky riposte to traditional statues of military leaders on horseback: a giant bronze of a boy atop a rocking horse. No commemoration of war or imperial conquests, he stands for the innocence of youth and future possibilities.
Trafalgar Square, WC2, Thu to 2013
SS
Jane & Louise Wilson, Dundee
Artists Jane and Louise Wilson make more than photo and video documentary. They create history paintings of often officially hidden scenarios that resonate in our collective memories. They faithfully record fact, but also empathetically embody the experiential aura of a place. This is all the more remarkable since, as here, their subjects include daunting sites, such as a kindergarten, theatre and swimming pool abandoned as the Chernobyl nuclear disaster struck.
Dundee Contemporary Art, to 25 Mar
RC
guardian.co.uk © Guardian News & Media Limited 2010
Published via the Guardian News Feed plugin for WordPress.
Categories
Tags