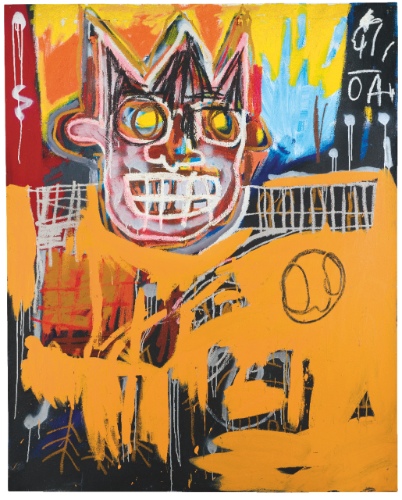 Lot 23 Jean-Michel Basquiat1960 – 1988 ORANGE SPORTS FIGURE acrylic, oil stick and spray paint on canvas 152.4 by 121.9cm. 60 by 48in. Estimate: 3,000,000 – 4,000,000 GBP
Thirty years ago, artist Jean-Michel Basquiat secretly signed one of his paintings in invisible ink, says Sotheby's auction house, which discovered the hidden autograph as it was preparing the painting for sale.
Sotheby's experts uncovered the secret this month as they were examining "Orange Sports Figure," which goes on sale today Wednesday 15th February. The vibrant image of an abstract crowned figure is estimated to be worth between £3/4 million.
Basquiat, a graffiti artist who became a 1980s art star, signed relatively few of his canvasses. But Sotheby's said ultraviolet light revealed the artist's name and the date 1982 beneath the work's layers of acrylic and spray paint. Basquiat paintings are often covered in words and doodles. He signed some paintings with a crown, others with his graffiti alter ego SAMO — but relatively few with his full name.
The son of a Haitian father and Puerto Rican mother, Brooklyn-raised Basquiat developed a vibrant style influenced by Picasso and the Abstract Expressionists as well as by the work of street graffiti artists. His works celebrate icons of black culture, from athletes like Muhammad Ali and Hank Aaron to musicians like Miles Davis and Charlie Parker, and often allude to the legacy of slavery and colonialism. Baquiat reputation has soared since his death from a drug overdose in 1988 at the age of 27. "Untitled" sold for $14.6 million at Sotheby's in 2007, and "Untitled (Boxer)" sold for $13.5 million in New York in 2008.
Categories
Tags