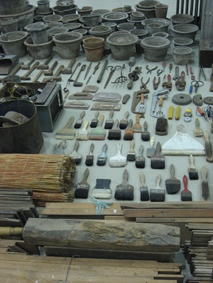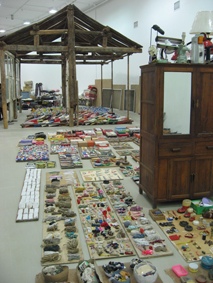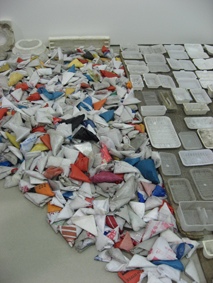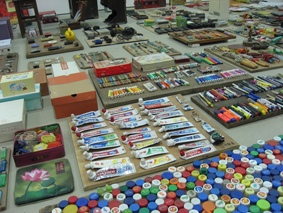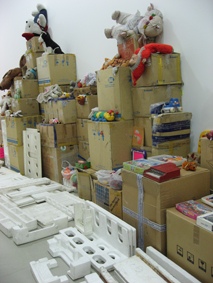 15th February – 12th June 2012
Comprising over 10,000 household possessions, Waste Not is a tribute to Song Dong's mother, Zhao Xiangyuan, who made this extraordinary collection over a period of five decades. The activity of saving and re-using objects of all kinds is in keeping with the Chinese adage wu jin qi yong – waste not.
From the start of Chairman Mao's Cultural Revolution in 1966, being frugal was the only way for a family to survive. Zhao Xiangyuan kept everything for possible future use; pieces of old soap, used toothpaste tubes, containers, utensils, toys and clothing. Even when things improved, fear of shortage was ever present, leading to a life of thrift.
In 2002, Song Dong's father died, and Zhao Xiangyuan sank into a deep depression, and her desire to fill her life with things became more marked and more disturbing to witness. Song Dong understood that his mother's need to fill space with objects of daily life was a need to fill space after the death of his father. In the three years following his father's death, Song Dong proposed that she work with him to make an exhibition of her possessions, and, in effect, the family home. Song Dong has said "It gave my mother a space to put her memories and history in order."
The first installation of Waste Not in Beijing in 2005 was installed by Song Dong and his mother; she played the role of the artist, organising her things. A neon sign reading "Dad, don't worry about us, Mum and our family are doing well" is also part of the installation, and this poignant message is sited at the Barbican's Silk Street entrance.
Song Dong's mother died suddenly in 2009, but each time Song Dong remakes the work – assisted by his sister, Song Hui, and his wife Yin Xiuzhen – memories are rekindled and personal family objects are rediscovered. In each iteration of Waste Not (the Barbican installation is the eighth) the objects vary slightly, as different possessions are re-discovered and others kept back. Grouped together, like with like, the objects on display take the viewer on a journey, as if touring the family home, room by room.
Even the overall layout of each installation of Waste Not varies – at the Barbican, the shape of the gallery presented Song Dong with the opportunity to create a landscape of discovery; as you walk amongst the family possessions following the building's curve, more of the exhibition reveals itself. Small groups of objects fascinate; the perfect folded triangles of saved plastic carrier bags; a collection of paintbrushes; tied bundles of fabric scraps and the patched and worn dining chairs. Well-loved soft toys are presented on a mountain-like range of saved cardboard boxes and polystyrene packaging. Many of the objects are dirty, broken, faded or rusty, but nothing feels like rubbish. Waste Not is a touching and poignant show; a story of shared family endeavour, love, loss and eventual order amongst chaos.
Emma McNiven
www.barbican.org.uk/artgallery/
About Mark Westall