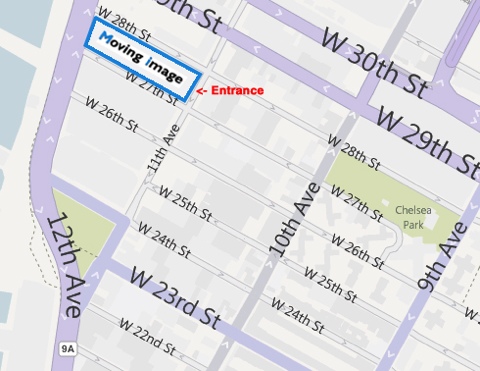 Moving Image, the contemporary video art fair, has Just announced the artists and participating galleries and non-profit institutions for their 2012 New York edition. Returning to the Waterfront Tunnel event space, March 8-11, 2012, with an international selection of 30 single-channel videos and installations from Europe, Asia, the Middle East, Australia, and North America, Moving Image has been conceived to offer a viewing experience with the excitement and vitality of a fair, while allowing moving-image-based artworks to be understood and appreciated on their own terms.
Highlighting the program are works by historically influential artists, including legendary American experimental filmmaker Ken Jacobs (presented by Electronic Arts Intermix, New York); Austrian Post-war feminist icon VALIE EXPORT (presented by Charim Gallery, Vienna, Austria); and Zhang Peili, "the Father of Chinese video art" (presented by Saamlung, Hong Kong, China).
New works in the program by noted emerging artists include videos by Kate Gilmore (presented by Braverman Gallery, Tel Aviv, Israel) and Alex Prager (presented by Yancey Richardson, New York, NY). Even newer names are represented by Brooklyn's Interstate Projects, presenting work by Jesse McLean, and Los Angeles' The Company, presenting works by Jesse Fleming and Alexa Gerrity. We are also very excited to present several large-scale installations, including works by Josh Azzerella (presented by DCKT, New York), Daniel Phillips (presented by DODGEgallery, New York, NY); and Janet Biggs (presented by Winkleman Gallery, New York).
MOVING IMAGE NEW YORK 2012
Participating Artists / Presented by galleries and non-profit institutions
(as of February 13, 2012)
AES+F / Anna Schwartz Gallery (Melbourne / Sydney, Australia)
Sama Alshaibi / Lawrie Shabibi (Duabi, UAE)
Josh Azzarella / DCKT Contemporary (New York)
Janet Biggs / Winkleman Gallery (New York, NY)
Eelco Brand / [DAM] Berlin | Cologne (Berlin, Germany)
Josef Dabernig / Andreas Huber (Vienna, Austria)
Song Dong & Yin Xiuzhen / Chambers Fine Art (New York, NY)
Valie Export / Charim Gallery (Vienna, Austria)
Jesse Fleming / The Company (Los Angeles, CA)
Alexa Gerrity / The Company (Los Angeles, CA)
Kate Gilmore / Braverman Gallery (Tel Aviv, Israel)
Christopher K. Ho / Winkleman Gallery (New York, NY)
Susanne Hofer / Christinger De Mayo (Zurich, Switzerland)
Ken Jacobs / Electronic Arts Intermix (New York, NY)
Yael Kanarek / bitforms gallery (New York, NY)
Kelly Kleinschrodt / Carter & Citizen (Los Angeles, CA)
Mary Lucier / Lennon Weinberg (New York, NY)
Jesse McLean / Interstate Projects (Brooklyn, NY)
Jaakko Pallasvuo / Future Gallery (Berlin, Germany)
Zhang Peili / Saamlung (Hong Kong)
Jenny Perlin / Galerie M+R Fricke (Berlin, Germany)
Daniel Phillips / DODGEgallery (New York, NY)
Alex Prager / Yancey Richardson Gallery (New York, NY)
Hunter Reynolds / P.P.O.W Gallery (New York, NY)
Miguel Angel Rojas / Sicardi Gallery (Houston, TX)
Mariateresa Sartori / Galleria Michela Rizzo (Venice, Italy)
Jaan Toomik / Temnikova & Kasela Gallery (Tallinn, Estonia)
Stafanos Tsivopoulos / prometeogallery di Ida Pisani (Milan, Italy)
Martha Wilson / P.P.O.W Gallery (New York, NY)
Marina Zurkow / bitforms gallery (New York, NY)
Moving Image March 8-11, 2012
Waterfront New York Tunnel 269 11th Avenue Between 27th and 28th Streets New York, NY 10001
Categories
Tags