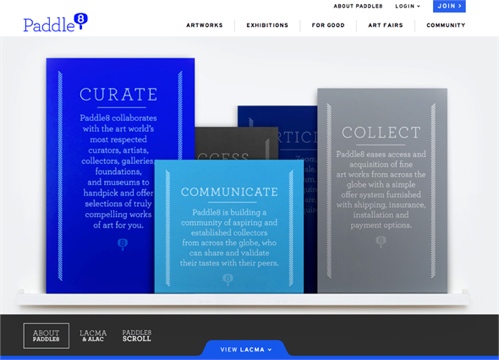 Online art market Paddle8 has secured Series A funding of $4Million led by prominent technology investors Founder Collective with luxury investors Mousse Partners
About Paddle8
Paddle8 (Paddle8.com) is the premier online art marketplace working with a curated selection of the world's most respected galleries, art fairs, foundations and museums to expand their global reach and to provide its substantial collector community with a new point of access to fine works of art. On the front end, Paddle8 seeks to provide its members with the most sophisticated portal for viewing, learning about and acquiring works online. On the back end, Paddle8 aims to provide galleries, foundations and fairs with an innovative and transformative suite of tools and services via Paddle8's "virtual registrar," a fully integrated and proprietary technological platform aimed at enhancing the efficiency of traditional back-office processes. The site's original content seeks to provide context and curation to the works available on the site, including web-only exhibitions and projects curated by notable cultural figures, such as Marina Abramovic, "dossier" video and text including interviews with artists, archival materials, a blog covering cultural happenings, and more.
Founder Collective, one of the most reputed early-stage venture capital funds, which has previously made successful bets on the likes of Makerbot, Milo and Uber, now turns its attention to online art market Paddle8. The investment is led by David Frankel who joins the board of Paddle8. Joining Paddle8's financing round is Mousse Partners, the private investment firm affiliated with a leading luxury goods company. The firm's U.S. venture efforts are led by Ed Zysik with recent investments represented by Paperless Post and Warby Parker. This combination of technology and luxury prowess gives Paddle8 the opportunity to further enhance its position as the leading destination for both new and seasoned collectors to access fine art works via a curated selection, insider opinions and a patented transaction platform that allows collectors and galleries to ship, insure and install works effortlessly.
Since its inception in May 2011, Paddle8 has formed partnerships with the world's leading museums, including the Los Angeles County Museum of Art (LACMA) and the Brooklyn Academy of Music (BAM), over 200 galleries, including Gagosian and David Zwirner, foundations such as Performa, art fairs such as NADA, in addition to prominent brands affiliated with high net worth communities, including NetJets, Edmiston and Krug. As a result, Paddle8's traffic has increased to up to 100,000 views per day, and over 2,000 carefully filtered high-net-worth individuals from over 150 countries now join its private member community every month.
With the support of these new investors, Paddle8 will bolster its technological tools and experience: For the collectors, Paddle8 will launch a new user interface focused on collector-to-collector engagement, dynamic editorial, and customized navigation features, allowing collectors to browse an extended offering of works from different eras and mediums. For the galleries, museums and art fairs, Paddle8 will roll out new tools and services, including a new point of sale transaction platform, private rooms and a set of mobile applications, helping these partners better service a global collector base remotely with improved ease and efficiency.
As ownership of fine art approaches the pinnacle of high-net-worth aspiration worldwide and the luxury sector continues to aspire to the art-world engagement via collaborations between artists and designers, artist-designed edition launches and artist-curated events, this investment further cements the complimentary relationship between luxury and the art market and cements Paddle8's unique position as a force in this growing phenomenon. Paddle8's management team is led by co-founders Alexander Gilkes (LVMH and Phillips de Pury) and Aditya Julka (serial entrepreneur and HBS Baker Scholar), Managing Director Osman Khan (Perella Weinberg and HBS) and Managing Editor Andrea Hill. Says, Julka, "We are delighted to welcome these dream investors to our team. With their immense entrepreneurial expertise and networks, Paddle8 has a great deal to gain as we evolve our business to focus more on the tools offered to galleries and luxury experience provided to collectors."
Paddle 8 is represented by Robert Scott of Hand Baldachin & Amburgey LLP in New York.
Categories
Tags